Attention A T users. To access the menus on this page please perform the following steps. 1. Please switch auto forms mode to off. 2. Hit enter to expand a main menu option (Health, Benefits, etc). 3. To enter and activate the submenu links, hit the down arrow. You will now be able to tab or arrow up or down through the submenu options to access/activate the submenu links.

Parkinson's Disease Research, Education and Clinical Centers
The Monthly Transmitter (September 08)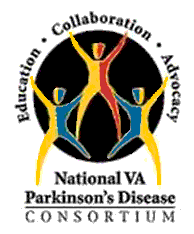 Briefing
Hot Off The Press
A special thank you to all those who participated in the 2008 Consortium Conference recently held in Pittsburgh. The program was an overwhelming success and laid the foundation for the next tier of the Consortium mission. Of greatest significance, the Consortium Taskforce has begun working on a proposal that will rightfully argue for greater support of our national program. Stay tuned for further details and developments.

Presentation slides and materials are now available on the Consortium website (2008 Conference Presentations). 
The following articles are prepared by Indu Subramanian, MD of the West LA PADRECC



(+) Antipsychotic medication treatment for mild hallucinations in Parkinson's disease: Positive impact on long-term worsening  (click here)


Hallucinations in Parkinson disease (PD) patients are a risk factor for nursing home placement and increased morbidity and mortality. The purpose of the study was to see if antipsychotic medication treatment of PD patients with mild hallucinations and retained insight (UPDRS score of 2 on thought disorder) delays deterioration to delusions or hallucinations without insight ( score of 3 or more on thought disorder scale of UPDRS). Of 64 patients, 31 received antipsychotic medication ( 8 on clozapine, 23 on quetiapine) during the study (mean group follow-up 31 months). Of the 38 subjects who reached endpoint (transformation from score of 2 to 3) , eight subjects had been treated with antipsychotic medication compared to 30/33 in those not treated with antipsychotic medication. The authors concluded that the use of antipsychotic medication treatment reduced the risk of deterioration] compared to treatment without antipsychotic medications. The median time from the introduction of antipsychotic medication to the conversion from TD = 2 to TD > 2 was 39 months in subjects on antipsychotic medication compared to 12 months in patients treated otherwise. No differences were seen in motor UPDRS score changes between the groups. Hence, it was concluded that early antipsychotic medication treatment for mild hallucinations should be considered with the combined goal of improving current hallucinations and reducing risks of later deterioration.

Mov Disord. 2008 Jul 10;23(11):1573-1579. [Epub ahead of print] PMID: 18618660 [PubMed - as supplied by publisher]





---




(+) Suicidal and death ideation in Parkinson's disease (click here)


Parkinson's disease (PD) is a chronic, disabling illness affecting primarily the elderly and is associated with a high prevalence of depression. Although these are known risk factors for suicidal and death ideation, little is known about the prevalence and correlates of such ideation in PD. 116 outpatients with idiopathic PD at two movement disorders centers (U of Pennsylvania and VA) were administered a modified Paykel Scale for suicidal and death ideation (asking about current thoughts within the past month), as well as an extensive psychiatric, neuropsychological, and neurological battery Current death ideation (28%- wish to die without thoughts of intentionally ending one's own life) or suicide ideation (11%- thoughts about intentionally killing oneself) were present in 30% of the sample, and 4% had a lifetime suicide attempt. Increasing severity of depression, impulse control disorder (ICD) behaviors sometime during PD, and psychosis were associated with either ideation. Multivariate logistic regression analysis showed that only increasing severity of depressive predicted suicidal or death ideation. The authors concluded that active suicidal or death ideation occurs in up to one-third of PD patients and that comorbid psychiatric disorders, more than PD-related disease variables, are associated with this ideation, highlighting the need for a comprehensive approach to the clinical care of PD patients. Additionally, the authors stated that only half of the depressed PD patients were on an antidepressant highlighting the under-recognition and under-treatment of this problem.

NeuroloMov Disord 2008 Jul 10;23(11):1573-1579. [Epub ahead of print] PMID: 18618660 [PubMed - as supplied by publisher]





---




(+) Emergence of Parkinson's disease in essential tremor: A study of the clinical correlates in 53 patients (click here)


The entity of patients with essential tremor (ET) that develop Parkinson's disease (PD) has been recognized but few studies have examined the clinical features of this combination syndrome. In this study 53 patients with ET-PD were studied and compared to 53 PD and 150 ET patients. The ET diagnosis required moderate to severe action tremor in the limbs or head. PD diagnosis required at least two of the cardinal signs of parkinsonism. The ET-PD diagnosis required ET prior to PD and the neurologist at Columbia to continue to continue to assign the diagnosis of ET after the diagnosis of PD. Although the latency from onset of ET to PD was brief ( 20 years). The gender distribution of ET-PD (67.9% male) was identical to that of PD (67.9% male), yet differed from that of ET (50.0% male) (P = 0.02). The initial cardinal sign of PD was rest tremor in 100% of patients. In ET-PD, the side of greatest initial ET severity usually matched that of greatest PD severity (P < 0.05). In ET-PD, male gender predominated and the sidedness of the ET and PD usually matched. The co-occurrence of the two diagnoses in the same patient may be mechanistically related ( ie that it is one pathological process, namely lewy bodies, that underlie both disorders).

Mov Disord. 2008 Jul 10;23(11):1602-1605. [Epub ahead of print] PMID: 18618664 [PubMed - as supplied by publisher]


      
Dates To Remember
Committee Recap
September 15, 2008
Michael J. Fox Foundation,
Annual PD Therapeutics Conference
Chicago, IL

October 3-4, 2008
APDA 3rd Annual PD Retreat
Seattle, WA
425-443-8269

October 11, 2008
Southeastern PADRECC Annual PD
Community Education Day
Richmond, VA

October 11, 2008
Surgical Advances:
DBS and PD, Live Webcast,
PDF and Northwest Parkinson's Foundation
www.pdf.org/webcast

November 7-9, 2008
2008 Southeastern
Parkinson's Disease Conference,
Northwest Parkinson's Disease Association Georgia
www.gaparkinsons.org

November 13th, 2008
Managing Neuropsyhciatric
Complications in Parkinson's Disease,
1st PADRECC/ESS Teleconference
http://www.parkinsons.va.gov

November 15-19, 2008
The 38th Annual
Meeting of the Society for Neuroscience,
Washington, DC
http://www.sfn.org/am2008/

March 15, 2009
2009 PAN Forum

April 4, 2009
Quality of Life & PD,
Live Webcast, PDF and
Houston Area Parkinson's Society
www.pdf.org/webcast


Clinical Care Committee


Standardization of Care: The Clinical Care committee is currently working on standardizing DBS education and screening forms across the PADRECCs and established Consortium Centers.

PADRECC Transmitter: The Clinical Care committee continues to provide reviews of recent movement disorder publications that are included in the PADRECC Transmitter.
Research: Currently exploring opportunities to develop a PADRECC wide drug study.


Education Committee


EES/PADRECC Educational Series: Needs assessment was completed and EES approved the submitted proposal for this project. Teleconferences will be held the 2nd Thursday of every other month at 12pm EST and repeated at 3pm EST. The first teleconference will be held November 13th. CMEs will be provided for those who complete and submit the survey at the end of the teleconference. Each PADRECC will present a topic. A schedule of topics will be advertised soon. .

Federal Practitioner Supplement: The PADRECCs were asked to write a supplement on Parkinson's Disease for the Federal Practitioner as part of an unrestricted educational grant being submitted by Quadrant Medical Education. This project is currently pending grant approval.
2008 National Conference: The conference was held September 3rd-5th and was a great success with over 85 attendees. Collaborative projects are underway to continue the success of the National PD Consortium Network.
History & Mission / Consortium Center Refferal List / Membership & Consortium Center Designation / Movement Disorder Series / Resource Request Form / Grant Opportunities / Education & Clinical Resources / The Monthly Transmitter /  2008 Conference Presentations / Consortium Newsletters / Consortium Brochures
return to top