Attention A T users. To access the menus on this page please perform the following steps. 1. Please switch auto forms mode to off. 2. Hit enter to expand a main menu option (Health, Benefits, etc). 3. To enter and activate the submenu links, hit the down arrow. You will now be able to tab or arrow up or down through the submenu options to access/activate the submenu links.

Parkinson's Disease Research, Education and Clinical Centers
The Monthly Transmitter (September 2013)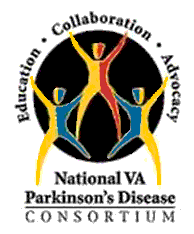 The Transmitter
September 2013
Article Review 
Prepared by: Dr. Indu Subramanian, Southwest PADRECC
Randomized trial of IPX066, carbidopa/levodopa extended release, in early Parkinson's disease.
Pahwa R, Lyons KE, Hauser RA, Fahn S, Jankovic J, Pourcher E, Hsu A, O'Connell M, Kell S, Gupta S; APEX-PD Investigators.
IPX066 is an extended release carbidopa/levodopa formulation designed to rapidly attain and maintain therapeutic plasma concentrations for a prolonged duration, allowing dosing intervals of approximately 6 h. The purpose of the study was to assess the efficacy, safety, and impact on quality of life of IPX066 in the treatment of levodopa-naive Parkinson's disease (PD) patients. This was a randomized, double-blind, placebo-controlled, 30-week study of 381 levodopa-naïve patients assigned to placebo or IPX066 containing 145, 245 or 390 mg of levodopa administered three times daily (TID). The primary efficacy measure was change from Baseline in Unified Parkinson's Disease Rating Scale (UPDRS) activities of daily living (Part II) + motor scores (Part III), at 30 weeks. Secondary outcome measures included UPDRS total and subscores, patient and clinician global impressions (PGI-I, CGI-I), and the Parkinson's Disease Questionnaire (PDQ-39).The authors found that all IPX066 dosages were superior to placebo throughout the study and at 30 weeks (P < 0.0001). The mean improvement in UPDRS Parts II + III at 30 weeks compared to baseline was 11.7, 12.9, and 14.9 points for the three dosages and 0.6 points for placebo (P < 0.0001, all dosages). PDQ-39 total scores improved with IPX066 (P ≤ 0.034, all dosages). The most commonly reported adverse events with IPX066 included nausea, dizziness, and headache. No unexpected drug-related serious adverse events were reported. They concluded that IPX066 provided significant clinical benefits at the three dosages tested compared to placebo and was well tolerated in levodopa-naive PD patients. Of the dosages tested, IPX066 145 mg TID appeared to provide the best overall balance between efficacy and safety.
Parkinsonism Relat Disord. 2013 Sep 5. pii: S1353-8020(13)00311-8. doi: 10.1016/j.parkreldis.2013.08.017. [Epub ahead of print]
http://www.ncbi.nlm.nih.gov/pubmed/24055014
PMID: 24055014
Association of Cerebrospinal Fluid β-Amyloid 1-42, T-tau, P-tau181, and α-Synuclein Levels With Clinical Features of Drug-Naive Patients With Early Parkinson Disease.
Kang JH, Irwin DJ, Chen-Plotkin AS, Siderowf A, Caspell C, Coffey CS, Waligórska T, Taylor P, Pan S, Frasier M, Marek K, Kieburtz K, Jennings D, Simuni T, Tanner CM, Singleton A, Toga AW, Chowdhury S, Mollenhauer B, Trojanowski JQ, Shaw LM; and the Parkinson's Progression Markers Initiative.
IMPORTANCE We observed a significant correlation between cerebrospinal fluid (CSF) levels of tau proteins and α-synuclein, but not β-amyloid 1-42 (Aβ1-42), and lower concentration of CSF biomarkers, as compared with healthy controls, in a cohort of entirely untreated patients with Parkinson disease (PD) at the earliest stage of the disease studied so far. The purpose of the study was to evaluate the baseline characteristics and relationship to clinical features of CSF biomarkers (Aβ1-42, total tau [T-tau], tau phosphorylated at threonine 181 [P-tau181], and α-synuclein) in drug-naive patients with early PD and demographically matched healthy controls enrolled in the Parkinson's Progression Markers Initiative (PPMI) study. This was a study of the initial 102 research volunteers (63 patients with PD and 39 healthy controls) of the PPMI cohort. MAIN OUTCOMES AND MEASURES The CSF biomarkers were measured by INNO-BIA AlzBio3 immunoassay (Aβ1-42, T-tau, and P-tau181; Innogenetics Inc) or by enzyme-linked immunosorbent assay (α-synuclein). Clinical features including diagnosis, demographic characteristics, motor, neuropsychiatric, and cognitive assessments, and DaTscan were systematically assessed according to the PPMI study protocol. RESULTS Slightly, but significantly, lower levels of Aβ1-42, T-tau, P-tau181, α-synuclein, and T-tau/Aβ1-42 were seen in subjects with PD compared with healthy controls but with a marked overlap between groups. Using multivariate regression analysis, we found that lower Aβ1-42 and P-tau181 levels were associated with PD diagnosis and that decreased CSF T-tau and α-synuclein were associated with increased motor severity. Notably, when we classified patients with PD by their motor phenotypes, lower CSF Aβ1-42 and P-tau181 concentrations were associated with the postural instability-gait disturbance-dominant phenotype but not with the tremor-dominant or intermediate phenotype. Finally, we found a significant correlation of the levels of α-synuclein with the levels of T-tau and P-tau181. CONCLUSIONS AND RELEVANCE In this first report of CSF biomarkers in PPMI study subjects, we found that measures of CSF Aβ1-42, T-tau, P-tau181, and α-synuclein have prognostic and diagnostic potential in early-stage PD. Further investigations using the entire PPMI cohort will test the predictive performance of CSF biomarkers for PD progression.
JAMA Neurol. 2013 Aug 26. doi: 10.1001/jamaneurol.2013.3861. [Epub ahead of print]
http://www.ncbi.nlm.nih.gov/pubmed/23979011
PMID: 23979011
Baseline [123 I]FP-CIT SPECT (DaTSCAN) severity correlates with medication use at 3 years in Parkinson's disease.
Nissen T, Malek N, Grosset KA, Newman EJ, Patterson J, Hadley D, Grosset DG.
Presynaptic dopaminergic deficiency on dopamine transporter imaging supports a clinical diagnosis of Parkinson's disease and correlates with the severity of rigidity and bradykinesia. Baseline dopaminergic deficiency predicts clinical severity, but the relationship with subsequent medication use has not been reported. The study is a randomly selected cross section of 83 Parkinson's disease (PD) patients who had [123 I] FP-CIT SPECT at the time of clinical diagnosis was identified. Dopaminergic deficiency was graded 1, 2 or 3 with increasing severity using visual assessment and by semiquantitative analysis of putamen and caudate uptake. Antiparkinson medication usage and clinical severity by Hoehn and Yahr were noted annually to 3 years.In 83 patients (66% male, median age 65.0 years, IQ 55.4-71.8), [123 I]FP-CIT SPECT was grade 1 in 20 (24%), grade 2 in 53 (64%) and grade 3 in 10 patients (12%). Dopamine transporter uptake ratios were inversely associated with antiparkinson medication usage (r = -0.26, P = 0.0201) and Hoehn Yahr stage (r = -0.32, P = 0.0029) at 3 years from baseline, but there was considerable variation in drug usage in individual patients. At 3 years, patients with grade 1 scans at baseline received a median dose of 325 levodopa equivalent units (LEU) (interquartile range 175-433); grade 2 scan patients 400 LEU (interquartile range 300-635); and grade 3 scan patients 460 LEU (interquartile range 252-658).The authors found that the degree of reduction in presynaptic dopaminergic uptake at baseline is associated with higher antiparkinson drug dosage at follow-up, but the wide variation means that the baseline FP-CIT SPECT does not reliably predict drug use in individual cases
Acta Neurol Scand. 2013 Aug 20. doi: 10.1111/ane.12178. [Epub ahead of print]
http://www.ncbi.nlm.nih.gov/pubmed/23962145
PMID: 23962145
Committee Activities
·       Rotation of Committee Chair: Leadership for the clinical care committee rotates amongst the PADRECCs.  The Northwest PADRECC leads the committee for September/October.  Committee meets via conference call the first Tuesday of the month at 12pm (EST)
·       Standardize and Optimize Clinical Care: Continues to discuss a variety of clinical issues to enhance patient care, the committee continues to provide clinical support to the Consortium network, and work on measures to standardize clinical care across the PADRECC network.  Recent agenda items have included ongoing discussion on:    
·        Use of Clinical Video Telehealth for movement disorders and  home monitoring devices
Review of applications in clinical arena for subset of patients, and ways to expand access to CBOCs  and remote areas where subspecialty expertise is not available. Research ideas pertaining to the use of home monitoring devices in movement disorders patients.
·        Use of various Botulinum toxins
    Development of PMB guideline for clinical use of various toxins
·        The use of DAT scans in clinical practice
Applications and pitfalls of use
·        PADRECC Transmitter: PADRECC clinicians provide reviews of recent movement disorder publications that are included in the PADRECC Transmitter
Education Committee
·        PADRECC/EES Movement Disorder Series:  The final audioconference for the FY13 series was held on September 12, 2013: "Medical Domain Management Model." The audio conferences are archived on the National website www.parkinsons.va.gov under the Movement Disorder Series tab. All evaluations for CMEs are being done electronically via TMS. Request for FY14 MDS has been submitted into the EES portal for consideration. MDS planning committee will be meeting in the next couple of weeks to plan the FY14 program.
·        Patient Education Video Project:  The My Parkinson's Story video series from FY 11 and FY 12 are now available for viewing on the National PADRECC & VA Consortium Website: http://www.parkinsons.va.gov/patients.asp and on You Tube. Filming is currently underway for the 4 videos approved for FY13. Request was submitted for another 4 videos for FY14.
·        Enduring Materials Project: In collaboration with EES, the committee is developing an on-line TMS self study program that will offer CME credit for a 3 year period. The purpose of this training is to provide VHA healthcare professionals with a broadened medical awareness of Mood Disorders in PD.
·        PADRECC Hospitalization Kit:  In collaboration with the PADRECC Nurses Group, the committee has developed a hospitalization kit unique to Veterans with PD.   The kit is composed of a PADRECC branded tote bag as well as the following PADRECC branded documents: Fact Sheet, Reminder Card and Kit Checklist. All documents are available on the National PADRECC & VA Consortium Website: www.parkinsons.va.gov. Please have Veterans contact their local PADRECC if they are interested in receiving a hospitalization kit.
·        PADRECC Transmitter:The committee continues to assemble and distribute this e-newsletter every other month.

Southwest PADRECC Service Area Updates
Southwest PADRECC
Director: Jeff Bronstein, MD
The SW PADRECC provides comprehensive evaluation and management of Veterans with parkinsonism, tremor and dystonia including deep brain stimulation and botulinum therapy for dystonia and blepharospasm. In our effort to reach Veterans across the region, a network of eight sites are located in Southern California; Las Vegas, Nevada; New Mexico, and Arizona as well as telehealth technology. A multi-interdisciplinary approach is used including our neurosurgeon, Jean-Philippe Langevin, MD.
In addition to the PADRECC-wide collaboration on the landmark deep brain stimulation study, other collaborative studies include cost analysis of DBS, detection of pre-symptomatic parkinsonism, evaluation of how PD persons make decisions which may shed information on impulse control disorders in PD. Basic science research includes investigating causes of PD such as mechanisms of pesticide toxicity and gene-environment interactions, testing new drugs in a zebrafish model, and studying molecular mechanisms underlying selective neuronal degeneration. Health services and clinical study projects include evaluating a nurse-led care management versus usual care, evaluating SPECT scanning for early PD diagnosis, evaluating drug treatment of advanced motor fluctuations, studying the cortical physiology of dystonia, studying the effect of DBS on non-movement PD symptoms; and investigating neuropathologic changes in brains of those with PD and other dementing illness.

Dates to Remember
October 1-4, 2013
3rd World Parkinson Congress
Montreal, Canada
http://www.worldpdcongress.org/?page=AboutWPC
November 14, 2013
EES/PADRECC Movement Disorder Series
Topic: To be determined
April 26-May 3, 2014
American Academy of Neurology-Annual Meeting
Philadelphia, PA
http://www.aan.com/conferences/2014-annual-meeting/
June 8-12, 2014
18th International Congress of Parkinson's Disease and Movement Disorders
Movement Disorder Society
Stockholm, Sweden
http://www.mdscongress2014.org/
History & Mission /  Consortium Center Refferal List /  Membership & Consortium Center Designation / Resource Request Form / Education & Clinical Resources / Consortium Newsletters / Consortium Brochures
return to top