Attention A T users. To access the menus on this page please perform the following steps. 1. Please switch auto forms mode to off. 2. Hit enter to expand a main menu option (Health, Benefits, etc). 3. To enter and activate the submenu links, hit the down arrow. You will now be able to tab or arrow up or down through the submenu options to access/activate the submenu links.

Parkinson's Disease Research, Education and Clinical Centers
The Monthly Transmitter (September 2012)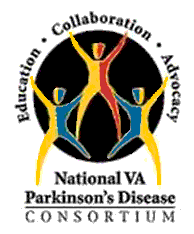 The Transmitter
 
September 2012
 
Article Review
Prepared by:  Indu Subramanian, MD & Virginia Janovsky, MN, MS, RN-BC, Southwest PADRECC
Nurses Leading the Response to the Crisis of Palliative Care for Vulnerable Populations
The authors offer a solution for the growing need for access to palliative care for the chronically and terminally ill, elderly, and underserved including vulnerable populations with limited access to resources, poverty, low socio-cultural status, lack of education, mental illness, homelessness, incarceration, and undocumented immigrants.  Based on "all nursing care is palliative care,"  nurses can take the lead as providers and leaders for symptom management, facilitating effective communication of the team care team, and providing bereavement support in any health setting including shelters, prisons, nursing homes and the street.  Initiatives to improve palliative care include The Joint Commission's certification program to recognize inpatient programs that demonstrate exceptional care of patients with serious illness and the Accountable Care Organizations, comprised of doctors, hospitals and advance practice nurses and physician assistants who provide care coordination to their Medicare clients. 
Nurs Econ.  07/13/2012;. 2012;30(3):140-147 
http://www.medscape.com/viewarticle/765826
 
Motor symptoms at onset of Parkinson disease and risk for cognitive impairment and depression.
The authors wanted to determine whether side and type of initial motor symptoms in Parkinson disease (PD) predict risk for later development of cognitive impairment or depressive symptoms. 124 non-demented patients with PD were recruited  to participate in a cohort study of cognitive function and depressive symptoms that used validated neuropsychological tests and a depressive symptom inventory. Patients' charts were reviewed to determine their initial motor symptom and side of onset, and then classified the patients into 4 groups: right-sided onset tremor, right-sided onset bradykinesia/rigidity, left-sided onset tremor, and left-sided onset bradykinesia/rigidity. Patients with bilateral symptom onset were excluded. Analysis of variance was performed on neuropsychological test performance and depressive symptoms to determine whether group classification affected risk of cognitive impairment or depressive symptoms.  Analyses was controlled for disease duration and motor severity as measured by the Unified Parkinson Disease Rating Scale Part III motor score. There were no differences in any cognitive measure by side and type of initial motor symptoms. The right-sided onset tremor group had the lowest depressive symptom scores, and no patient in any group reported severe depressive symptoms.
 
Patterns of nigral loss correlating to the initial side and type of motor symptoms in PD are not related to the risk of later cognitive impairment. By contrast, patients with right-sided onset of tremor seem to have a lower risk of depressive symptoms than patients with other presentations.
 
Cogn Behav Neurol.  Sep;25(3):115-20.
http://www.ncbi.nlm.nih.gov/pubmed/22960435
 
Aő≤-amyloid deposition in patients with Parkinson disease at risk for development of dementia.
 
The authors aimed to examine the relationship between corticostriatal Aő≤-amyloid deposition and cognitive dysfunction in a cohort of patients with Parkinson disease (PD) at risk for dementia. This was a cross-sectional study of 40 patients with PD with mild cognitive impairment (MCI) or other known dementia risk factors. Subjects underwent dynamic Aő≤-amyloid and vesicular monoamine transporter 2 PET imaging using [(11)C] Pittsburgh compound B (PiB) and [(11)C] dihydrotetrabenazine (DTBZ), respectively, and neuropsychological assessment. PiB and DTBZ PET data were analyzed using the Logan graphical method to determine cerebral PiB deposition relative to the cerebellar hemispheres and striatal DTBZ binding relative to occipital neocortex. Component z scores were calculated for individual cognitive domains (memory, visuospatial processing, working memory/attention, and executive function) and combined linearly for global estimation of cognition. Correlation of cognitive function and cortical PiB binding was investigated.
 
Elevated cerebral PiB binding at levels seen in patients with AD was infrequent (6 of 40 subjects). Mean cortical PiB binding in the entire cohort was 1.16 ¬Ī 0.16 (distribution volume ratio; range 0.96-1.78). A significant correlation was noted between cortical PiB binding and global composite cognitive function (r = -0.55, p < 0.005) as well as the Wechsler Adult Intelligence Scale score (r = -0.54, p = 0.0004).Elevated cerebral Aő≤-amyloid deposition at levels seen in Alzheimer disease is uncommon in subjects with PD at risk for dementia. In this sample, the prevalence of markedly elevated PiB binding was significantly lower than that found in prior studies of cognitively normal elderly individuals. Neocortical PiB binding correlated robustly with measures of cognitive impairment in our cohort.
 
Neurology  2012 Sep 11;79(11):1161-7. Epub 2012 Aug 29.
http://www.ncbi.nlm.nih.gov/pubmed/22933741
 
Palliative care for advanced Parkinson disease: An interdisciplinary clinic and new scale, the ESAS-PD.
 
Palliative care provides a holistic approach to symptom relief using a multidisciplinary team approach to enhance quality of life throughout the entire course of a particular illness. The care team consists of movement disorders neurologist, a palliative care physician, a wound care nurse, a spiritual counselor and a care coordinator. Palliative care concepts were applied to a group of advanced Parkinson disease (PD) patients in a dedicated Palliative Care Clinic.  A modified Edmonton Symptom Assessment System Scale for PD (ESAS-PD) was developed and applied to 65 PD patients at their initial consultation and following recommended interventions. Scores were compared to those of metastatic cancer patients reported in the palliative care literature.  The ESAS-PD scores significantly improved after the interventions (56 and 40 respectively, p = 0.0001). The most improved items were constipation, dysphagia, anxiety, pain and drowsiness. ESAS-PD scores were not significantly different from metastatic cancer patients' ESAS scores. The authors conclude that ESAS-PD is a quick, effective scale for assessment of late stage PD symptoms. Scores are sensitive to intervention, and therefore have potential clinical utility for physicians and other healthcare providers. Advanced PD patients have a similar degree of symptoms as metastatic cancer patients, respond to treatment in a similar way, and therefore should have access to palliative care services.
 
Parkinsonism Relat Disord.   2012 Aug 3. [Epub ahead of print]  http://www.ncbi.nlm.nih.gov/pubmed/22867994
 
Committee Activities
Clinical Care Committee
·        Rotation of Committee Chair: Leadership for the clinical care committee rotates amongst the PADRECCs.  The Southwest PADRECC leads the committee for September/October.  Committee meets via conference call the first Tuesday of the month at 12pm ET.
 
·        Standardize Clinical Care: Continues to discuss a variety of clinical issues, provide clinical support to the Consortium network, and work on measures to standardize clinical care across the PADRECC network.  Recent agenda issues discussed:          
o   Neupro patch
o   Coop Study substudies
o   DAT scan usage
o   Use of CVT (clinical video teleheath)/telemed for movement disorders
 
·        PD Handbook:  A handbook for VHA that addresses such things as definition of PD, purpose, authority and scope, system of care, population served, etc. is in the final stage of completion. An appendix is being added that includes publications by PADRECC staff.
 
·        PADRECC Transmitter: PADRECC clinicians provide reviews of recent movement disorder publications that are included in the PADRECC Transmitter
 
Education Committee
·        PADRECC/EES Movement Disorder Series:  The FY 2012 series is underway.  The 6th audioconference for this series was  held on September 20, 2012:    "VA Telehealth and Movement Disorders."  The audio conferences will be archived on the National website www.parkinsons.va.gov under the Movement Disorder Series tab.  All evaluations for CMEs are now being done electronically via EES.  Please take a look at the Dates To Remember section for  a listing of upcoming audio conferences.   
·        Patient Education Video Project: 8 videos were taped in FY 2011.  The videos are completed and all Consortium Centers should have received a copy of the DVD.  Posting on the National PADRECC & VA Consortium Website and You Tube are pending.  Currently, the PADRECCs and EES are taping the 2nd video series which will be completed next month. 
·        Enduring Materials Project: In collaboration with EES, the committee is developing an on-line TMS self study program that will offer CME credit for a 3 year period.  The purpose of this training is to provided VHA healthcare professionals with a broadened medical awareness of Mood Disorders in PD.
 
·        PADRECC Transmitter: The committee continues to assemble and distribute this e-newsletter every other month.
 
Southwest PADRECC Service Area Updates
The SW PADRECC provides comprehensive patient evaluation and management for Veterans with parkinsonism, tremor, and dystonia including deep brain stimulation and botulinum therapy for such conditions as dystonia and blepharospasm.  In our effort to reach Veterans across the region, a network of eight sites are located in Southern California, Las Vegas, Nevada; New Mexico and Arizona VA health system, each staffed by a movement disorder specialist or neurologist.  Southwest PADRECC headquarters is based at the West Los Angeles VA Medical Center. 
In addition to PADRECC wide collaboration on CSP #468, the landmark deep brain stimulation study, the SW PADRECC researchers have developed quality indicators for PD and are currently conducting a randomized controlled study to evaluate a nurse-led care management intervention.  Basic science research includes investigating causes of PD such as mechanisms of pesticide toxicity and gene-environment interactions, testing new drugs in a zebrafish model, and studying molecular mechanisms underlying selective neuronal degeneration.  Clinical study projects include pursuing gene therapy and cell-based therapy, evaluating SPECT scanning for early PD diagnosis, evaluating drug treatment of advanced motor fluctuations and studying the cortical physiology of dystonia.
Long Beach VA PADRECC
Dr. Steven Schreiber has been instrumental in the development of Teleneurology at the local, VISN and national levels.
 
Dates to Remember
 
November 8, 2012
EES/PADRECC Movement Disorder Series
Telehealth Delivered Voice Therapy: Comparing Outcomes to Traditional Delivery for Adults with PD
 
November 9, 2012
8th Annual PADRECC/MIRECC Symposium: 
Risk Factors, Early Detection and Management of the Motor and Cognitive Symptoms of Parkinson's Disease and Dementia with Lewy Bodies 
Philadelphia, PA
http://www.parkinsons.va.gov/Consortium/Presentations/PADRECC_MIRECC2012REV8_30.pdf
 
March 16-23, 2013
American Academy of Neurology Annual Meeting
San Diego, CA
 
June 6-20, 2013
17th International Congress of Parkinson's Disease and Movement Disorders
Sydney, Australia
http://www.mdscongress2013.org/
 
October 1-4, 2013
3rd World Parkinson Congress
Montreal, Canada
http://www.worldpdcongress.org/?page=AboutWPC
 
 
History & Mission /  Consortium Center Refferal List /  Membership & Consortium Center Designation / Resource Request Form / Education & Clinical Resources / Consortium Newsletters / Consortium Brochures
return to top