Attention A T users. To access the menus on this page please perform the following steps. 1. Please switch auto forms mode to off. 2. Hit enter to expand a main menu option (Health, Benefits, etc). 3. To enter and activate the submenu links, hit the down arrow. You will now be able to tab or arrow up or down through the submenu options to access/activate the submenu links.

Parkinson's Disease Research, Education and Clinical Centers
The Monthly Transmitter (September 2011)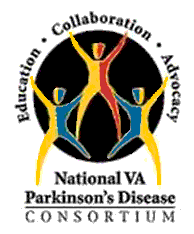 September 2011
Article Review
Prepared by Dr. Indu Subramanian, West LA PADRECC
Associated factors for REM sleep behavior disorder in

Parkinson disease.
The authors investigated the frequency, phenomenology, and associated risk factors of REM sleep behavior disorder (RBD) in Parkinson disease (PD). An unselected cohort of sleep-disturbed patients with PD (n=457) was investigated with video-supported polysomnography. The overall frequency of RBD was 46%. According to our cohort and modified definition, there was no preferred PD subtype for RBD (p=0.142). There was no gender preference (p=0.770). RBD was associated with older age (p=0.000). Adjusted for age and gender, patients with PD and RBD had longer disease duration (p=0.024), higher Hoehn & Yahr stages (p=0.002), more falls (p=0.018), more fluctuations (p=0.005), more psychiatric comorbidity (p=0.026), and a higher dose of levodopa (p=0.002). The presence of RBD was related to slightly increased sleep efficiency (p=0.007), a higher amount of REM sleep (p=0.000), and more periodic leg movements during sleep (p=0.019). The authors concluded that RBD is a frequent and clinically relevant nocturnal disturbance for all stages of PD. It increases with age and disease duration and may contribute to the nocturnal problems of patients with PD and their bed partners.
Neurology. 2011 Sep 13;77(11):1048-54. Epub 2011 Aug 10.
http://www.ncbi.nlm.nih.gov/pubmed/21832215Format
Referring patients for deep brain stimulation: an improving practice.
The authors looked at referral patterns to a large movement disorders center to investigate the current level of knowledge surrounding DBS candidacy by retrospectively analyzing the charts for 197 patients referred for DBS in a 5 year span. Standardized criteria for DBS patient selection were used to categorize referred DBS candidates as the following: good candidates, possible future candidates, poor candidates because of neurological contraindications, or poor candidates because of medical contraindications. Yearly percentages were computed. Referral sources were categorized as movement disorder specialists vs non-movement disorder physicians and self-referred. In total, 165 referrals (83.8%) had ailments for which DBS was indicated, and 100 referrals (50.8%) were good candidates (62 with idiopathic Parkinson disease, 35 with dystonia, and 3 with essential tremor). Referrals by movement disorder specialists vs other sources differed significantly in their percentages of good candidates (66.7% vs 40.4%, P = .002) and possible future candidates (14.7% vs 32.7%, P = .02) but not poor candidates (18.7% vs 25.0%, P = .60). Over the observed period of referrals, the yearly percentages significantly decreased for good candidates and increased for possible future candidates and poor candidates. The authors concluded that compared with findings in prior studies, the quality of DBS referrals has improved. The increase in referral of possible future candidates and poor candidates may reflect greater confidence in the procedure.
Arch Neurol. 2011 Aug;68(8):1027-32.
http://www.ncbi.nlm.nih.gov/pubmed/21825238
Ten-Year Outcome of Subthalamic Stimulation in Parkinson Disease: A Blinded Evaluation.
The authors objective was to assess the 10-year motor outcome of deep brain stimulation of the subthalamic nucleus (STN-DBS) in patients with Parkinson disease (PD). 18 Patients with PD with bilateral STN-DBS were assessed according to the Core Assessment Program for Surgical Interventional Therapies in Parkinson's Disease protocol and videotaped at baseline and 1, 5, and 10 years after surgery. An independent rater blinded to stimulation and medication condition scored the 10-year video assessments. The primary outcome was the change in blinded Unified Parkinson's Disease Rating Scale (UPDRS) motor scores/subscores between the no medication/stimulation condition vs the no medication/no stimulation condition at 10 years. Secondary outcomes were the changes in blinded UPDRS motor scores between the medication/no stimulation and medication/stimulation conditions, UPDRS II scores, UPDRS IV dyskinesia and motor fluctuations scores, and anti-PD medication dose (levodopa equivalent daily dose) at different points. In the 18 patients available for follow-up at 10 years, STN-DBS still significantly improved the UPDRS total motor score (P = .007) and resting and action tremor (P < .01 and P = .02, respectively) and bradykinesia (P = .01) subscores. The UPDRS II scores in the medication and no medication conditions, UPDRS IV dyskinesia and motor fluctuations scores, and the levodopa equivalent daily dose were also significantly reduced compared with baseline. Axial signs showed the most progressive decline in stimulation and levodopa response over the years. The authors conclude that stimulation-induced motor improvement was sustained overall at 10 years, although part of the initial benefit wore off mainly because of progressive loss of benefit on axial signs over time.
Arch Neurol. 2011 Aug 8. [Epub ahead of print]
http://www.ncbi.nlm.nih.gov/pubmed/21825213
What Are Neuroscience Nurses Teaching Parkinson's Patients and Families before Deep Brain Stimulation?
This study aims to determine the content of pre- and post-operative patient education for deep brain stimulation (DBS)--an increasingly popular procedure used globally-- in an effort to guide standardization among nurses.  The study used survey methodology with a convenience sample of nurses involved in a Veterans Administration cooperative study for patients with Parkinson's disease. Of the 19 study coordinators responding, 16 were nurses; education ranged from bachelor's to medical degrees; 90% teach 54% of the same preoperative content and 80% teach 23% of the same postoperative content; 95% provide education face-to-face; 90% include family caregivers. Most address preoperative anxiety in all aspects of their education.  Before standardizing content, future research should address patient and family perspectives about helpful content.
Lanier, E., Buffum, M. (2011). What are neuroscience nurses teaching parkinson's patients and families before deep brain stimulation? Journal of Neuroscience Nursing, 43(1), E1-E7.
http://journals.lww.com/jnnonline/Abstract/2011/02000/
What_Are_Neuroscience_Nurses_Teaching_Parkinson_s.10.aspx
Permission to reprint granted by Journal of Neuroscience Nursing, 9/26/11.
Committee Activities
·         Rotation of Committee Chair: Leadership for the clinical care committee rotates amongst the PADRECCs. West LA leads the committee for September and October. Committee meets the first Tuesday of the month at 12pm ET.
·         Standardize Clinical Care: Continues to discuss a variety of clinical issues, provide clinical support to the Consortium network, and work on measures to standardize clinical care across the PADRECC network.
o   Azilect is now on the national formulary
o   LA new patient note template is being piloted.  It will capture the AAN guidelines for nonmotor symptoms
o   Discussions are taking place about standardizing pharmacy recommendations/allowances so that all PADRECCs have the same drugs available.
·         PD Handbook:  A smaller subcommittee is in the process of drafting a handbook for the VHA (similar to a MS Handbook developed by MSCoE)  that addresses such things as definition of PD, purpose, authority and scope, system of care, population served, etc.
·         DAT Scans: The committee is establishing standardized guidelines for DAT Scans throughout the VA.
·         PADRECC Transmitter: PADRECC clinicians provide reviews of recent movement disorder publications that are included in the PADRECC Transmitter
Education Committee
·         PADRECC/EES Movement Disorder Series: The FY 2011 series is wrapping up. The last audio conference for this series was held on September 8th titled: Neuroprotection and Parkinson's Disease. The FY 2012 series will begin on November 10th. The audio conference series will be archived on the www.parkinsons.va.gov website under the Movement Disorder Series tab.
·         Patient Education Video Project: 8 videos were taped for FY 2011. The videos are in the final stage of editing and once completed they will be available on DVD, the PADRECC website and You Tube. Request was placed with EES for taping of 8 more videos in FY2012.  
·         PADRECC Transmitter: The committee continues to assemble and distribute this e-newsletter every other month.
·         National Website: The committee is assisting in updating the National VA PADRECC/Consortium Website.
·         National Newsletter: The committee is in the process of assembling the Annual National Newsletter which will be distributed in 2012.
Dates to Remember
October 21-22, 2011
Northeast Young Onset Parkinson Conference
Providence, RI
http://www.parkinson.org/getdoc/e47770b8-dce1-4db9-990f-2b0b18f12eec/default
November 10, 2011
EES/PADRECC Movement Disorder Series
PD Care Management Program for Veterans with PD
January 12, 2012
EES/PADRECC Movement Disorder Series
TBD
March 8, 2012
EES/PADRECC Movement Disorder Series
Mood Disorders in PD
April 21-28, 2012
American Academy of Neurology Annual Conference
New Orleans, LA
June 17-21, 2012
16th International Congress of Parkinson's Disease and Movement Disorders
Dublin, Ireland
http://www.movementdisorders.org/congress/congress12/
History & Mission /  Consortium Center Refferal List /  Membership & Consortium Center Designation / Resource Request Form / Education & Clinical Resources / Consortium Newsletters / Consortium Brochures
return to top