Attention A T users. To access the menus on this page please perform the following steps. 1. Please switch auto forms mode to off. 2. Hit enter to expand a main menu option (Health, Benefits, etc). 3. To enter and activate the submenu links, hit the down arrow. You will now be able to tab or arrow up or down through the submenu options to access/activate the submenu links.

Parkinson's Disease Research, Education and Clinical Centers
The Monthly Transmitter (November 2012)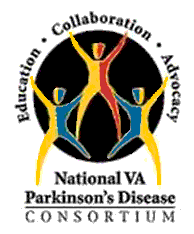 The Transmitter
November 2012
Article Review
Prepared by: William Carne, PhD, Abu Qutubuddin, MD, and Lynn Klanchar, RN, MS
Shared Predispositions of Parkinsonism and Cancer: A Population-Based Pedigree-Linked Study
From the historical Utah population-based genealogic database of 2.3 million individuals researchers identified 2998 persons who died from Parkinson's disease (PD) between 1904-2008 as well as 100,817 persons identified in the Utah Cancer Registry who died from cancer during the same time frame. Analysis demonstrated a relationship between PD and both melanoma and prostate cancer. The relative risk (RR) for melanoma in PD patients was 1.95 (95% confidence interval [CI], 1.44 - 2.59), while a prostate cancer RR of 1.71 was reported (95% CI, 1.49 - 1.96). Other cancers were not found to be associated with PD. Heightened risk for both melanoma and prostate cancer was also noted in first, second and third degree relatives as well. The relative risk declined with the closeness of the relationship but remained statistically significant. While the PD-melanoma association has been previously well-reported, this study is the first to note a PD-prostate relationship. The study also spotlighted the risk to relatives as well as the reciprocal relationship in relatives of PD and the identified cancers. The authors state that the "data argue strongly for a significant shared genetic risk for specific cancers on one hand and neurodegeneration on the other"
Arch Neurol. 2012 Sep 3:1-6. doi: 10.1001/archneurol.2012.2261. [Epub ahead of print]
http://www.ncbi.nlm.nih.gov/pubmed/22945795
Small-vessel disease in patients with Parkinson's disease: A clinicopathological study
The relationship between cerebrovascular disease, cardiovascular risk factors and Parkinson's disease (PD) has been under-studied. In this retrospective, clinicopathological study, a blinded single examiner determined the extent and locations of small vessel disease (SVD) as they related to vascular risk factors in 77 autopsied PD brains and in 32 control brains from the Sydney (Australia) Brain Bank. SVD was measured by perivascular pallor, gliosis, hyaline thickening and enlargement of perivascular spaces in the white matter surrounding the primary motor cortices, basal ganglia and white matter tracts. Risk was assessed via a history of hypertension, heart disease, diabetes and tobacco use. Multiple regression analysis indicated greater frontal pallor and perivascular space widening in the globus pallidus interna in controls when compared to the PD brains. Other factors did not reach significance. SVD pathology and vascular risk factors was significantly lower in the PD brain group. The authors speculate that levodopa therapy may decrease blood pressure which may reduce cardiovascular issues. Further study is suggested.
Mov Disord 2012 Oct;27(12):1506-12. doi: 10.1002/mds.25112. Epub 2012 Sep 26.
http://www.ncbi.nlm.nih.gov/pubmed/23015464
Symptoms and quality of life in late stage Parkinson syndromes: a longitudinal community study of predictive factors.
This longitudinal study was done in the UK with 82 patients at stages 3-5 Hoehn and Yahr (H&Y) who had a diagnosis of idiopathic Parkinson's Disease (IPD), Progressive Supranuclear Palsy (PSP) or Multiple System Atrophy (MSA) who lived at home. The aim was to understand palliative care needs, how symptoms change over time, and determine if certain demographic or clinical indicators identify those with the greatest future need. Generic scales (HADs-14; EQ5-D; POS; and POS-PP), along with Parkinson specific scales (PDQ-8) were used to collect demographic, clinical, symptom, palliative and QOL data at baseline, and up to 3 additional visits over one year. Over two thirds of patients had severe disability with over one third where wheelchair bound/bedridden. More than 50% of MSA and PSP patients died during the study. The strongest predictors of higher level of symptoms at the end of follow up were initial scores on POS (Palliative care Outcome Scale) and male gender. Initial H&Y score was not significantly predictive. POS is a validated outcome that measures 10 items (pain control, symptom control, patient anxiety, family anxiety, information, sharing feelings, depression, self-worth, practical needs, and time wasted). A high score of palliative problems (indicated by POS) on the baseline assessment most consistently predicated future problems. Poor quality of life (PDQ-8), psychological distress (HADs), and symptoms (POS-PP) were also predictive. The authors conclude that severe and continuing symptoms and distress indicate that current care is not controlling symptoms or meeting patients' needs, and that palliative care is not being equitably offered. A diagnosis of MSA, PSP, H&Y 3 or more, use of POS or PDQ-8 could help trigger a referral for palliative care. More research is needed to test symptomatic treatments and psychological support for this population.
PLoS One. 2012;7(11):e46327. doi: 10.1371/journal.pone.0046327. Epub 2012 Nov 7.
http://www.ncbi.nlm.nih.gov/pmc/articles/PMC3492372/
Committee Activities
Clinical Care Committee
· Rotation of Committee Chair: Leadership for the clinical care committee rotates amongst the PADRECCs. The Philadelphia PADRECC leads the committee for November/December. Committee meets via conference call the first Tuesday of the month at 12pm ET.
· Standardize Clinical Care: Continues to discuss a variety of clinical issues, provide clinical support to the Consortium network, and work on measures to standardize clinical care across the PADRECC network. Recent agenda issues discussed:
o Depression screening
o The new, modified UPDRS
o Use and benefits of various PD medications, including Rasagaline, Requip XR, botulinum toxin
o Tetrabenazine use in HD, Tourette's, management of tics
o DAT scan usage
o Increased use of GPi site for DBS
o Use of CVT (clinical video teleheath)/telemed for movement disorders
o Ways to enhance pharmacy resources such as medication reconciliation, pill box organization and medication compliance
· PD Handbook: A handbook for VHA that addresses such things as definition of PD, purpose, authority and scope, system of care, population served, etc. is in the final stage of completion. An appendix is being added that includes publications by PADRECC staff.
· PADRECC Transmitter: PADRECC clinicians provide reviews of recent movement disorder publications that are included in the PADRECC Transmitter
Education Committee
· PADRECC/EES Movement Disorder Series: The FY 2013 series is underway. The 1st audioconference for this series was held on November 8, 2012: "Telehealth Delivered Voice Therapy: Comparing Outcomes to Traditional Delivery for Adults with Parkinson's Disease." The audio conferences will be archived on the National website www.parkinsons.va.gov under the Movement Disorder Series tab. All evaluations for CMEs are now being done electronically via TMS. Please take a look at the Dates To Remember section for a listing of upcoming audio conferences.
· Patient Education Video Project: 8 videos were taped in FY 2011. The videos are completed and all Consortium Centers should have received a copy of the DVD. Posting on the National PADRECC & VA Consortium Website and You Tube are pending. Taping was recently completed on a 2nd video series for FY2012 and are in the editing stage. Request has been submitted to EES for a 3rd video series for FY2013.
· Enduring Materials Project: In collaboration with EES, the committee is developing an on-line TMS self study program that will offer CME credit for a 3 year period. The purpose of this training is to provided VHA healthcare professionals with a broadened medical awareness of Mood Disorders in PD.
· PADRECC Transmitter: The committee continues to assemble and distribute this e-newsletter every other month.
Southeast PADRECC Service Area Updates
Gainesville, FLÂ 
North Florida/South Georgia VAMC
A movement disorder specialist will be joining the Neurology department in July 2013 with plans to re-activate this Center. Consortium member and speech pathologist Nan Musson, MA CCC-SLP, BC-ANCDS from Gainesville VAMC serves on the planning committee for the PADRECC/EES Movement Disorder Series of audio conferences. She is the representative for ASHA (American Speech and Hearing Association) and provides guidance for continuing education for speech and language pathologists.
Nashville, TNÂ 
Tennessee Valley VA Healthcare System – Nashville Campus
Director: John Fang, MD
Phone: 615-873-7510 (please note: new phone number)
Operational since 2002, the Movement Disorders clinic at the Nashville Campus of the VA Tennessee Valley Healthcare System treats patients with Parkinson's Disease and other movement disorders. The focus is on optimizing medications and working with primary care providers and other specialists. Botulinum toxin therapy and deep brain stimulation programming are supported. Sheryl Hobden, neurology department secretary provides administrative support for the clinic.
Birmingham, ALÂ 
Birmingham VAMC
Director: Anthony P. Nicholas, MD, PhD
Phone: 205-933-8101 x 4734
The Movement Disorders Clinic at the Birmingham VAMC, operational since 2004, provides subspecialty consults for the diagnosis, treatment and referral of all movement disorder cases. Patient selection for Deep Brain Stimulation (DBS) surgery, as well as maintenance of stimulator devices, are now being performed in a new DBS clinic co-headed by Drs. Erwin Montgomery and Victor Sung. In concert with that effort, DBS surgeries for Parkinson disease, dystonia, tremor and other "off-label" indications are presently being performed at the Birmingham VAMC in collaboration with University of Alabama at Birmingham (UAB) and BVAMC neurosurgeon Dr. Barton Guthrie. In addition, Dr. Victor Sung, a previous VA quality control fellow who also runs the Huntington's disease clinic at UAB Kirklin Clinic, is currently accepting movement disorder consultations. As part of their basic science research commitment, Dr. Nicholas' most recent publication is entitled, "Dual immunofluorescence." In addition, there is an extensive DBS-related research program. This research involves understanding the mechanisms of action of DBS and using DBS to explore basic neuronal physiology and pathophysiology of the basal ganglia-thalamic-cortical system. In addition, clinical trials of DBS for other neurological and psychiatric disorders are underway. Recent publications include:
Montgomery EB Jr. Prodromal diagnosis of Parkinson's disease. Mov Disord.2012 Aug 23. doi: 10.1002/mds.25151. [Epub ahead of print] PMID:22926872
Walker HC, Huang H, Gonzalez CL, Bryant JE, Killen J, Knowlton RC, Montgomery EB Jr, Cutter GC, Yildirim A, Guthrie BL, Watts RL. Short latency activation of cortex by clinically effective thalamic brain stimulation for tremor. Mov Disord. 2012 Aug 27. doi: 10.1002/mds.25137. [Epub ahead
of print] PMID: 22926754
Santaniello S, Montgomery EB Jr, Gale JT, Sarma SV. Non-stationary discharge patterns in motor cortex under subthalamic nucleus deep brain stimulation. Front Integr Neurosci. 2012;6:35. Epub 2012 Jun 25. PMID: 22754509
Walker HC, Huang H, Gonzalez CL, Bryant JE, Killen J, Cutter GR, Knowlton RC, Montgomery EB, Guthrie BL, Watts RL. Short latency activation of cortex during clinically effective subthalamic deep brain stimulation for Parkinson's disease. Mov Disord. 2012 May 30. doi: 10.1002/mds.25025. [Epub ahead of print]
Montgomery EB Jr. Microelectrode targeting of the subthalamic nucleus for deep brain stimulation surgery. Mov Disord. 2012 Apr 16. doi: 10.1002/mds.25000. [Epub ahead of print] PMID: 22508394
Montgomery EB Jr. H(2)(15)O PET responses to deep brain stimulation.
Brain Stimul. 2012 Feb 22. [Epub ahead of print] PMID: 22410478
Montgomery EB Jr. Comment: frontal lobes, executive dysfunction, gait and the fallacy of pseudo-transitivity. Neurology. 2012 Feb 7;78(6):415.
Montgomery EB Jr. Subthalamic nucleus neuronal firing rates in Parkinson's disease. Mov Disord. 2012 Mar;27(3):455; doi: 10.1002/mds.24901. PMID: 22266738
Dates to Remember
January 10, 2013
EES/PADRECC Movement Disorder Series
The Role of Palliative Care in PD
March 14, 2012
EES/PADRECC Movement Disorder Series
To be determined
March 16-23, 2013
American Academy of Neurology Annual Meeting
San Diego, CA
May 9, 2013
EES/PADRECC Movement Disorder Series
DatScans: When should we order them and how are they interpreted?
June 6-20, 2013
17th International Congress of Parkinson's Disease and Movement Disorders
Sydney, Australia
http://www.mdscongress2013.org/
July 11, 2013
EES/PADRECC Movement Disorder Series
Social Media and Parkinson's Disease
September 12, 2013
EES/PADRECC Movement Disorder Series
To be determined
October 1-4, 2013
3rd World Parkinson Congress
Montreal, Canada
http://www.worldpdcongress.org/?page=AboutWPC
History & Mission /  Consortium Center Refferal List /  Membership & Consortium Center Designation / Resource Request Form / Education & Clinical Resources / Consortium Newsletters / Consortium Brochures
return to top