Attention A T users. To access the menus on this page please perform the following steps. 1. Please switch auto forms mode to off. 2. Hit enter to expand a main menu option (Health, Benefits, etc). 3. To enter and activate the submenu links, hit the down arrow. You will now be able to tab or arrow up or down through the submenu options to access/activate the submenu links.

Parkinson's Disease Research, Education and Clinical Centers
The Monthly Transmitter (November 2011)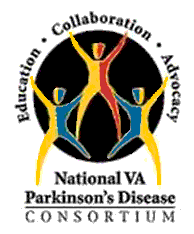 November 2011
Article Review
Prepared by William F. Carne, PhD and Lynn Klanchar, RN, MS, Richmond PADRECC 
Visual Misperceptions and Hallucinations: Attentional Control Dysfunction?
Noting that visual misperceptions and hallucinations occur in over 50% of Parkinson's disease patients, the authors propose a theoretical framework for the pathogenesis of these phenomena that relates to the failure in competing yet complimentary neural networks that regulate attention and the accurate perception of visual stimuli.  They postulate that perceptual errors are related to impaired signaling between a task-driven default mode network and a stimulus-driven ventral attentional network.  Normally these errors are corrected by a goal-directed dorsal attentional network (DAN). However, the DAN correction does not occur because breakdowns in frontostriatal circuitry fail to activate a filtering mechanism and false images are reinforced.  The authors note that the model is consistent with earlier models of misperception and hallucinations and lends itself to electrophysiological, pharmacological and functional imaging exploration and verification.
Shine, J. M., Halliday, G. M., Naismith, S. L. and Lewis, S. J. (2011), Visual misperceptions and hallucinations in Parkinson's disease: Dysfunction of attentional control networks?. Movement Disorders, 26: 2154–2159. doi: 10.1002/mds.23896
Wearing-Off Scales Critiqued
A majority of patients with Parkinson's disease develop significant wearing off symptoms after a few years of dopaminergic therapy, and multiple clinical scales have been developed to assess the degree and severity of wearing-off.  A Movement Disorder Society Task Force was commissioned to examine these scales and developed a hierarchical classification scheme of "Recommended", "Suggested" or "Listed".  Three diagnostic screening scales (three versions of the Wearing-Off Quest (WOQ), with 32, 19, and 9 items respectively) and four severity scales (UPDRS-III, MDS-UPDRS-IV, Treatment Response Scales (TRS), and Motor Fluctuation Diaries / CAPSIT-PD Diary) were identified.  Scales were evaluated according to descriptive properties, availability, content and clinimetric properties. Two diagnostic screening questionnaires met the "Recommended" criteria (WOQ-19 and WOQ-9) while the third (WOQ-39) was "Suggested".  Only the patient diaries were "Recommended "for severity, while the UPDRS-III and the MDS-UPDRS-IV were "Suggested".  The TRS only was "Listed". The authors discuss the limitations of the current scales and the hope that technology will help to overcome these shortcomings in the future.
Antonini, A., Martinez-Martin, P., Chaudhuri, R. K., Merello, M., Hauser, R., Katzenschlager, R., Odin, P., Stacy, M., Stocchi, F., Poewe, W., Rascol, O., Sampaio, C., Schrag, A., Stebbins, G. T. and Goetz, C. G. (2011), Wearing-off scales in Parkinson's disease: Critique and recommendations. Movement Disorders, 26: 2169–2175. doi: 10.1002/mds.23875
Obesity, Diabetes and PD
This prospective study examined whether anthropometric factors (baseline and young adulthood BMI, weight change, waist circumference, location of any weight gain and history of diabetes) were associated with PD risk in > 147,000 American Cancer Society CPS II Nutrition Cohort patients.  Patients were followed from 1992-2005 with 656 incident cases of PD noted.  Neither body mass nor waist circumference predicted PD risk.  Likewise a history of diabetes was not a risk factor for PD.  Further analysis did not reveal any impact of body mass at age 18, change in body mass between age 18 and baseline or gender influence upon the incidence of PD.  The authors note that this large scale study may be limited by the self-report nature of the information, but its findings are consistent with other United States large scale, longitudinal studies.  Contrary findings in Finnish studies raise the possibility of genetic influences.
Palacios, N., Gao, X., McCullough, M. L., Jacobs, E. J., Patel, A. V., Mayo, T., Schwarzschild, M. A. and Ascherio, A. (2011), Obesity, diabetes, and risk of Parkinson's disease. Movement Disorders, 26: 2253–2259. doi: 10.1002/mds.23855
Correlates of care relationship mutuality among carers of people with Alzheimer's and Parkinson's disease
This study was a secondary analysis of longitudinal data from a 5-year prospective two-group randomized trial of informal carers of older adults with Alzheimer's or PD.  The authors examined whether mutuality differed by care recipient factors (level of physical and cognitive ability) or by care factors (age, gender, race, kin relation to care recipient, depressive symptoms, and years of care giving) over a 12-month period. Mutuality is concerned with the degree of caring, affection, intimacy, mutual concern and overall relationship satisfaction experienced by those involved. The carer's perception of mutuality was measured by "The Mutuality Scale of the Family Care Inventory". It includes items such as "How close do you feel to him or her?", "To what extent to you see eye-to-eye?"  Study results suggest that high mutuality between carers and their care recipients increases the likelihood of carers to continue care. Carers who report high mutuality are less likely to be depressed and more likely to provide care for longer periods.  Mutuality was negatively affected by low care recipient functional ability and more carer depressive symptoms. Teaching relationship-focused skill training strategies, developing and testing nursing interventions that enhance care relationship quality are potential implications for practice.   The authors acknowledge that future studies should also include the care recipient's perception of the relationship whenever possible since mutuality is a concept that should be surveyed from all parties involved.
Shim, B., Landerman, L. R., and Davis, L.L. (2011), Correlates of care relationship mutuality among carers of people with Alzheimer's and Parkinson's disease. Journal of Advanced Nursing 67(8), 1729-1738. Doi: 10.1111/j.1365-2648.2011.05618.x
Committee Activities
·         Rotation of Committee Chair: Leadership for the clinical care committee rotates amongst the PADRECCs.  Portland leads the committee for November and December.  The committee meets the first Tuesday of the month at 12pm ET.
·         Standardize Clinical Care: Continues to discuss a variety of clinical issues, provide clinical support to the Consortium network, and work on measures to standardize clinical care across the PADRECC network.
o   Azilect is now on the national formulary
o   LA new patient note template is being piloted.  It will capture the AAN guidelines for nonmotor symptoms
o   Discussions are taking place about standardizing pharmacy recommendations/allowances so that all PADRECCs have the same drugs available.
·         PD Handbook:  A smaller subcommittee is in the process of  drafting a handbook for the VHA (similar to a MS Handbook developed by MSCoE)  that addresses such things as definition of PD, purpose, authority and scope, system of care, population served, etc.
·         DAT Scans:  The committee is establishing standardized guidelines for DAT Scans throughout the VA. 
·         PADRECC Transmitter: PADRECC clinicians provide reviews of recent movement disorder publications that are included in the PADRECC Transmitter
Education Committee
·         PADRECC/EES Movement Disorder Series: The FY 2012 series is underway.  The 1st  audio conference for this series was  held on November 10th titled:    "Developing a Care Management Program for Veterans with PD using VA QUERI, Chronic Care Model & Evidence-based Practice."   The audio conferences will be archived on the website www.parkinsons.va.gov under the Movement Disorder Series tab.  All evaluations for CMEs will now be done electronically through EES.  Please take a look at the Dates To Remember section for listing of upcoming audio conferences.    
·         Patient Education Video Project:  EES approved the development of 8 more patient education videos for FY2012.   The FY2011 videos will be available for viewing and distribution shortly.  
·         PADRECC Transmitter: The committee continues to assemble and distribute this e-newsletter every other month.
·         National Website:  The committee is assisting in updating the National VA PADRECC/Consortium Website.
·         National Newsletter:  The committee is in the process of  assembling the Annual National Newsletter which will be distributed in 2012.
·         Enduring Material Project:  This project was approved by EES and the committee is the early planning phase. 
Spotlight on Richmond Consortium Centers
Birmingham, AL
Birmingham VAMC
Director: Anthony P. Nicholas, MD, PhD
205-933-8101 x 4734 (referral number to VAMC clinic)
The Movement Disorders Clinic at the Birmingham VAMC, operational since 2004, provides subspecialty consults for the diagnosis, treatment and referral of all movement disorder cases. Patient selection for Deep Brain Stimulation (DBS) surgery, as well as maintenance of stimulator devices, are now being performed in a new DBS clinic headed by Professor Erwin Montgomery. In concert with that effort, DBS surgeries for Parkinson disease, dystonia and tremor are presently being performed at the Birmingham VAMC in collaboration with University of Alabama at Birmingham (UAB) neurosurgeon Dr. Barton Guthrie. In addition, Dr. Victor Sung, a previous VA quality control fellow who also runs the Huntington's disease clinic at UAB Kirklin Clinic, is currently accepting movement disorder consultations. As part of their basic science research commitment, Dr. Nicholas' most recent publication is entitled, "Dual immunofluorescence study of citrullinated proteins in Parkinson diseased substantia nigra." 
Nashville, TN
Tennessee Valley VA Healthcare System – Nashville Campus
Director: John Fang, MD
615-327-4751 x5244
The Movement Disorders clinic at the Nashville Campus of the VA Tennessee Valley Healthcare System treats patients with Parkinson's Disease and other movement disorders.  Operational since 2002, this clinic focuses on optimizing medications and working with primary care providers and other specialists. Botulinum toxin therapy and deep brain stimulation programming are also supported.
Gainesville, FL
North Florida/South Georgia VAMC
Currently inactive as a Consortium Center. Frank Skidmore, MD (previous Director and Movement Disorder Specialist) moved to the University of Alabama (UAB) in September 2011 and a replacement is not available.
Dates to Remember
January 12, 2012
EES/PADRECC Movement Disorder Series
Pain in Parkinson's Disease
March 8, 2012 
EES/PADRECC Movement Disorder Series
Mood Disorders in Parkinson's Disease: What's New?
April 21-28, 2012
American Academy of Neurology Annual Conference
New Orleans, LA
May 10, 2012 
EES/PADRECC Movement Disorder Series
National Formulary Issues & Medications for Movement Disorders
June 17-21, 2012
16th International Congress of Parkinson's Disease and Movement Disorders
Dublin, Ireland
http://www.movementdisorders.org/congress/congress12/
July 12, 2012
EES/PADRECC Movement Disorder Series
Rehabilitation Issues in Parkinson's Disease
History & Mission /  Consortium Center Refferal List /  Membership & Consortium Center Designation / Resource Request Form / Education & Clinical Resources / Consortium Newsletters / Consortium Brochures
return to top