Attention A T users. To access the menus on this page please perform the following steps. 1. Please switch auto forms mode to off. 2. Hit enter to expand a main menu option (Health, Benefits, etc). 3. To enter and activate the submenu links, hit the down arrow. You will now be able to tab or arrow up or down through the submenu options to access/activate the submenu links.

Parkinson's Disease Research, Education and Clinical Centers
The Monthly Transmitter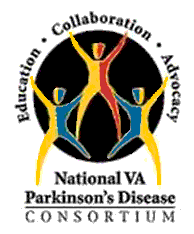 Briefing

 

 

 

Dr. Ruff continues to serve as our biggest advocate in gaining centralized support and recognition of the Consortium mission.    His office is in the process of conducting a survey on services provided by the Consortium Center Network to be used in his various reports and presentations to VACO.  If you have not yet responded to the numerous requests for information by the National Office of Neurology, we ask that you contact Patricia Banks (patricia.banks@va.gov) as soon as possible.  Thank you to those who have cooperated in a timely fashion. 

 

 

 

 

Prepared by: William F. Carne, PhD, Neuropsychologist, Southeast PADRECC

 

What Predicts Mortality in Parkinson disease? A prospective population-based long-term study  A community based prospective study of 230 Norwegians with PD examined non-motor and motor symptoms over a 12 year period. The authors argue that long term representative samples are essential to understanding what factors predict mortality and what factors may be effectively targeted for treatment. Motor symptoms were measured by using the UPDRS and Hoehn & Yahr scales, while cognitive factors were assessed via MMSE and DSM-III-R criteria. Other studied non-motor factors included REM sleep behavior disorder symptoms and the presence of psychotic features. Ninety two percent of the subjects died during the study. Although widely variable, median survival time from motor onset was 15.8 years (range= 2.2.-36.6). Age of onset, male gender, chronological age, psychotic symptoms, dementia and UPDRS scores were all independent predictors of mortality. Hallucinations with retained insight were significantly associated with increased risk for mortality. No significant effect of antiparkinsonian drugs or antipsychotic medications on survival was noted. Early prevention of motor symptoms, dementia and psychosis may be important factors in increasing life expectancy. Neurology. 2010 Oct 5;75(14):1270-6. 
http://www.ncbi.nlm.nih.gov/pubmed/20921512

 

Restless legs syndrome and Parkinson's disease in men Data from over 23,000 US participants in the Health Professional Follow-up Study who were free of diabetes and arthritis were examined to determine any association between Restless Leg Syndrome (RLS) and Parkinson's disease (PD). Standardized questions recommended by the International RLS Study Group were used to assess RLS. PD cases were identified by self-reported questionnaires and confirmed by review of medical records. Compared to men without RLS, multivariate-adjusted odds ratios for PD were 1.1 (95% confidence interval: 0.4, 3.0) for men who had RLS symptoms 5-14 times per month and 3.09 (95% confidence interval: 1.5, 6.2; P trend = 0.003) for those with symptoms >15 times monthly. Analysis controlled for age, smoking, use of antidepressants, and other covariates. The study concluded that men with RLS are more likely to have concurrent PD. Prospective studies were recommended to ascertain the temporal relationship between RLS and PD. Movement Disorders 2010 Aug 24. [Epub ahead of print] DOI: 10.1002/mds.23256 
http://www.ncbi.nlm.nih.gov/pubmed/20737545

 

Effects of a central cholinesterase inhibitor on reducing falls in Parkinson disease Twenty three patients with PD with > 2 falls or near-falls weekly were enrolled in a randomized, placebo controlled, cross over design trial of 6 weeks donepezil or placebo with a three week washout between phases. Outcomes were daily number of falls or near-falls recorded on postcards, while secondary outcomes included Activities of Balance Confidence Scale, berg balance scale, Clinical Global Impression of Change, Folstein Mini-mental State Examination, and the motor section of the Unified Parkinson's Disease Rating Scale. Daily fall frequency on placebo was  0.25 ± 0.08 (SEM) compared with 0.13 ± 0.03 on donepezil (p < 0.05). Near fall frequency was not significantly different between phases. Secondary outcomes did not differ. The authors advocate for larger trials to see if results are replicated. Neurology 2010;75:1263–1269. Epub 2010 Sep 1 
http://www.ncbi.nlm.nih.gov/pubmed/20810998 

 

 

 

 

 

Dates to Remember

 

Committee Recap

 

 January 13, 2011

Agent Orange, Pesticides and PD

EES/PADRECC Audioconference

 

March 10, 2011

Advances in Gene Therapies

 

April 9-16, 2011

American Academy of Neurology

2011 Annual Meeting

Hawaii

www.aan.com/go/education/conferences/fall

 

 

May 12, 2011

Impulse Control Disorders

EES/PADRECC Audioconference

 

June 5-9, 2011

Movement Disorders Society

15th International Congress of Parkinson's Disease and Movement Disorders

Toronto, Canada

 

 

 

 

 

 

 

 

 

 

 

 

 

 

·         Rotation of Committee Chair: leadership for the clinical care committee rotates amongst the PADRECCs Portland leads for November and December.

 

·         Standardize Clinical Care: continues to work on measures to standardize clinical care across the PADRECC network and provide clinical support to the Consortium network

 

PD Handbook:  a draft is being worked on and will be similar to the MS Handbook guidelines.

 

PADRECC Transmitter: continues to provide reviews of recent movement disorder publications that are included in the PADRECC Transmitter

Education Committee

·         PADRECC/EES Movement Disorder Series: FY 2011 series began Nov 4, 2010 at 12-1pm ET or 3-4pm ET with "CSP#468 Phase II DBS Research" by Fran Weaver, PhD and Ken Follet, MD. Future dates in 2011 are: Jan 13, Mar 10, May 12, Jul 14, and Sep 8. These audio conference series will be archived on the www.parkinsons.va.gov website under the Movement Disorder Series tab.

 

·         Patient Education Video project: Susan Heath (SF PADRECC) is working with EES and the education committee to develop a series of videos for patient education in FY2011.

 

·         PADRECC Transmitter: the committee continues to assemble and distribute this e-newsletter every other month.

 

Spotlight on Richmond Consortium Centers:

San Juan, PR

VA Caribbean Healthcare System

Director: Ana Vidal-Cardona, MD

787-641-7582 x31684

San Juan VA is located in sunny Puerto Rico. San Juan VAMC has a Department of Neurology, is a MS Center of Excellence, and a Parkinson's Disease Consortium Center. Many patients particularly with Parkinson's disease, plus dystonias, choreas and other movement disorders are seen by Dr. Ana Vidal-Cardona, a general neurologist with a strong interest in movement, sleep disorders, and stroke. Telemedicine technology is used for those patients that are far away in the Island, away from San Juan, on other nearby Islands, and also for Veterans with complex issues in consultation with movement disorder specialists at Southeast Richmond PADRECC (Dr. Mark Baron) and Philadelphia PADRECC (Dr. John Duda).

 

Decatur, GA

Atlanta VAMC

Director: Marian L. Evatt, MD MS

404-235-3077 (referral number to VAMC Movement Disorders Clinic)

Established ~2005, the Movement Disorders Clinic at the Atlanta VAMC is staffed by Dr. Evatt, a nurse (Conetta Gosa-Sam), and a nurse practitioner (Pamela Brown). It provides subspecialty consultations, patient selection and management services for DBS surgery, and botulinum toxin injections. Dr. Evatt, affiliated with the Emory University and the Emory Parkinson's Disease Research Center, is the PI on clinical/translational studies that recruit subjects through the Atlanta VAMC Movement Disorders Clinic.  The Atlanta Consortium Center also works with Emory APDA Information and Referral Center and the NWGA Parkinson Disease Association to provide patient education and support activities.

 

Birmingham, AL

Birmingham VAMC

Director: Anthony P. Nicholas, MD, PhD

205-933-8101 x 4734 (referral number to VAMC clinic)

The Movement Disorders Clinic at the Birmingham VAMC, operational since 2004, provides subspecialty consults, referral for botulinum toxin injections, and patient selections and management services for DBS surgery. Dr. Nicholas, affiliated with the University of Alabama at Birmingham and The Kirklin Clinic, is the principal investigator for an American Parkinson Disease Association funded study, "Post-translational Modifications of Histones in Levodopa-Induced Dyskinesia." New movement disorders faculty include world-renown DBS expert Professor Erwin Montgomery and Dr. Victor Sung, a previous VA quality control fellow who will also head the Huntington's disease clinic at UAB.

 

Lexington, KY

Lexington VAMC

Director: John T. Slevin, MD

859-281-4920 (referral number to VAMC Movement Disorders Clinic)

Established in 2000, the Movement Disorders Clinic at the Lexington VAMC is staffed by Dr. Slevin and a nurse practitioner. It provides subspecialty consultations, patient selection and management services for DBS surgery, and botulinum toxin injections. Dr. Slevin, affiliated with the University of Kentucky Medical Center and Director of Clinical Research for the UKMC Morris K. Udall Parkinson's Disease Research Center of Excellence, is the PI or Co-PI on 4 industry and 2 NIH-sponsored clinical/translational studies that recruit subjects through the Lexington VAMC Movement Disorders Clinic. 

 

 

 

 

 

 

 
History & Mission /  Consortium Center Refferal List /  Membership & Consortium Center Designation / Resource Request Form / Grant Opportunities /  Education & Clinical Resources / 2008 Conference Presentations / Consortium Newsletters / Consortium Brochures
return to top