Attention A T users. To access the menus on this page please perform the following steps. 1. Please switch auto forms mode to off. 2. Hit enter to expand a main menu option (Health, Benefits, etc). 3. To enter and activate the submenu links, hit the down arrow. You will now be able to tab or arrow up or down through the submenu options to access/activate the submenu links.

Parkinson's Disease Research, Education and Clinical Centers
The Monthly Transmitter (November 08)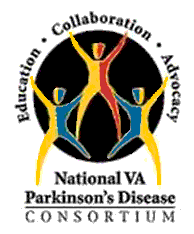 Briefing
Hot Off The Press
We are proud to report that a proposal for funding has been submitted to VACO in support of the Consortium Center Network. While it may be some time before a decision is made, we are optimistic that this critical initiative will be strongly considered.

The first series of the PADRECC teleconference program took place on November 18th and was an overwhelming success. The next conference is scheduled for Thursday, January 8th with the topic of "Impact of Falls and Treatment in PD".
Discussion has begun for a possible 2009 Consortium Conference. Details will be shared as they become available. 
Prepared by William F. Carne, PhD, Neuropsychologist and Lynn Klanchar, RN, MS, ADoE of the Southeast PADRECC



(+) Apathy and anhedonia rating scales in Parkinson's disease: Critique and recommendations  (click here)


Apathy, anhedonia and depression are often seen in Parkinson's disease (PD) patients but little specific attention has been paid to apathy and anhedonia measurement scales. The authors note that PD patients may experience apathy without the presence of depression and at least one smaller study found little relationship of anhedonia to depression. A Movement Disorder Society (MDS) task force comprehensively reviewed the properties of four apathy scales as well as an item from the Unified Parkinson's Disease rating Scale (UPDRS) and an item from the Neuropsychiatric Inventory used to assess apathy. Two anhedonia scales were reviewed. Only the Apathy Scale is "recommended" to assess apathy in PD patients, even though the UPDRS item met criterion. The Snaith-Hamilton Pleasure Scale met the "suggested" category for measuring anhedonia. The authors note that diagnostic ambiguity regarding apathy and anhedonia hampers more explicit research.

Mov Disord. 2008 Aug; 23(14):2004-2014. [Epub ahead of print] PMID: 18709683 [PubMed - as supplied by publisher]





---




(+) Deep brain stimulation and the ethics of protection and caring for the patient with Parkinson's dementia (click here)


Deep brain stimulation (DBS) can offer significant advantages to Parkinson's disease (PD) patients with disabling motor symptoms. However, guidelines are unclear about the wisdom of DBS for patients with progressive mild-moderate dementia as the greater mobility in demented patients may lead to management and safety concerns. Long term hardware implantation in progressively dementing patients can raise ethical issues as they progress through a variety of treatment settings as well. Two cases are reviewed, highlighting the various ethical issues involved in DBS implantation in dementing PD. Specifically, informed consent versus decision making by surrogates, risk-benefit ratio, patient vulnerability, need for advance directives, and the need for bioethical consults are discussed. The authors argue that the "significant improvement in motor function" as a result of DBS has overshadowed cognitive risks. The role of comprehensive and standardized neuropsychological testing to investigate this issue is discussed.

NeuroloMov Disord 2008 Aug; 23(14):1973-1976. [Epub ahead of print] PMID: 18759331 [PubMed - as supplied by publisher]





---




(+) Prevalence of vitamin D insufficiency in patients with Parkinson disease and Alzheimer disease (click here)


Vitamin D insufficiency is defined as 30 nanograms (or less) per milliliter of blood of the 25-hydroxyvitamin D (30ng/mL 25-[OH]D) and Vitamin D deficiency defined as less than 20 ng/ml. Optimal vitamin D status may be important for preventing or treating neurodegenerative disorders. This retrospective study examined 300 individuals from an existing research registry between 1992 and 2007. One hundred patients with Parkinson's disease (PD) were matched with 100 Alzheimer patients (AD), and 100 healthy controls. A majority of PD patients (55%) had insufficient levels of vitamin D, compared with approximately a third of the controls (41% AD; 36% healthy elderly). Similarly, 23% of the PD cohort was vitamin D deficient compared with 16% of AD cohort and 10% of the control cohort. The authors highlight the importance of routinely checking 25-[OD]D since vitamin D deficiency is correlated with osteoporosis, falls and hip fractures, some cancers, and autoimmune disorders. Further studies are needed to determine if vitamin D insufficiency/deficiency adds to the risk of developing PD, and to study if correcting it will improve PD symptoms.

Arch Neurol. 2008 Oct; 65(10):1348-5. [Epub ahead of print] PMID: 18852350 [PubMed - as supplied by publisher]


      
Dates To Remember
Committee Recap
November 15-19, 2008
The 38th Annual
Meeting of the Society for Neuroscience,
Washington, DC
http://www.sfn.org/am2008/

January 8, 2009
Impact of Falls & Tx in PD,
2nd EES/PADRECC
Audio Conference
http://www.parkinsons.va.gov/

March 12, 2009
PD Medications 3rd EES/PADRECC
Audio Conference
http://www.parkinsons.va.gov/

March 15, 2009
2009 PAN Research and
Public Policy Forum

http://www.parkinsonsaction.org
April 4, 2009
Quality of Life & PD,
Live Webcast,
PDF and Houston Area
Parkinson's Society
www.pdf.org/webcast

May 14, 2009 Atypical Parkinsonian Disorders 4th EES/PADRECC
Audio Conference
http://www.parkinsons.va.gov/

July 9, 2009
Caregiving and Psychosocial Issues in PD
5th EES/PADRECC
Audio Conference
http://www.parkinsons.va.gov/

September 10, 2009
Diagnosis and Treatment of PD
6th EES/PADRECC
Audio Conference
http://www.parkinsons.va.gov/


Clinical Care Committee


Standardization of Care: The Clinical Care Committee is in the process of developing a DBS education letter that will be distributed to consortium centers.

PADRECC Transmitter: The Clinical Care Committee continues to provide reviews of recent movement disorder publications that are included in the PADRECC Transmitter.
AANN Guide: The nursing group has developed an AANN guide book for Nursing care for DBS patients, that is currently in press.
Research: Exploring a Requip XL study for possible VA PADRECC study.


Education Committee


EES/PADRECC Educational Series: The audio conferences are underway with the 1st being held on November 13th at 12p and 3p. The next audio conference will be held on January 8th, 2009. The education committee will be monitoring these conferences and with the help of EES will be tracking participation on the calls.

History & Mission / Consortium Center Refferal List / Membership & Consortium Center Designation / Movement Disorder Series / Resource Request Form / Grant Opportunities / Education & Clinical Resources / The Monthly Transmitter /  2008 Conference Presentations / Consortium Newsletters / Consortium Brochures
return to top