Attention A T users. To access the menus on this page please perform the following steps. 1. Please switch auto forms mode to off. 2. Hit enter to expand a main menu option (Health, Benefits, etc). 3. To enter and activate the submenu links, hit the down arrow. You will now be able to tab or arrow up or down through the submenu options to access/activate the submenu links.

Parkinson's Disease Research, Education and Clinical Centers
The Monthly Transmitter (May 2013)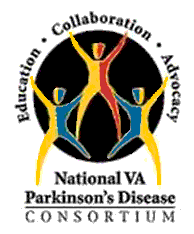 Article Review
Prepared by:  Dr. Nicholas Galifianakis,  San Francisco PADRECC,
Serotonergic Loss Correlates With Severity of Action-Postural Tremor in PD
Dopaminergic medications are the mainstay of treatment of Parkinson's disease (PD) motor symptoms.  However, parkinsonian tremor remains refractory to dopaminergic therapies in a sizable portion of patients.  Loane et al, from Imperial College London, UK, studied serotonergic function in PD patients by performing 11C-DASB PET imaging in 12 tremor-predominant PD patients, 12 akinetic-rigid PD patients and 12 healthy controls.  11C-DASB is a marker of serotonin transporter (SERT) binding and thus can be used as a marker of presynaptic serotonin terminal integrity.  Their results showed that severity of action/postural tremor (but not rest tremor, bradykinesia, or rigidity) correlated with reductions in 11C-DASB PET in the caudate, putamen and raphe nuclei.  Furthermore, the tremor-predominant group had reductions in 11C-DASB in additional motor circuits, including the thalamus and Brodmann areas 4 and 10, when compared with the akinetic-rigid PD group.   These researchers concluded that presynaptic serotonergic dysfunction in these motor related regions may have a role in generating action/postural tremor, but not resting tremor, bradykinesia or rigidity.  They suggested that serotonergic 5HT-2 agonists and tryptophan (a serotonin precursor) may be beneficial for parkinsonian action/postural tremor. 
Neurology 2013; 80:1850-1855.
http://www.ncbi.nlm.nih.gov/pubmed/23596065
Nicotine from Edible Solanaceae Vegetables and Risk of PD
There is a sizable literature that active tobacco smoking (and even passive second-hand tobacco smoke) is associated with reduced risk of developing Parkinson's disease (PD).  However, it remains uncertain whether this epidemiologic finding is due to a direct neuroprotective effect of nicotine/tobacco or the fact that behavioral differences in preclinical PD prevent addiction to tobacco.  Searles Nielsen et al, from the University of Washington in Seattle addressed this issue by examining dietary intake of edible Solanaceae vegetables (peppers, tomatoes, potatoes) and risk of developing PD.  Solanaceae vegetables contain small amounts of nicotine.  The researchers performed a population-based case-control study, where about 500 PD cases and 600 healthy controls completed detailed diet and smoking histories.  Frequency of consumption of Solanaceae vegetables was inversely related to PD risk (p trend = 0.07), and there was no association with other vegetables, with peppers having the strongest inverse trend.  Eating peppers 2-4 times/week was consistently associated with a 30% reduction in risk of developing PD.  The authors voice caution in interpreting these results, as diet studies and case-control studies are well known to have significant confounding and biases.  Furthermore, the biologic effect of this small amount of nicotine is not understood.  Finally, much like the controversy with tobacco, these vegetables may have other chemicals that may confer some neuroprotection.  Much further study is needed to strengthen the findings of this case-control study.  
Ann Neuro. 2013: e-pub ahead of print.
http://www.ncbi.nlm.nih.gov/pubmed/23661325
Committee Activities
·         Rotation of Committee Chair: Leadership for the clinical care committee rotates amongst the PADRECCs.  The Philadelphia PADRECC leads the committee for May/June.  Committee meets via conference call the first Tuesday of the month at 12pm ET.
·         Standardize Clinical Care: Continues to discuss a variety of clinical issues, provide clinical support to the Consortium network, and work on measures to standardize clinical care across the PADRECC network.  Recent agenda issues discussed:          
o   Use of Clinical Video Telehealth for movement disorders and eConsults
§  VA emphasis on incorporating Virtual Care into Practice
§  FY 2014 goals of 50% veterans enrolled in Virtual Care
o   Use of various botulinum toxins
o   The introduction of DAT scans into clinical practice
·         PADRECC Transmitter: PADRECC clinicians provide reviews of recent movement disorder publications that are included in the PADRECC Transmitter
Education Committee
·         PADRECC/EES Movement Disorder Series:  The FY 2013 series is underway.  The 4th audioconference for this series was held on May 9, 2013:  "DatScans:  When should we order them and how are they interpreted?" The audio conferences are archived on the National website www.parkinsons.va.gov under the Movement Disorder Series tab.  All evaluations for CMEs are now being done electronically via TMS.  Please take a look at the Dates To Remember section for  a listing of upcoming audio conferences.    Request for FY14 MDS has been submitted into the EES portal for consideration.  
·         Patient Education Video Project:  8 videos were taped in FY11.  The videos are completed and all Consortium Centers should have received a copy of the DVD.  Videos can be viewed on the National PADRECC & VA Consortium Website:  http://www.parkinsons.va.gov/patients.asp and on You Tube.  Production of the 2nd video series for FY2012 is complete and awaiting approval for distribution and posting.  Request for 3rd video series for FY13 was approved for 4 videos, filming will begin in June.
·         Enduring Materials Project: In collaboration with EES, the committee is developing an on-line TMS self study program that will offer CME credit for a 3 year period.  The purpose of this training is to provide VHA healthcare professionals with a broadened medical awareness of Mood Disorders in PD.
·         PADRECC Hospitalization Kit:  In collaboration with the PADRECC Nurses Group, the committee is developing a hospitalization kit unique to Veterans with PD.   The kit will include useful tools and information to assist Veterans in being prepared for their doctor visits and any hospitalizations, as well as information about services available via VA and the PADRECC. 
·         National Newsletter:  Pam Willson (Houston PADRECC) is requesting submissions for the National PADRECC Newsletter.  If interested in submitting an article for the National Newsletter please contact Pam.  
·         PADRECC Transmitter: The committee continues to assemble and distribute this e-newsletter every other month.
Dates to Remember
June 6-20, 2013
17th International Congress of Parkinson's Disease and Movement Disorders
Sydney, Australia
http://www.mdscongress2013.org/
July 11, 2013
EES/PADRECC Movement Disorder Series
Social Media and Parkinson's Disease
September 12, 2013
EES/PADRECC Movement Disorder Series
Medical Domain Management Model
October 1-4, 2013
3rd World Parkinson Congress
Montreal, Canada
http://www.worldpdcongress.org/?page=AboutWPC
http://www.parkinsons.va.gov/
History & Mission /  Consortium Center Refferal List /  Membership & Consortium Center Designation / Resource Request Form / Education & Clinical Resources / Consortium Newsletters / Consortium Brochures
return to top