Attention A T users. To access the menus on this page please perform the following steps. 1. Please switch auto forms mode to off. 2. Hit enter to expand a main menu option (Health, Benefits, etc). 3. To enter and activate the submenu links, hit the down arrow. You will now be able to tab or arrow up or down through the submenu options to access/activate the submenu links.

Parkinson's Disease Research, Education and Clinical Centers
The Monthly Transmitter (May 2012)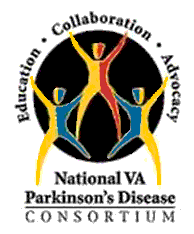 The Transmitter
 
May 2012
 
Article Review
Prepared by:  Dr. Alec Glass & Susan Heath, MSN, RN, CNRN  San Francisco PADRECC
Prevalence of oropharyngeal dysphagia in Parkinson's disease: A meta-analysis
Dysphagia has a negative impact on quality of life and increases risk of aspiration pneumonia in Parkinson's disease patients.  Prevalence rates of dysphagia are sometimes unclear and the subjective versus objective dysphagia rates are not known.  This Meta-analysis looked at ten studies of subjective complaints of dysphagia which showed a rough prevalence of 35%.  On the contrary, four studies looking at objective dysphagia showed a pooled objective dysphagia prevalence of 82%.  This meta-analysis re-iterates the point that patients often under-report dysphagia and this calls for the clinician to appropriately screen patients such that intervention can be undertaken at earlier stages of dysphagia.  This study did not differentiate by degree of severity of dysphagia which is an obvious shortcoming.
Parkinsonism Relat Disord. 2012 May;18(4):311-5. Epub 2011 Dec 3.
http://www.ncbi.nlm.nih.gov/pubmed?term=Prevalence%20of%20oropharyngeal%20dysphagia%20in%20Parkinson%E2%80%99s%20disease%3A%20A%20meta-analysis
 
Apathy

 and

depression

in

Parkinson's

 

disease

: The

Belgrade

 

PD

 

study

 

report

.
Apathy and depression are thought to be the two most common behavioral disorders associated with Parkinson's disease.  It has been unclear as to whether depression and apathy always present together or may present independently. This study of 360 PD patients used the Starkstein's apathy scale, the Hamilton Depression Rating scale, UPDRS, H&Y and MMSE to show that apathy and PD coexisted in roughly 37% of PD patients.  Depression occurred without apathy in about only 5% of patients and apathy presented without depression in 23% of patients.  Roughly 35% of patients had neither apathy nor depression.  Apathy was associated with higher axial UPDRS score, worse MMSE and higher levodopa dose as well as by earlier H&Y score.  On the other hand, depression was predicted by more advance H&Y score as well as younger age of PD patient. 
Parkinsonism Relat Disord. 2012 May;18(4):339-42. Epub 2011 Dec 13.
http://www.ncbi.nlm.nih.gov/pubmed?term=Apathy%20and%20depression%20in%20Parkinson%E2%80%99s%20disease%3A%20The%20Belgrade%20PD%20study%20report#
 
Apathy: A Complex Symptom Specific to the Clinical Pattern of Presentation of Parkinson's Disease?
This study examined the prevalence and clinical correlates of apathy in 103 patients with either akinetic-rigid type or tremor-dominant type of Parkinson's Disease.  They investigated if apathy was more dominant in one of the two groups.  They note that apathy is not entirely considered a dopamine-dependent syndrome in PD and hypothesized if apathy was the initial behavioral presentation or if it were associated with other cognitive/behavioral disorders such as depression.
The patients age ranged between 62-70 yrs old, had average of 12 yrs of education, were right handed,  had been diagnosed with PD for a mean of 2.7 years (+/- 1.15),  treated and responded to dopaminergic medications and had UPDRS part III motor score of 19 (+/- 3.1) .     This study found there were cognitive differences between the two subgroups and the akinetic-rigid patients were more apathetic than the tremor group and performed worse on cognitive tasks mediated by the frontal lobe.  They suggested apathy can develop early in the akinetic form of Parkinson's, is unrelated to dementia, and is tightly related to frontal cognitive impairments.  The tremor-dominant type of PD showed more depression, less insight, and less apathy.   Caregiver burden (measured by the Relative Stress Scale) was worse for the akinetic-rigid group and they suggest that apathy in PD augments caregiver stress.
AM J ALZHEIMERS DIS OTHER DEMEN 2012, May; 27(3):196-201.
 http://aja.sagepub.com/content/23/2/196 
Committee Activities
Clinical Care Committee
·         Rotation of Committee Chair: Leadership for the clinical care committee rotates amongst the PADRECCs.  The Northwest PADRECC leads the committee for May/June.  Committee meets via conference call the first Tuesday of the month at 12pm ET.
 
·         Patient Education Materials:  In response to the Needs Assessment performed after the 2010 National PD Consortium Conference, the Clinical Care Committee is developing simplified- 1-2 page patient education materials that are clinically based but geared towards patients and families that can be given out during clinic visits.  Topics include: exercise, medications, motor symptoms, non motor symptoms, Agent Orange and fall prevention. Once developed the materials will be available on the National PADRECC & VA Consortium website for reproduction. 
 
·         Standardize Clinical Care: Continues to discuss a variety of clinical issues, provide clinical support to the Consortium network, and work on measures to standardize clinical care across the PADRECC network.  Recent agenda issues discussed:          
o   Use and benefits of Rasagaline
o   Tetrabenazine use in HD, Tourette's, management of tics
o   DAT scan usage
o   Increased use of GPi site for DBS
o   Use of CVT (clinical video teleheath)/telemed for movement disorders
 
·         PD Handbook:  A handbook for the VHA that addresses such things as definition of PD, purpose, authority and scope, system of care, population served, etc. is in the final stage of completion. An appendix is being added that includes publications by PADRECC staff.
 
·         PADRECC Transmitter: PADRECC clinicians provide reviews of recent movement disorder publications that are included in the PADRECC Transmitter
 
Education Committee
¬∑¬†¬†¬†¬†¬†¬†¬†¬†¬†PADRECC/EES Movement Disorder Series:¬†¬†The FY 2012 series is underway.¬† The 4th audio conference for this series was held on May 10th titled:¬†¬†¬† "National VHA Pharmacy Considerations and Medications for Movement Disorders.'Ä̬†¬†¬†The audio conferences will be archived on the National website www.parkinsons.va.gov under the Movement Disorder Series tab.¬† All evaluations for CMEs are now being done electronically via EES.¬† Please take a look at the Dates to Remember section for a listing of upcoming audio conferences.¬†¬†¬†
 
·         Patient Education Video Project: 8 videos were taped in FY 2011.  The videos are completed and all Consortium Centers will be receiving a copy of the DVD.  Posting on the National PADRECC & VA Consortium Website and You Tube are pending.  Request was accepted by EES for taping of 8 more videos in FY2012 which are currently underway. 
·         Enduring Materials Project: In collaboration with EES, the committee is developing an on-line TMS self study program that will offer CME credit for a 3 year period.  The purpose of this training is to provide VHA healthcare professionals with a broadened medical awareness of Mood Disorders in PD.
 
·         PADRECC Transmitter: The committee continues to assemble and distribute this e-newsletter every other month.
 
·         National Newsletter:  The Annual National Newsletter is in the process of being printed and will be distributed in 2012.
 
Dates to Remember
 
June 17-21, 2012
16th International Congress of Parkinson's Disease and Movement Disorders
Dublin, Ireland
http://www.movementdisorders.org/congress/congress12/
 
July 12, 2012
EES/PADRECC Movement Disorder Series
Rehabilitation Issues in PD
 
September 13-14, 2010 (tentative)
National VA PD Consortium
2012 West Coast Regional Meeting
Location to be determined 
 
September 13, 2012
EES/PADRECC Movement Disorder Series
Telehealth and Movement Disorders
History & Mission /  Consortium Center Refferal List /  Membership & Consortium Center Designation / Resource Request Form / Education & Clinical Resources / Consortium Newsletters / Consortium Brochures
return to top