Attention A T users. To access the menus on this page please perform the following steps. 1. Please switch auto forms mode to off. 2. Hit enter to expand a main menu option (Health, Benefits, etc). 3. To enter and activate the submenu links, hit the down arrow. You will now be able to tab or arrow up or down through the submenu options to access/activate the submenu links.

Parkinson's Disease Research, Education and Clinical Centers
The Monthly Transmitter (May 2011)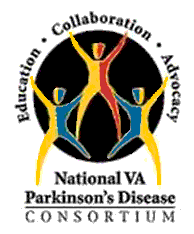 Briefing

Thank you to those who took part in the DBS referral survey. Your feedback and comments have been reviewed and the PADRECCs are considering ways to implement your suggestions.

Preliminary planning has begun for a 2012 Consortium Conference. Consortium Center Directors will receive an electronic survey for input on potential dates and location over the coming weeks. These biannual meetings are designed with member convenience and preferences in mind so please be sure to respond. Thank you in advance for your participation!

Prepared by: Alec Glass, MD and Susan Heath, RN, MSN San Francisco PADRECC

Preladenant in patients with Parkinson's disease and motor fluctuations: a phase 2, double-blind, randomised trial.

Hauser RA, Cantillon M, Pourcher E, Micheli F, Mok V, Onofrj M, Huyck S, Wolski K.

Effectively treating motor symptoms in Parkinson's patients becomes more difficult with disease progression and physicians often struggle to balance multiple medications in order to limit motor fluctuations without increasing dyskinesias. Adenosine receptor antagonists (A2a) such as Preladenant have been proposed as a novel class of adjunctive agents that may decrease daily "off" time without increasing dyskinesias. This Phase 2, double-blind, dose finding, safety and efficacy trail aimed to determine if Preladenant at doses of 1, 2, 5, or 10 mg taken twice daily would reduce mean daily "off" time as compared to placebo at 12 weeks as assessed by patient diary. A total of 253 patients were randomized into the 1, 2, 5, 10mg or placebo group based on an adaptive randomization protocol. The study met the primary outcome measure by reducing mean total daily "off" time in the 5mg and 10mg groups by 1.0 and 1.2 hours respectively. In addition, although not adequately powered to analyze, there did not seem to be an increase in dyskinesia associated with the reduction in "off" time. Preladenant was well tolerated at these doses when compared to placebo .

Lancet Neurol. 2011 Mar;10(3):221-9.

http://www.ncbi.nlm.nih.gov/pubmed/21315654

a -Synuclein ( a-syn) propagates from mouse brain to grafted dopaminergic neurons and seeds aggregation in cultured human cells. 

Hansen C, Angot E, Bergström AL, et al.

This study  demonstrated that a-synuclein, similar to a prion-like mechanism, can pass from a donor cell to seed a healthy cell, consistent with the Braak hypothesis. This result may explain the central role in the progression of PD neuropathology where an external pathogen may cause the spread of Lewy body-like aggregates and contribute to Parkinson's Disease pathology. They reported using several cell lines and in vivo models in transgenic mice with wild-type a-synuclein to show a-synuclein propagates once inside the recipient cells and creates endogenous misfolding and aggregation. However, the molecular nature of the α-syn "seed" remains unclear. The authors suggest it is important to develop animal models of this grafting paradigm to further resolve the effects of inflammation and environmental oxidative stress as contributing mechanisms for neurodegenerative proteinopathies.

J Clin Invest 2011: 121;715–725

http://www.ncbi.nlm.nih.gov/entrez/query.fcgi?cmd=Retrieve&db=PubMed&dopt=Citation&list_uids=21245577

Impulsivity and compulsivity in drug-naive patients with

Parkinson's disease.

Antonini, A., C. Siri, et al.

Impulsivity and compulsive symptoms are well described in Parkinson's patients receiving dopaminergic therapies. However, in early drug naĂŻve PD pts, baseline features of impulsiveness, compulsiveness or depression in newly diagnosed patients have not been well described. Antonini and colleagues screened 103 consecutively newly diagnosed PD pts for impulsive and compulsive behaviors using validated screening tools. (Minnesota Impulsive Disorders Interview, MIDI; South Oaks Gambling Screen, SOGS; Barratt Impulsiveness Scale, BIS-11; Maudsley Obsessional-Compulsive Questionnaire, MOCQ/R; and Depression, GDS-15.) Comparisons were made with healthy controls. Similar to healthy controls, 17.5% of pts screened positive for at least one ICD (no one ICD was more prevalent than the other and onset of symptoms (tremor vs. rigidity) nor side of onset (left vs right) showed any difference,) but there was a trend for higher attentional impulsiveness (lack of planning) and a relationship between depression and impulsivity in drug-naĂŻve PD pts. It is suggested that early PD pts may suffer with baseline subclinical behavioral abnormalities and careful assessment for these behaviors should be explored before initiating dopaminergic therapy as they may then become clinically significant with initiation of therapy.

Mov Disord 201: 26(3): 464-8.

http://www.ncbi.nlm.nih.gov/entrez/query.fcgi?cmd=Retrieve&db=PubMed&dopt=Citation&list_uids=21312278

Dates to Remember

Committee Recap

June 5-9, 2011

Movement Disorders Society

15th International Congress of Parkinson's Disease and Movement Disorders

Toronto, Canada

July 14, 2011

Advances in Gene Therapy

EES/PADRECC Audioconference

September 8, 2011

Neuroprotection and Parkinson's Disease

EES/PADRECC Audioconference

Clinical Care Committee

· Rotation of Committee Chair: Leadership for the clinical care committee rotates amongst the PADRECCs. Philadelphia leads the committee for May and June. Committee meets first Tuesday of the month at 12pm ET.

· Standardize Clinical Care: Continues to discuss a variety of clinical issues, provide clinical support to the Consortium network, and work on measures to standardize clinical care across the PADRECC network.

o Azilect is now on the national formulary

o LA new patient note template is being piloted. It will capture the AAN guidelines for nonmotor symptoms

Discussion are taking place about standardizing pharmacy recommendations/allowances so that all PADRECCs have the same drugs available.

PD Handbook: A smaller subcommittee will spearhead a project in 2011 to draft a handbook for the VHA (similar to a MS Handbook developed by MSCoE) that addresses such things as definition of PD, purpose, authority and scope, system of care, population served, etc.

· PADRECC Transmitter: PADRECC clinicians provide reviews of recent movement disorder publications that are included in the PADRECC Transmitter

Education Committee

PADRECC/EES Movement Disorder Series: The FY 2011 series is currently underway. Future dates in 2011 are: Jul 14 and Sep 8. These audio conference series will be archived on the www.parkinsons.va.gov website under the Movement Disorder Series tab.

· Patient Education Video Project: Susan Heath (SF PADRECC) is working with EES and the education committee to develop a series of videos for patient education in FY2011. Tapings are currently underway

· PADRECC Transmitter: The committee continues to assemble and distribute this e-newsletter every other month.

· National Website: The committee is assisting in updating the National VA PADRECC/Consortium Website .

Spotlight on San Francisco Consortium Centers:

San Francisco's New Palliative Care Clinic - "Supportive Care Clinic" for late Stage III-IV PD.

Late-stage PD patients often gain little to no benefit from medication adjustments. In fact, medications are more frequently withdrawn due to their side effects. The work of Gow and Carter from OHSU suggests that families often have feelings of abandonment for care and support in the final stages of care for patient with Parkinson's disease. With this in mind, the SFVA developed a new interdisciplinary clinic for advanced disease patients with the goal of improving the family's sense of support for this end-stage phase of disease. Specifically, quality of life interventions are the focus instead of curative interventions. The goal is to avoid unnecessary hospitalizations and caregiver desperation. The staffing is based on a team approach and the two hour visits start with an intake of key issues solicited by either the nurses, a social worker, or chaplain. Patient and family goals are explored and a plan of care is made together incorporating recommendations from all involved parties.
History & Mission /  Consortium Center Refferal List /  Membership & Consortium Center Designation / Resource Request Form / Education & Clinical Resources / Consortium Newsletters / Consortium Brochures
return to top