Attention A T users. To access the menus on this page please perform the following steps. 1. Please switch auto forms mode to off. 2. Hit enter to expand a main menu option (Health, Benefits, etc). 3. To enter and activate the submenu links, hit the down arrow. You will now be able to tab or arrow up or down through the submenu options to access/activate the submenu links.

Parkinson's Disease Research, Education and Clinical Centers
The Monthly Transmitter (May 09)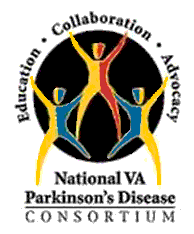 Briefing
Hot Off The Press
We are proud to report that the Consortium Center Network treated an impressive 14,000 unique veterans in FY 2008. The justification of this program is clearly objectified by the wide scale impact suggested by this number. We thank everyone for their continued hard work and commitment to our crucial mission.

On May 5th, members of the Consortium Executive Committee and Dr. John Slevin, Director of the Lexington Consortium Center, traveled to VACO to formally present the Consortium Center Proposal. While official approval is still pending, we are very encouraged by the expressed interest and support of Dr. Jesse and his team in the Office of Patient Care Services. To be continued…

 
Prepared by Gail Kang, MD San Francisco VA PADRECC.



(+)Mutations for Gaucher Disease Confer High Susceptibility to Parkinson Disease  (click here)


Previous studies have suggested an association between Parkinson's disease (PD) and heterozygous variants of the glucocerebrosidase gene (GBA) which encodes for an enzyme deficient in Gaucher disease, an autosomal recessive lysosomal storage disorder. Prior studies have relied on small sample sizes and have only analyzed specific variants of GBA, making it difficult to draw firm conclusions regarding the nature of the association between GBA variants and PD. In this study, a comprehensive resequencing of GBA in 534 PD patients and 544 controls was performed. 50 (9.4%) PD patients had a heteroyzygous pathogenic variant which had been shown previously to be associated with Gaucher disease. In contrast, only 2 (0.37%) of controls had variants in the pathogenic state. Patients with pathogenic GBA variants had significantly younger age of onset of PD symptoms in comparison to the PD patients who did not have the GBA variant gene. 11 (22%) patients with the pathogenic variant gene had parents or siblings with PD. The researchers conclude that multiple GBA variant genes "confer high risk for PD" and that previous studies in which only certain variants were analyzed may have resulted in underestimation of variant GBA frequency in PD patients.

Arch Neurol. 2009; 66 (5): 571-576. http://www.ncbi.nlm.nih.gov/pub med/19433656?
ordinalpos=1&itool=EntrezSystem2.PEntrez.Pubmed.Pubmed_ResultsPanel.Pubmed_
DefaultReportP anel.Pubmed_RVDocSum 


Neurology. 2009 Sep 2. [Epub ahead of print]

PMID: 19726750 [PubMed - as supplied by publisher]






---




(+) Intrajejunal Levodopa Infusion in Parkinson's disease: A Pilot Multicenter Study of Effects on Nonmotor Symptoms and Quality of Life (click here)


Continuous dopaminergic stimulation (CDS) has been proposed as a potential treatment strategy to decrease motor fluctuations in Parkinson's disease (PD). Intrajejunal levodopa infusion may allow for a relatively non-pulsatile delivery of levodopa and has been shown in several studies to decrease off time and the severity of dyskinesias. This study focused upon the effect of intrajejunal levodopa infusion on the non-motor symptoms of PD. 22 patients with advanced PD who were experiencing motor fluctuations received intrajejunal carbidopa/levodopa infusion. Patients were assessed on a variety of scales including the UPDRS (Part 3 Motor and Part 4 Complications), the Nonmotor Symptoms Scale (NMSS) and the Parkinson's disease questionnaire (PDQ-8). These evaluations were performed at baseline and after six months of treatment with intrajejunal levodopa infusion. Results showed significant improvement in the UPDRS motor and complication scores. A significant improvement was found in six of the nine NMSS domains which included cardiovascular, sleep/fatigue, attention/memory, gastrointestinal, urinary and "miscellaneous". Significant improvement was also found for quality of life as assessed by the PDQ-8. The authors conclude that their findings are in agreement with prior studies suggesting that various non-motor symptoms of PD may be partially due to dysfunction of the dopamine system. Movement Disorders. 2009, May; e-published ahead of print http://www.ncbi.nlm.nih.gov/pubmed/19425 079?ordinalpos=1&itool=EntrezSystem2.PEntrez.
Pubmed.Pubmed_ResultsPanel.Pubmed_DefaultReportPanel.P ubmed_
RVDocSum 




---




(+) Prevalence of Anxiety Disorders and Anxiety Subtypes in Patients with Parkinson's Disease (click here)


Estimates of the frequency of anxiety disorders in Parkinson's disease (PD) have ranged from 28 to 40%. The aim of this study was to characterize anxiety subtypes and clinical correlates in patients with PD. 127 PD subjects were recruited from the clinical offices of three movement disorders specialists and underwent a comprehensive assessment by a psychiatrist using the Structured Clinical Interview for DSM-IV. Subsequently, a group of six psychiatrists made determination of subjects' psychiatric diagnoses based upon this data as well as supplemental questions asked of the subject and an informant. Results showed a lifetime prevalence of at least one anxiety disorder diagnosis in 49% (N=63) of subjects; current prevalence of an anxiety disorder was in 43% (N=55) of subjects. 20% (N=25) of subjects had a lifetime prevalence of two or more anxiety diagnoses. The most common diagnosis was anxiety disorder NOS [30% (N=38)]; 18 of these subjects described anxiety related to motor deficits or "wearing off" of PD medications. Frequencies of other anxiety disorders included specific phobia (19%), panic disorder (10%) and social phobia (9%). In comparison to non-anxious subjects, subjects with panic disorder (N=13) had an earlier age of PD onset, higher rates of motor fluctuations and morning dystonia. The authors make an interesting connection with this finding, citing previous reports of panic disorder preceding clinical motor symptoms in PD associated with young-onset patients who have mutations in parkin and LRRK2. The authors conclude that anxiety in PD is most probably underdiagnosed and undertreated; future research should continue to address characterization of anxiety disorders in PD.

Movement Disorders; 2009 May 7; e-published ahead of print.http://www.ncbi.nlm.nih.gov/pubmed/19425 086?ordinalpos=1&itool=EntrezSystem2.PEntrez.Pubmed.
Pubmed_ResultsPanel.Pubmed_DefaultReportPanel.P ubmed_
RVDocSum

      
Dates To Remember
Committee Recap
June 7-11, 2009
Movement Disorders Society
13th International Congress
Paris, France
http://www.movementdisorders.org/

July 9, 2009
Caregiving and Psychosocial
Issues in PD
5th EES/PADRECC
Audio Conference
http://www.parkinsons.va.gov/

September 10, 2009
Diagnosis and Treatment of PD
6th EES/PADRECC
Audio Conference
http://www.parkinsons.va.gov/

October 11-14, 2009
American Neurological Association
2009 Annual Meeting
Baltimore, MD
http://www.aneuroa.org/

December 13-16, 2009
World Federation of Neurology
18th World Congress on
Parkinson's Disease and
Related Disorders
Miami, FL
http://www2.kenes.com/
parkinson/pages/home.aspx

February 17, 2010
Parkinson's Action Network
2010 PAN Forum 
Parkinson's Disease and
http://www.parkinsonsaction.org

April 10-17, 2010
American Academy of Neurology
2010 Annual Meeting 
Toronto, Ontario
http://www.aan.com/go/am10

June 13-17 2010
Movement Disorders Society
14th International
Congress of Parkinson's
disease and Movement
Disorders
Buenos Aires, Argentia
http://www.movementdisorders.org/

September 28th-October 1, 2010
World Parkinson Congress
The 2nd WPC 2010 
Glasgow, Scotland
www.worldpdcongress.org


Clinical Care Committee


Standardization of Care: The Clinical Care Committee has developed and distributed a DBS education letter along with educational material provided by Medtronic to Chiefs of Neurology, Primary Care and Geriatrics in all VA Medical Centers.



Pocket Card: The Committee is now working on revising the PADRECC pocket card, which outlines initial management of PD to be used by general practitioners.



PADRECC Transmitter: The Clinical Care Committee continues to provide reviews of recent movement disorder publications that are included in the PADRECC Transmitter.


Research: Exploring a Requip XL study for possible VA PADRECC study.


Education Committee


EES/PADRECC Educational Series: The audio conferences are underway. The next audio conference will be held on May 14th, 2009 at 12pm EST and repeated at 3pm EST. The Topic will be Atypical Parkinsonism Disorders. The education committee will be monitoring these conferences and with the help of EES will be tracking participation on the calls. A listing of upcoming teleconferences can be seen to your left under Dates to Remember.


PADRECC Transmitter: The Education Committee continues to put together the PADRECC Transmitter every other month and distribute to the PADRECC Consortium Centers.




History & Mission /  Consortium Center Refferal List /  Membership & Consortium Center Designation / Resource Request Form / Grant Opportunities /  Education & Clinical Resources / 2008 Conference Presentations / Consortium Newsletters / Consortium Brochures
return to top