Attention A T users. To access the menus on this page please perform the following steps. 1. Please switch auto forms mode to off. 2. Hit enter to expand a main menu option (Health, Benefits, etc). 3. To enter and activate the submenu links, hit the down arrow. You will now be able to tab or arrow up or down through the submenu options to access/activate the submenu links.

Parkinson's Disease Research, Education and Clinical Centers
The Monthly Transmitter (May 08)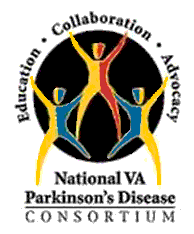 Briefing
Hot Off The Press
In addition to the approaching conference, the Consortium continues to focus on the National Outreach Campaign. Our goal is to reach each Consortium Center via on-site visits, preceptorships at the regional PADRECC, or support of advanced movement disorder training within the next 3 years. Prioritization for this initiative is based on the level of movement disorder training and available services at each Center. If you have specific needs related to the outreach mission, please contact your local PADRECC. Keep in mind that the Consortium and PADRECCs are prepared to assist you with logistical support, expert consultation, patient education efforts, and all other issues impacting the success of your movement disorders clinic. Additional resources, such as the Resource Request Form, are available on-line at: http://www.parkinsons.va.gov/Consortium/
ResourceRequestFormPrint.asp




(+) Are delayed-start design trials to show neuroprotection in Parkinson's disease fundamentally flawed? (click here)

 

 
Currently there are no disease modifying agents available for the treatment of Parkinson's disease. Several trials with agents which were initially thought to be neuroprotective, including selegiline, pramipexole, ropinirole and rasagiline, have come under significant scrutiny secondary to numerous methodologic problems. This has resulted in a desire to rethink the way we approach neuroprotection trials.

The "delayed-start" design, as was used in the TEMPO trial (rasagiline neuroprotection trial) , presumes that patients with early PD whom do better after 12 to 18 months of immediate drug therapy when compared to those in whom the drug is delayed for 6 to 9 months are experiencing "neuroprotection." There may be several flaws in this assumption.

First, physiologic mechanisms that compensate for the loss of dopaminergic neurons in early PD may result in more aggressive progression and simply by symptomatically treating the underlying disease, one halts the deleterious effects of "compensation." Secondly, in order to enroll in a "delayed start" trial, patients must be very mild and must be able to tolerate the possibility of being untreated for 6 to 9 months. This results in a selection bias of more slowly progressive and less generalizable patients. Finally, delayed start trials, because they are powered to detect very small differences in UPDRS scores, may not reflect clinically significant changes.

Move Disord. 2008 Apr 30; 23(6):784-9
http://www.ncbi.nlm.nih.gov/pubmed/18175348?ordinalpos=6&itool=EntrezSystem2.PEntrez.
Pubmed.Pubmed_ResultsPanel.
Pubmed_RVDocSum 


 


 

(+) The effectiveness of exercise interventions for people with Parkinson's disease: a systematic review and meta-analysis. (click here)

 



Parkinson's disease affects not only motor, but also psychological, social, and cognitive functioning. Although many studies have been preformed to look at the impact of various forms of exercise on the progression of PD, very few have been of high methodologic quality. In this review, only 14 out of 342 studies met criteria for review which encompassed an evaluation of 495 total patients in randomized controlled trials. Based on this review, the authors conclude that exercise is effective at improving physical functioning, leg strength, balance, and walking. There is not enough evidence to conclude that exercise has an effect on depression or fall prevention. The authors suggest that further study is needed and that this should focus on they type, frequency, and amount of exercise. Additionally, studies should include more representative patients.
Mov Disord. 2008 April 15;23(5) http://www.ncbi.nlm.nih.gov/pubmed/18181210?ordinalpos=6&itool=EntrezSystem2.PEntrez.
Pubmed.Pubmed_ResultsPanel.Pubmed_RVDocSum 

 

---


 

(+) Erectile function and risk of Parkinson's disease (click here)

 



Erectile dysfunction is common among individuals with Parkinson's disease, but it is unknown whether it precedes the onset of the classic features of the disease or if it becomes a symptom of advanced neurological disease. The autonomic nervous system is often affected in early Parkinson's disease and an important question is whether erectile dysfunction precedes the onset of motor symptoms.

This retrospective study used self report questionnaires at several intervals over 6 years, starting in 1986 and ending in 2000. 32,616 men were recruited and were free of Parkinson's disease at baseline then completed a retrospective questionnaire with questions on erectile dysfunction. This questionnaire was repeated in different time periods. Relative risks were computed using Cox proportional hazards models adjusting for age, smoking, caffeine intake, history of diabetes, and other covariates. Men with self- reported erectile dysfunction were 3.8 times more likely to develop Parkinson's disease during the follow-up years than were those with very good erectile function at baseline. Multivariate-adjusted relative risks of Parkinson's disease were 2.7, 3.7, and 4.0 for participants with first onset of erectile dysfunction (before initial screen in 1986) at 60 yrs or more, 50-59, and less than 50 years of age, respectively, relative to those without erectile dysfunction.

The authors observed that erectile dysfunction was associated with a higher risk of developing Parkinson's disease. This autonomic symptom (in addition to constipation) could eventually contribute to the identification of men who are at high risk or in a preclinical stage of Parkinson's disease.

American J Epidemiol 2007 July 166(12), 1446-1450 http://aje.oxfordjournals.org/cgi/content/abstract/166/12/1446

      
Dates To Remember
Committee Recap
June 22nd-26th, 2008
     12th International
     Congress on PD and
     Movement Disorders,
     Chicago, IL

July 28th-31st, 2008
     18th Annual Course
     for the Clinical
     Practitioner,
     Aspen, CO

August 7th-9th, 2008
     6th Annual Young
     Onset Parkinson
     Network Conference
     Atlanta, GA

September 3rd-5th, 2008
     2008 Consortium
     Center Conference,
     Pittsburgh, PA
Clinical Care Committee


Call was cancelled in May.



Education Committee


EES/PADRECC Educational Series - The Education subcommittee is pursuing support through the Employee Education System to develop national teleconferences for VA providers. The group is also interested in launching national teleconferences for patients and caregivers

Consortium Center Inventory (Needs Assessment)- Feedback from the recent needs assessment is being complied and will be considered in the design of the approaching Consortium Conference.

2008 National Conference - The committee continues to work out details in the planning of the September 2008 meeting.
History & Mission /  Consortium Center Refferal List /  Membership & Consortium Center Designation / Movement Disorder Series / Resource Request Form / Grant Opportunities /  Education & Clinical Resources /  The Monthly Transmitter /  2008 Conference Presentations / Consortium Newsletters / Consortium Brochures
return to top