Attention A T users. To access the menus on this page please perform the following steps. 1. Please switch auto forms mode to off. 2. Hit enter to expand a main menu option (Health, Benefits, etc). 3. To enter and activate the submenu links, hit the down arrow. You will now be able to tab or arrow up or down through the submenu options to access/activate the submenu links.

Parkinson's Disease Research, Education and Clinical Centers
The Monthly Transmitter (March 2013)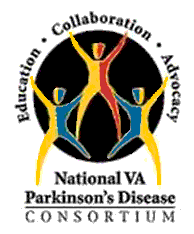 Article Review
Prepared by:  Dr. Amy Hellman, Dr. Alexander Pantelyat & Heidi Watson, RN Philadelphia PADRECC
Neuropathological Findings in Benign Tremulous Parkinsonism
Benign tremulous parkinsonism is a tremor dominant syndrome with relatively slow progression.  It is recognized by clinicians although its pathological basis is not well understood.  A systematic review of Queen Square Brain Bank donors was carried out to determine the natural history and pathology of individuals who had tremor dominant parkinsonism with only mild non-tremor parkinsonian signs and no gait disorder for at least 8 years.  The researchers identified 16 cases of pathologically proved benign tremulous Parkinson's disease (PD), while another 5 individuals had the clinical syndrome but did not have the pathology of PD.  Patients with pathologically verified benign tremulous PD had less severe neuronal loss in the substantia nigra than PD controls.  The only consistent distinguishing feature of the 5 pathologically disproved cases was a failure to develop unequivocal bradykinesia within 10 years of tremor onset.  The authors concluded that their findings support the existence of a distinct subgroup of benign tremulous PD.
Mov Disord. 2013 Feb;28(2):145-52. doi: 10.1002/mds.25220. Epub ahead of print.
http://www.ncbi.nlm.nih.gov/pubmed/23239469
Trial

 

of

 

CBT

 

for

 

impulse

 

control

 

behaviors

 

affecting Parkinson patients and their caregivers
Impulse control behaviors (ICBs) commonly affect patients with Parkinson's disease and their caregivers. This randomized controlled trial compared up to 12 sessions of a Cognitive-Behavioral Therapy (CBT)-based intervention by a nurse therapist to a control condition with standard medical care (continued follow up with health professionals, including medication adjustments). 27 non-demented PD patients (70% men, 53% on dopamine agonist) were randomized to the intervention and 17 to the waiting list. At 6 months, there was a significant improvement in global symptom severity in the CBT intervention group vs. controls, from a mean score indicating moderate to one showing mild illness-related symptoms. Patients' neuropsychiatric disturbances also improved significantly, and so did levels of anxiety and depression. Measures of carer burden and distress showed changes in the desired direction in the intervention group but did not change significantly. This CBT-based study is the first to show efficacy in patient-oriented outcomes of ICB related to PD. It demonstrates the feasibility and potential short-term benefit of a psychosocial treatment approach for these disturbances, and encourages further larger-scale clinical trials. The study sample size and short duration of follow up limit the conclusions that can be inferred.
Neurology. 2013 February 26;80(9):792-799.
Neurostimulation for PD with Early Motor Complications
Previous studies have shown that DBS is effective for advanced Parkinson's disease. This study shows that STN stimulation is better than medical therapy in early PD stages with motor complications.  The participants were assigned to neurostimulation and medical therapy or medical therapy alone and monitored over a 24 month period.  Study participants averaged 7.5 yr history of Parkinson's disease, 52 years of age and 1.7 year history of levodopa induced motor complications.  Off medication UPDRS III scores improved 53% over 2 years in favor of the neurostimulation group. PDQ 39 improved by 26% in the neurostimulation group and worsened by 1% in the medical therapy group,  while ADL's as measured by UPDRS II in each groups' 'worst off state' decreased by 6.2 points in favor of neurostimulation with  no significant difference in 'best on state'. Levodopa daily dose was reduced by 39% in the neurostimulation group and increased by 21% in the medical therapy group. Serious adverse events in the medical-therapy group were related to mobility, hallucinations and behavioral problems related to side effects of medications.  In the neurostimulation group major depression occurred more. Overall, there was high frequency of suicidal behavior: 3 suicides and 4 suicide attempts during the study (no significance between groups).The study hypothesizes that the decision to undergo deep brain stimulation may  "select patients with a higher risk for suicidal behavior than the general population."
N ENG J MED 368;7 Feb 14, 2013
http://www.nejm.org/doi/full/10.1056/NEJMoa1205158#t=articleTop
Committee Activities
·         Rotation of Committee Chair: Leadership for the clinical care committee rotates amongst the PADRECCs.  The San Francisco PADRECC leads the committee for March/April.  Committee meets via conference call the first Tuesday of the month at 12pm ET.
·         Standardize Clinical Care: Continues to discuss a variety of clinical issues, provide clinical support to the Consortium network, and work on measures to standardize clinical care across the PADRECC network.  Recent agenda issues discussed:          
o   Use of CVT (clinical video teleheath)/telemed for movement disorders and eConsults
o   Integrated Neurology Telehealth Pilot project
o   Pharmacist role in the clinic medication related issues (medication reconciliation, pill box organization, medication compliance, support group education)
·         PADRECC Transmitter: PADRECC clinicians provide reviews of recent movement disorder publications that are included in the PADRECC Transmitter
Education Committee
·         PADRECC/EES Movement Disorder Series:  The FY 2013 series is underway.  The 3rd audioconference for this series was  held on March 14, 2013:  "Pharmacotherapy of Motor & Non-Motor Symptoms in Parkinson's Disease."  The audio conferences will be archived on the National website www.parkinsons.va.gov under the Movement Disorder Series tab.  All evaluations for CMEs are now being done electronically via TMS.  Please take a look at the Dates To Remember section for  a listing of upcoming audio conferences.   
·         Patient Education Video Project:  8 videos were taped in FY 2011.  The videos are completed and all Consortium Centers should have received a copy of the DVD.  Videos can be viewed on the National PADRECC & VA Consortium Website:  http://www.parkinsons.va.gov/patients.asp and on  You Tube.  Production of the 2nd video series for FY2012 is complete and awaiting approval for distribution and posting.  Request has been submitted to EES for a 3rd video series for FY2013 and is awaiting approval.
·         Enduring Materials Project: In collaboration with EES, the committee is developing an on-line TMS self study program that will offer CME credit for a 3 year period.  The purpose of this training is to provide VHA healthcare professionals with a broadened medical awareness of Mood Disorders in PD.
·         PADRECC Hospitalization Kit:  In collaboration with the PADRECC Nurses Group, the committee is developing a hospitalization kit unique to Veterans with PD.   The kit will include useful tools and information to assist Veterans in being prepared for their doctor visits and any hospitalizations, as well as information about services available via VA and the PADRECC. 
·         PADRECC Transmitter: The committee continues to assemble and distribute this e-newsletter every other month.
Philadelphia PADRECC Service Area Updates
West Haven, CT
Director: Diana Richardson, MD
The West Haven Parkinson's Disease Consortium remain active in promoting good health, well being and fitness for our Veteran patient with Parkinson's disease. Currently we offer an annual PD Lecture & Support series (August – June) to patients, caregivers and healthcare professionals.  One to two classes are held per month on Tuesdays at noon.  Lecture/discussion topics vary and have included PD management updates  and Parkinson Research and Surgery. As part of the lecture series, we also run a Wii Fit Club. Participants engage in Dance, Exercise Training and Sport Competitions with the use of the Wii Video Game System.  The sessions are both physically and mentally stimulating  which has had positive effect on the PD quality of like and motivation for physical activity. These session have also been socially engaging and have promoted open dialogue about PD  amongst the participants.
The West Haven Consortium site also holds many other events. During Parkinson's Awareness Month each April, there is the Annual Parkinson Fair when educational materials and discussions circulate in an open format style.  Providers from across disciplines engage in conversation with those who pass by the displays.  During this month additional educational activities and classes are offered and each year a team is formed for participation in the Parkinson's Unity Walk held in NYC central Park.  A larger annual educational event for the Parkinson's Consortium is the Parkinson's Disease Symposium.  This multidiscipline symposium brings together the expertise from Neurology, Neuroscience, allied health professions and community support providers to educate other health professionals, patients and caregivers.
Since September 2012 , we have introduced a new program. The Parkinson's Orientation Sessions are one hour telehealth educational sessions held nearly each month. The telehealth technology allows us to include veteran's  throughout CT  in a learning experience  without the hardship of distant travel.  We are able to have participants from Newington and other telehealth capable CBOCs in CT join and learn more about their disease.
Bronx, NY
Director:  Ruth Walker, MD
The Bronx VA Consortium site will be holding its 9th PD Awareness Day on May 10th  - a full-day program for people with PD and their caregivers, with presentations on; on how to take PD medication, end-of-life issues, speech and swallowing, neurosurgery and more. We will have a participatory dance/music therapy session, and the lunchtime entertainment will be provided by "Shake, Rattle, and Swing", a band of professional musicians with PD. Dancing is encouraged and expected!
Dates to Remember
May 9, 2013
EES/PADRECC Movement Disorder Series
DatScans:  When should we order them and how are they interpreted?
June 6-20, 2013
17th International Congress of Parkinson's Disease and Movement Disorders
Sydney, Australia
http://www.mdscongress2013.org/
July 11, 2013
EES/PADRECC Movement Disorder Series
Social Media and Parkinson's Disease
September 12, 2013
EES/PADRECC Movement Disorder Series
Medical Domain Management Model
October 1-4, 2013
3rd World Parkinson Congress
Montreal, Canada
http://www.worldpdcongress.org/?page=AboutWPC
http://www.parkinsons.va.gov/
History & Mission /  Consortium Center Refferal List /  Membership & Consortium Center Designation / Resource Request Form / Education & Clinical Resources / Consortium Newsletters / Consortium Brochures
return to top