Attention A T users. To access the menus on this page please perform the following steps. 1. Please switch auto forms mode to off. 2. Hit enter to expand a main menu option (Health, Benefits, etc). 3. To enter and activate the submenu links, hit the down arrow. You will now be able to tab or arrow up or down through the submenu options to access/activate the submenu links.

Parkinson's Disease Research, Education and Clinical Centers
The Monthly Transmitter (March 2010)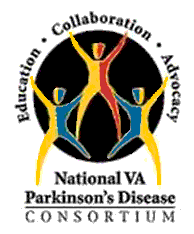 Briefing
Hot Off The Press
The Consortium Executive Committee and subcommittees continue to develop plans for the upcoming national conference. The anticipated agenda will concentrate on controversies and updates on PD etiology, neuroprotection, and emerging therapies. Additional information to follow soon.

A special thank you to the Clinical Care Committee for spearheading the revision of the PD Quick Reference Pocket Card. Copies of this valuable clinical tool will be distributed to all Consortium Centers by April and will also be sent to all VA Chiefs of Neurology, Primary Care and Geriatrics.

Members are reminded and encouraged to utilize the clinical and educational resources provided on the Consortium website. Be sure to check out the recently developed educational guide for newly diagnosed patients.

http://www.parkinsons.va.gov/
Consortium/cfiles/Newly_dx.pdf


Prepared by: Lee Kubersky, MD, Heidi Watson, RN and Gretchen Glenn, LSW of the Philadelphia VA PADRECC



(+) Patient and Organizational Factors Related to Education and Support Use by Veterans with Parkinson's Disease. (click here)


The Department of Veterans Affairs (VA) appreciates the importance of patient education and support services in the treatment of Parkinson's disease (PD). Consequently, providing patient education is one of the missions of the VA's six Parkinson's Disease Research, Education and Clinical Centers (PADRECCs). Pogoda et al. compared VA education/support services utilization by whether or not a patient's VA Medical Center (VAMC) contained a PADRECC. The sample included PD patients from VAMC's with (n= 882) and without (n= 1, 448) PADRECCs. The study was survey based and asked questions regarding demographics/individual characteristics, health status/function, and education/support utilization. The results of the study showed that 15.8% (n= 354) of all patients utilized education/support services. Patients who were followed at a PADRECC VAMC were overall healthier and more educated than other VAMC patients. However, it is important to note that after statistically controlling for these differences, being a patient at a PADRECC VAMCE and using only VA providers were significant predictors of education/support use. The study also showed that patients followed at PADRECC VAMC sites reported higher satisfaction and receiving a broad range of information from different modalities as compared to those followed at other VAMCs. Overall the study findings indicate that PADRECC VAMCs are providing educational/support activities consistent with their specialty centers' goals.


Movement Disorders 2009; 24 (13): 1916-1924






---




(+) The Clinically Important Difference on the Unified Parkinson's Disease Rating Scale (click here)


A clinically important difference (CID) is the amount of change on a measure that patients can recognize and value. This concept is important when a clinician evaluates the results of a clinical trial; in particular, statistical significance between outcome measures versus real-life practical/clinical significance. The authors of this article enrolled 653 subjects with Parkinson's Disease (PD) from the University of Maryland Parkinson's Disease and Movement Disorders Center. Measures included the Unified Parkinson's Disease Rating Scale (UPDRS), the Hoehn and Yahr Scale (HY Stage), the Schwab and England Activities of Daily Living Scale (SE Scale), and the 12-Item Short Form Health Survey (SF-12), which is a measure of quality of life. Thus, this study relied on a combination of patient reported (SF-12) and clinician-reported (SE Scale, HY Stage) assessments, as well as the full UPDRS which is based on both patient responses as well as clinical observations. The authors showed that the CID on the UPDRS-3 (motor subscore) is 2.5 for minimal, 5.2 for moderate, and 10.8 for large CIDs. Estimates for the UPDRS total score are 4.3 for minimal, 9.1 for moderate, and 17.1 for large CIDs. The authors propose that determining the CID is important when evaluating the efficacy of therapeutic interventions in PD, and ideally should be based on both objective and subjective assessments.

Arch Neurol. 2010; 67 (1): 64-70




---




(+) Family history of melanoma and Parkinson disease risk (click here)


Parkinson's disease (PD) and melanoma have been reported as occurring together in numerous studies. In a prospective study including 2 ongoing large cohorts, the study found an approximately twofold increase in risk of PD among individuals who reported a family history of melanoma in a first-degree relative, as compared with those without such a family history. The significant association was independent of several known risk factors for PD, including smoking and caffeine intake. The study did not observe significant associations between a family history of colorectal, lung, prostate, or breast cancer and PD risk- 4 other types of common cancer. The metabolism of pigments, and genes that encode the proteins in this process, may, at least in part, explain the observed association between a family history of melanoma and PD risk. In a case-control study including over 500 PD patients, individuals with darker skin color were found to have a lower PD risk, both among Caucasians and African Americans. In addition, people with key genetic determinant for human pigmentation and red hair color, had a higher PD risk than non carriers. An alternative hypothesis that levodopa treatment is the cause is not supported in this study.

Neurology. 2009;73: 1286-1291

Dates To Remember
Committee Recap
April 10-17, 2010
American Academy of Neurology
2010 Annual Meeting
Toronto, Ontario
http://www.aan.com/go/am10

May 13, 2010
Pallative Care and PD
EES/PADRECC
Audioconference
http://www.parkinsons.va.gov/

May 21, 2010
Parkinson's Disease Across the Lifespan: A Roadmap for Nurses
NPF-APDA-PDF
Webcast
http://support.pdf.org/nursing

June 13-17 2010
Movement Disorders Society
14th International
Congress of Parkinson's
disease and Movement
Disorders
Buenos Aires, Argentia
http://www.movementdisorders.org/

July 8, 2010
Medications for PD
EES/PADRECC
Audioconference
http://www.parkinsons.va.gov/

September 2, 2010
Parkinson's Disease in Older Patients
EES/PADRECC
Audioconference
http://www.parkinsons.va.gov/

September 8th-10th, 2010
National VA PD
Consortium
2010 Consortium
Conference
San Francisco, CA

September 28th - October 1, 2010
World Parkinson Congress
The 2nd WPC 2010
Glasgow, Scotland
www.worldpdcongress.org


Clinical Care Committee


Pocket Card: The Committee has completed updating the pocket card and the new copies are being distributed to all Consortium sites.


PADRECC Transmitter: The Committee continues to provide reviews of recent movement disorder publications that are included in the PADRECC Transmitter.



Research: Exploring a Requip XL study for possible VA PADRECC study



iMed BOTOX consults: The Committee is working to institute iMED Botox consults across the PADRECC Network.


Education Committee


EES/PADRECC Educational Series: The 2nd EES/PADRECC Audio Conference series for FY10 is now underway. Recent topics have included: Vitamin D, Nutrients and Supplements in PD, Lewy Body Disease, and Essential Tremor: Diagnosis and Treatment Basics. The audio conference can now be heard both via VANTS and Live Meeting. Please look to the Dates to Remember section for dates of upcoming audioconferences.


PADRECC Transmitter: The Committee continues to put together the PADRECC Transmitter every other month and distribute to the PADRECC Consortium Centers.


Patient Education Materials: The Committee developed an educational guide for newly diagnosed patients titled: Suggested Education Essentials for Newly Diagnosed Veterans with Parkinson's Disease. You are encouraged to make copies of this handout and distribute to the newly diagnosed Veteran's in your clinics. The handout can be found on the consortium website at: http://www.parkinsons.va.gov/Consortium/Education.asp 


 
Spotlight on Northwest Consortium Centers:
 

Bronx, New York 
Bronx, VAMC (Phone: 718-584-9000 x 5915)
Director: Ruth Walker, MD
Dr. Ruth Walker, MD published the following articles from her first Merit Award:

Walker RH, Koch RJ, Sweeney JE, Moore C, Meshul CK (2009) Effects of subthalamic nucleus lesions and stimulation upon glutamate release in the dopamine-depleted striatum Neuroreport 20(8):770-775

Walker RH, Koch RJ, Moore C, Meshul CK (2009) Subthalamic nucleus stimulation and lesioning have distinct state-dependent effects upon striatal dopamine metabolism. Synapse 63:136-146

Dr. Walker will also be presenting as part of the CME accredited 'ÄúAdvanced Course in Geriatrics and Palliative Care for Frontline Primary Care Providers'ÄĚ on 'ÄúCurrent Concepts in Parkinson'Äôs Disease: It'Äôs Not Just Dopamine Deficiency'ÄĚ at the Bronx VA on Mar 11 and the Manhattan VA on Mar 17.

Albany, New York
Stratton VA Medical Center (Phone: 518-626-6373)
Director: Donald S. Higgins, Jr., MD
The Stratton VA Medical Center in Albany NY was designated the 50th Consortium member in 2009 and the designation plaque has been hung near the entrance to the specialty clinics. A dedicated Movement Disorders Clinic has been established meeting for ¬Ĺ day each week. Thus far the clinic population is primarily veterans with Parkinson'Äôs disease/parkinsonism. A growing number with tremor, restless leg syndrome and cervical dystonia are also being seen. The center is in the process of obtaining an N 'ÄėVision programming apparatus to provide follow-up care to veterans who have undergone deep brain stimulation. The Stratton VA Medical Center has also been designated a site with the Parkinson Study Group.

Pittsburg, Pennsylvania
VA Pittsburg Healthcare System (Phone: 412-688-8364)
Director: Director: David A. Hinkle, MD, PhD
Dr. Hinkle and Dr. Edward Burton run a movement disorders clinic one day a week treating general movement disorders and performing botulinum toxin injections for dystonia. Dr. Burton holds a VA Merit Review Award: őĪ-synuclein RNAi in a model of sporadic Parkinson'Äôs disease.

West Haven, Connecticut
VA Connecticut Healthcare System (Phone: 203-932-5711 x4724)
Director: Diana Richardson, MD
The VA Connecticut Healthcare System Department of Neurology is holding a Parkinson's Disease Symposium on May 1, 2010 titled: Care and Management of the Person and the Disease. The Symposium will be held at the West Haven VA. If interested in learning more please contact the West Haven VA Department of Neurology at 203-932-5711 x4724.


History & Mission / Consortium Center Refferal List / Membership & Consortium Center Designation / Resource Request Form / Grant Opportunities / Education & Clinical Resources / 2008 Conference Presentations / Consortium Newsletters / Consortium Brochures
return to top