Attention A T users. To access the menus on this page please perform the following steps. 1. Please switch auto forms mode to off. 2. Hit enter to expand a main menu option (Health, Benefits, etc). 3. To enter and activate the submenu links, hit the down arrow. You will now be able to tab or arrow up or down through the submenu options to access/activate the submenu links.

Parkinson's Disease Research, Education and Clinical Centers
The Monthly Transmitter (March 09)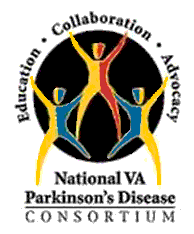 Briefing
Hot Off The Press
The Consortium continues to gain greater recognition on a national front. We would like to thank Dr. Ruff for his unrelenting support and advocacy for this evolving program. We continue to await word on the status of the Consortium Center Proposal and encourage Consortium Center staff to maintain open lines of communication with local hospital administration. It is critical that VA leaders stay briefed on the exceptional undertakings at each Center in an effort to build collaboration and cooperation across the healthcare system.

We are thrilled to welcome the Dr. Catherine Gallagher and staff at the William S. Middleton Memorial Veterans Hospital in Madison, WI. Their movement disorders clinic recently signed on as our forty-ninth Consortium Center. Please visit our Consortium website, www.parkinsons.va.gov, for an updated Consortium Center Network Directory 
Prepared by Dr. Wilkinson, Heidi Watson, RN, and Eileen Hummel, RN of the Philadelphia VA PADRECC.



(+) Two-Year Follow-Up on the Effect of Unilateral Subthalamic Deep Brain Stimulation in Highly Asymmetric Parkinson's Disease.  (click here)


This was an interesting case series published out of the Movement Disorders Center at Seoul National University Hospital looking at 8 patients who underwent unilateral STN DBS for highly asymmetrical Parkinson's disease. Motor UPDRS scores on the affected side pre-operatively were twice that of the less affected side. None of the patients had hemiparkinsonism-hemiatrophy syndrome. Of note, 5 of the patient had "tremor-predominant" PD. Although previous studies had shown that unilateral STN DBS can improve axial symptoms, and even ipsilateral symptoms, this 2 year follow-up study did not support that. The unilateral surgery created a reversed asymmetry of the Parkinsonism symptoms which was difficult manage with medication and stimulator adjustments. If the stimulator was effectively managing contralateral symptoms, and the medications were reduced, the ipsilateral side would experience more Parkinsonism. If medications were then increased, peak-dose dyskinesias would occur on the contralateral side. If the stimulator was decreased, motor fluctuations reappeared on the contralateral side. Therefore, it was concluded that bilateral STN DBS should be considered in all PD patients, even those with highly asymmetrical symptoms; as although unilateral STN DBS certainly improves symptoms on the contralateral side, it creates an asymmetry that is difficult to manage. Regarding bilateral DBS, it was also stated this should be done from the onset, not staged. Single bilateral surgery is preferred, even at a young age to staged unilateral study, as age is associated with higher surgical risk and less improvement. Staged surgery also carries higher cost, and lastly, some patients are unwilling to bear the burden of a second surgical procedure.

Mov Disord. 2009 Februraryl;24(3): 329-335.
http://www.ncbi.nlm.nih.gov/pubmed/19006187?
ordinalpos=6&itool=EntrezSystem2.PEntrez.Pubmed.
Pubmed_ResultsPanel.Pubmed_DefaultReportPanel.
Pubmed_RVDocSum 




---




(+) Referring a Patient and Family to High-Quality Palliative Care at the Close of Life: "We Met a New Personality…With This Level of Compassion and Empathy". (click here)


Almost 100% of VA hospitals and 75% of community of hospitals have a hospital based palliative care/hospice program. Current Medicare hospice guidelines require patients to have an expected prognosis of 6 months to live. Interestingly, the median hospice stay is three weeks. The article explores 4 questions [often faced by physicians] that should be considered by physicians caring for patients in advanced stages of disease in order to assist patients and their caregivers in receiving the appropriate amount of hospice care and services. The questions are: 1) Should the patient be referred to a hospice or hospital-based palliative care team? 2) What should the physician expect of the hospital-based palliative care service? 3) When should patients be referred to hospice services? 4) How do you assess the quality of a palliative care or hospice programs? "Ultimately, this (palliative care) decision should be based on which array of services best meet the goals and need of that patients and family."

JAMA 2009;301(6):651-659.

http://www.jama.ama-assn.ordg/cgi/content/full/301/6/651




---




(+) Randomized, double-blind, pilot evaluation of intravenous glutathione in Parkinson's disease. (click here)


This was a pilot study designed to investigate the use of intravenous glutathione in Parkinson's disease (PD). Glutathione has been shown to be reduced in patients with PD. The researchers were interested in assessing the safety, tolerability, and efficacy in patients with PD compared to placebo. Subjects received intravenous glutathione 1,400 mg or placebo administered three times a week for 4 weeks. Twenty-one subjects participated. The results showed that glutathione was well tolerated and there were no withdrawals because of adverse events. Reported adverse events were similar in the two groups. There were no significant differences in changes in Unified Parkinson's Disease Rating Scale (UPDRS) scores. Over the 4 weeks of study medication administration, UPDRS ADL + motor scores improved by a mean of 2.8 units more in the glutathione group (P = 0.32), and over the subsequent 8 weeks worsened by a mean of 3.5 units more in the glutathione group (P = 0.54). Therefore, this is safe and tolerable treatment. However, the benefit cannot be determined from a study this small. Larger studies will be needed to thoroughly investigate glutathione in treating PD.

Movement Disorders. 2009 February 19 (Epub ahead of print) http://www.ncbi.nlm.nih.gov/pubmed/19230029?
ordinalpos=2&itool=EntrezSystem2.PEntrez.Pubmed.
Pubmed_ResultsPanel.Pubmed_DefaultReportPanel.
Pubmed_RVDocSum 

      
Dates To Remember
Committee Recap
April 4, 2009
Quality of Life & PD,
Live Webcast,
PDF and Houston Area
Parkinson's Society
www.pdf.org/webcast

April 25 to May 2, 2009
American Academy of Neurology
2009 Annual Meeting Seattle
http://www.aan.com/go/am

May 14, 2009
Atypical Parkinsonian Disorders
4th EES/PADRECC
Audio Conference
http://www.parkinsons.va.gov/

June 7-11, 2009
Movement Disorders Society
13th International Congress
Paris, France
http://www.movementdisorders.org/

July 9, 2009
Caregiving and Psychosocial
Issues in PD
5th EES/PADRECC
Audio Conference
http://www.parkinsons.va.gov/

September 10, 2009
Diagnosis and Treatment of PD
6th EES/PADRECC
Audio Conference
http://www.parkinsons.va.gov/

October 11-14, 2009
American Neurological Association
2009 Annual Meeting
Baltimore, MD
http://www.aneuroa.org/

December 13-16, 2009
World Federation of Neurology
18th World Congress on
Parkinson's Disease and
Related Disorders Miami, FL
http://www2.kenes.com/
parkinson/pages/home.aspx


Clinical Care Committee


Standardization of Care: The Clinical Care Committee has developed and distributed a DBS education letter along with educational material provided by Medtronic to Chiefs of Neurology, Primary Care and Geriatrics in all VA Medical Centers.


Pocket Card: The Committee is now working on revising the PADRECC pocket card, which outlines initial management of PD to be used by general practitioners.

PADRECC Transmitter: The Clinical Care Committee continues to provide reviews of recent movement disorder publications that are included in the PADRECC Transmitter.


Research: Exploring a Requip XL study for possible VA PADRECC study.


Education Committee


EES/PADRECC Educational Series: The audio conferences are underway. The next audio conference will be held on May 14th, 2009 at 12pm EST and repeated at 3pm EST. The Topic will be Atypical Parkinsonism Disorders. The education committee will be monitoring these conferences and with the help of EES will be tracking participation on the calls. A listing of upcoming teleconferences can be seen to your left under Dates to Remember.

PADRECC Transmitter: The Education Committee continues to put together the PADRECC Transmitter every other month and distribute to the PADRECC Consortium Centers.

History & Mission / Consortium Center Refferal List / Membership & Consortium Center Designation / Movement Disorder Series / Resource Request Form / Grant Opportunities / Education & Clinical Resources / The Monthly Transmitter /  2008 Conference Presentations / Consortium Newsletters / Consortium Brochures
return to top