Attention A T users. To access the menus on this page please perform the following steps. 1. Please switch auto forms mode to off. 2. Hit enter to expand a main menu option (Health, Benefits, etc). 3. To enter and activate the submenu links, hit the down arrow. You will now be able to tab or arrow up or down through the submenu options to access/activate the submenu links.

Parkinson's Disease Research, Education and Clinical Centers
The Monthly Transmitter (June 2010)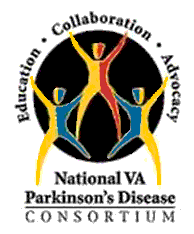 Briefing
Hot Off The Press
The National VA Parkinson's Disease Consortium Executive Committee and the Directors of the PADRECCs are pleased to announce the 2010 Consortium Conference will be held September 8-10, 2010 at the Hilton Financial District in San Francisco, California.

Invitations and all details about the conference (agenda, FAQs on travel and funding) were emailed to Consortium Center Directors. RSVP is requested NLT July 26 to Dawn McHale, Consortium Coordinator.

Participants to the conference are encouraged to contribute their expertise via posters, case studies, or suggestions for the clinical roadblocks discussion. Please indicate your intent to present a poster when you RSVP.

Dr. Mark Baron msbaron@vcu.edu is organizing the case series. Case study videos and write ups are requested NLT July 26.

Dr. Alec Glass graham.glass@ucsf.edu asks for input on topics that hinder current clinical practice NLT July 26.


Prepared by: Alec Glass, MD and Susan Heath, RN, MSN of San Francisco PADRECC



(+) Anxiety disorders in Parkinson's Disease: Prevalence and Risk Factors (click here)


Anxiety disorders are very commonly encountered when caring for Parkinson's patients. The authors of this study evaluated the relationship between anxiety as defined by DSM-IV criteria and PD. Risk factors for the development of anxiety in PD were also explored. Twenty-five percent of patients with PD met criteria for diagnosis of an anxiety disorder (Panic disorder, GAD, and social phobia were the most common) and there was an overlap with a diagnosis of depression in fourteen percent of patients. The presence of anxiety was associated with the severity of PD, but not duration of symptoms. In addition, PD patients with postural instability and gait dysfunction were more likely to have anxiety than tremor dominant patients. The presence of motor fluctuations and dyskinesias were associated with anxiety, although levodopa dose was not. Young onset PD patients were more likely to have anxiety than late onset patients. The authors suggest further investigations into the relationships between anxiety and PD.


Movement Disorders 2010 April; 25 (7); e-published ahead of print
http://www3.interscience.wiley.com/journal/12334423 3/abstract





---




(+) Age of Parkinson's disease onset as a predictor for the development of dyskinesia (click here)


The authors in this study reviewed medical records 109 patients evaluated at the SFVAMC Parkinson's center (almost all after 1989). The study quantified dyskinesia risks for different Parkinson's onset ages using a Kaplan-Meier analysis and Cox proportional hazard models. At 5 years of levodopa treatment, the dyskinesia risk for patients with onset age 40-49 was 70%, decreasing to 42% for onset ages 50-59, 33% for onset ages 60-69, and 24% for onset ages 70-79. Pairwise comparisons between the 40-49 age group and the other age groups were statistically significant in time-to-event models. After 5 years of levodopa treatment, dyskinesia risks became uniformly high regardless of age of onset. The authors suggest that dyskinesia risk is more related to age of onset of PD and less related to levodopa usage. Further they suggest that if more than 5 years of levodopa therapy are anticipated, dyskinesia risk has little utility in deciding upon the choice of Parkinson's therapy.

Movement Disorders. 2010 March; e-published ahead of print
http://www3.interscience.wiley.com/journal/12332764 3/abstract 





---




(+) Does age make a difference in caregiver strain? Comparison of young versus older caregivers in early-stage Parkinson's disease. (click here)


Family care research has identified negative outcomes of providing care to a spouse with Parkinson's disease (PD), such as declining physical and mental health. It is important for clinicians to identify "at risk" family caregivers and provide earlier interventions. This study compared the difference in negative aspects of strain and modulators of strain in young and older PD spouse caregivers. Even in early stage disease before significant care is required, young spouses (40-55) were found to be at greater risk for negative consequences of the care situation reporting significantly more strain from lack of personal resources, and lower levels of mutuality and rewards of meaning than older (greater than 70) spouses. As expected, young spouses were more likely to be working, caring for children in the home, and in better physical health than older spouses. Young age was found to be an important risk factor for the morbidity of long term caregiving. Clinicians are well-situated to identify the unique needs of young spouses and intervene early in the caregiving trajectory.

Movement Disorders. 2010; April 30; 25 (6)716-22.


Dates To Remember
Committee Recap
MARK YOUR
CALENDARS... June 13-17 2010
Movement Disorders Society
14th International
Congress of Parkinson's
disease and Movement
Disorders
Buenos Aires, Argentia
http://www.movementdisorders.org/

July 8, 2010
Medications for PD
EES/PADRECC
Audioconference
http://www.parkinsons.va.gov/

September 2, 2010
Parkinson's Disease in Older Patients
EES/PADRECC
Audioconference
http://www.parkinsons.va.gov/

September 8th-10th, 2010
National VA PD
Consortium
2010 Consortium
Conference
San Francisco, CA

September 28th - October 1, 2010
World Parkinson Congress
The 2nd WPC 2010
Glasgow, Scotland
www.worldpdcongress.org


Clinical Care Committee


Pocket Card: worked together to update the existing "initial treatment for Parkinson's disease" laminated pocket card, which was disseminated to the Consortium centers as a clinical resource. Electronic version is available on www.parkinsons.va.gov website under the Education and Clinical Resource tab.


Rivastigmine: worked to get the rivastigmine patch approved for non-formulary use.



Tetrabenazine: worked to get Tetrabenazine approved for Huntington disease, as well as in tardive dyskinesias and tardive dystonia in select cases.



Standardize Clinical Care: continues to work on measures to standardize clinical care across the PADRECC network and provide clinical support to the Consortium network.


Education Committee


EES/PADRECC Educational Series: "Palliative Care and Parkinson's Disease" was presented May 13th by NW/Portland PADRECC team of Betsy Goy, PhD, Lissa Brod, MD and Teresa Mangin, MD. Coming up: July 8th, "Medications for Parkinson's Disease"by Emad Farag, MD and hosted by WLA PADRECC. The one hour audio conference series uses both VANTS and Live Meeting technology and is archived on the www.parkinsons.va.gov website under the Movement Disorder Series tab.


Parkinson's Disease Across the Lifespan: a Roadmap for Nurses: PADRECC nurses were presenters at this symposium hosted by APDA, NPF, and PDF on May 21, 2010. This program will be available free and on-line for one year and provides 7.5 credits of continuing nursing education. Go to http://support.pdf.org/nursing.


Suggested Education Essentials for Newly Diagnosed Veterans with Parkinson's Disease: was developed by the Education Committee. Download the resource sheet at www.parkinsons.va.gov under the Education and Clinical Resources tab.


Patient Education Project assisting with planning a series of patient education video tapes in FY 2011


2010 Consortium Conference: involved in conference planning


PADRECC Transmitter: assembly and distribution of this e-newsletter every other month


Patient Education Materials: The Committee developed an educational guide for newly diagnosed patients titled: Suggested Education Essentials for Newly Diagnosed Veterans with Parkinson's Disease. You are encouraged to make copies of this handout and distribute to the newly diagnosed Veteran's in your clinics. The handout can be found on the consortium website at: http://www.parkinsons.va.gov/Consortium/Education.asp< /A>


Spotlight on San Francisco Consortium Centers:

Ann Arbor, Michigan
Ann Arbor, VAMC ( Phone: 734-845-3119)
Director: Dr. Nicolaas Bohnen, MD

In the most recent edition of the journal Brain, Dr. Nicolaas Bohnen, MD and colleagues in Ann Arbor published the following research study: Bohnen NI, Muller ML, Kotagal V, Koeppe RA, Kilbourn MA, Albin RL, Frey KA (2010). Olfactory dysfunction, central cholinergic integrity and cognitive impairment in Parkinson's disease. (Brain. 2010 Jun;133(Pt 6):1747-54). In recent years, more attention has been given to the non-motor problems patients with Parkinson's disease (PD) suffer from, including; cognitive dysfunction and loss of sense of smell. However, a detailed understanding of the pathophysiology of these non-motor symptoms is still lacking. Bohnen and colleagues used a thorough, multi-faceted approach (combining clinical measures such as UPDRS motor testing , smell-identification testing, and neuropsychologic testing, with multiple imaging modalities) to better understand these non-motor deficits. They found that deficits in odor detection correlated most strongly with diminished cholinergic integrity in the limbic cortex, and with specific cognitive deficits. They concluded that greater deficits in sense of smell may help identify patients at risk for significant cognitive impairment.




History & Mission / Consortium Center Refferal List / Membership & Consortium Center Designation / Resource Request Form / Grant Opportunities / Education & Clinical Resources / 2008 Conference Presentations / Consortium Newsletters / Consortium Brochures
return to top