Attention A T users. To access the menus on this page please perform the following steps. 1. Please switch auto forms mode to off. 2. Hit enter to expand a main menu option (Health, Benefits, etc). 3. To enter and activate the submenu links, hit the down arrow. You will now be able to tab or arrow up or down through the submenu options to access/activate the submenu links.

Parkinson's Disease Research, Education and Clinical Centers
The Monthly Transmitter (July 2012)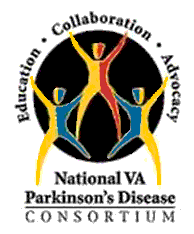 The Transmitter
 
July 2012
 
 
Article Review
Prepared by: JG Gabriel Hou, MD, PhD & Aliya I Sarwar, MD  Houston PADRECC
The beneficial effect of DBS on motor function was stable and comparable by target over 36 months follow up according to PADRECC study.
This study compared long-term outcomes of deep brain stimulation (DBS) of the globus pallidus interna (GPi) and subthalamic nucleus (STN) for patients with Parkinson disease (PD) in a multicenter randomized controlled trial. Patients randomly assigned to GPi (n = 89) or STN DBS (n = 70) were followed for 36 months. The primary outcome was motor function on stimulation/off medication using the Unified Parkinson's Disease Rating Scale motor subscale. Secondary outcomes included quality of life and neurocognitive function. 
Authors found that motor function improved between baseline and 36 months for GPi and STN; improvements were similar between targets and stable over time (p = 0.59). Health-related quality of life improved at 6 months on all subscales (all p values significant), but improvement diminished over time. Mattis Dementia Rating Scale scores declined faster for STN than GPi patients (p = 0.01); other neurocognitive measures showed gradual decline overall. 
The researchers concluded that the beneficial effect of DBS on motor function was stable and comparable by target over 36 months and provided Class III evidence. Slight declines in quality of life following initial gains and gradual decline in neurocognitive function likely reflect underlying disease progression and highlight the importance of nonmotor symptoms in determining quality of life.
Weaver FM, Follett KA, Stern M,

Luo

P, Harris CL,

Hur

K, Marks

WJ

Jr, Rothlind J,

Sagher

O, Moy C,

Pahwa

R,

Burchiel

K, Hogarth P,

Lai

EC,

Duda

JE, Holloway K,

Samii

A, Horn S, Bronstein

JM

, Stoner G, Starr PA, Simpson R,

Baltuch

G, De

Salles

A, Huang GD,

Reda

DJ; For the

CSP

468 Study Group. Randomized trial of deep brain stimulation for Parkinson disease: Thirty-six-month outcomes. Neurology

.

2012 Jul 3

;79:55

-65.

Epub

2012 Jun 20.
 
A new ¬†selective őĪ2-adrenergic receptor antagonist, Fipamezole, may be useful to treat levodopa induced dyskinesia in Parkinson'Äôs disease.
Fipamezole had previously been shown to improve dyskinesia in MPTP-monkey and in a small group of dyskinetic subjects with Parkinson disease.¬†This study was a double-blind, randomized, placebo-controlled, dose-escalating 28-day study in levodopa-treated patients with PD experiencing levodopa-induced dyskinesia (LID), conducted in 32 centers in the US and India with a total of 179 patients. Dyskinesia was evaluated 3 times after subjects became 'Äúon'ÄĚ from levodopa. Outcome assessment was performed with analysis of variance, which evaluated fipamezole dose-effects in a hierarchical stepwise manner and the Jonckheere test for dose responsiveness.¬†
Authors found that a prespecified subgroup of US subjects showing fipamezole at 90 mg reduced LID (p < 0.05). Dose responsiveness was demonstrated (p < 0.05 for placebo, 30, 60, and 90 mg fipamezole). Fipamezole induced mild, transient blood pressure elevation and was associated with an acceptable profile of adverse effects. However, the total study population showed no statistically significant primary endpoint difference. 
Authors concluded that this provides Class III evidence that fipamezole is well-tolerated and, in the US subpopulation, lessens LID at the dose of 90 mg TID.
Lewitt PA, Hauser RA, Lu M, Nicholas AP, Weiner W, Coppard N, Leinonen M, Savola JM.
Neurology. 2012 Jul 10;79(2):163-9. Epub 2012 Jun 27.
 http://www.ncbi.nlm.nih.gov/pubmed/22744665
 
Metformin-inclusive sulfonylurea therapy reduces the risk of Parkinson's disease occurring with Type 2 diabetes
Type 2 diabetes (T2DM) may increase the risk of Parkinson's disease (PD). The authors evaluated the role of oral anti-hyperglycemic agents (OAA) in any diabetes'ÄďPD linkage. A representative cohort of 800,000 From the Taiwan National Health Insurance database on 01-01-2000 was obtained between 1996-01-01 and 2007-12-31. Those 'Č•20 years were classified by presence or absence of T2DM, and whether any OAA or not was used. Those with T2DM were matched with those diabetes-free by birth-date and gender for the comparison of PD incidence.
Authors found that hazardous ratio (HRs) related to diabetes-free, were 2.18 and 1.30 for T2DM without and with OAAs. For sulfonylurea alone, PID increased from 58.3 to 83.2, with similar findings by gender, but little difference if metformin was used. The metformin-alone HR was 0.95, sulfonylurea-alone 1.57, and combined therapy 0.78 and these differences persisted when incident PD was excluded for 4 years after T2DM diagnosis. The use of metformin first, in those without insulin, provided an HR of 0.40.
Authors concluded that incident PD risk in T2DM increases 2.2-fold. Sulfonylureas further increase risk by 57%, which is avoided by combination with metformin.
Wahlqvist

ML, Lee MS, Hsu CC, Chuang

SY

, Lee JT, Tsai

HN

. Metformin-inclusive sulfonylurea therapy reduces the risk of Parkinson's disease occurring with Type 2 diabetes in a Taiwanese population cohort.
 
Parkinsonism

Relat

 

Disord

.
2012 Jul

;18

(6):753-8.

Epub

2012 Apr 10.
http://www.sciencedirect.com/science/article/pii/S1353802012000946
 
A 3-year follow-up study found duodenal levodopa infusion improved motor but deteriorated cognitive functions in Parkinson's disease
Duodenal infusion of levodopa/carbidopa gel (Duodopa) is an effective treatment option for advanced Parkinson's disease (PD). Long-term clinical experience up to 16 years suggests that the safety of this procedure is acceptable, while several observational studies showed that Duodopa reduces motor fluctuations and dyskinesias improving patients' quality of life (QoL). The aim of this study is to investigate the long-term motor and cognitive outcome of Duodopa treatment in advanced PD patients and its' impact on the QoL.
Twenty-five consecutive PD patients were assessed using the Unified PD rating scale (UPDRS), a battery of neuropsychological tests, and the PD questionnaire (PDQ-39) at baseline and after a mean period of three years of Duodopa treatment. Seventeen out of 25 patients underwent follow-up evaluation; five patients discontinued Duodopa and three patients died of causes unrelated to drug infusion. Duodopa improved motor complications (UPDRS-IV) and quality of life (PDQ-39). A sub-group of subjects (41 %) developed a significant deterioration of cognitive functions over time. The most common adverse events were dislocation and the kinking of the intestinal tube.
Authors concluded that Duodopa therapy is effective in the long-term treatment of advanced PD patients. Continuous enteral levodopa infusion achieves a reduction of motor fluctuations and dyskinesias improving patients' QoL, despite the progression of PD motor symptoms and a significant decline in cognitive functions in a sub-group of patients.
Zibetti

M,

Merola

A,

Ricchi

V,

Marchisio

A,

Artusi

CA,

Rizzi

L,

Montanaro

E, Reggio D, De Angelis C,

Rizzone

M,

Lopiano

L. Long-term duodenal levodopa infusion in Parkinson's disease: a 3-year motor and cognitive follow-up study. J Neurol. 2012 Jul 8. [

Epub

ahead of print]
http://www.ncbi.nlm.nih.gov/pubmed/22772358
 
Committee Activities
Clinical Care Committee
·        Rotation of Committee Chair: Leadership for the clinical care committee rotates amongst the PADRECCs.  The Houston PADRECC leads the committee for July/August.  Committee meets via conference call the first Tuesday of the month at 12pm ET.
 
·        Patient Education Materials: In response to the Needs Assessment performed after the 2010 National PD Consortium Conference, the Clinical Care Committee developed simplified- 1-2 page patient education materials that are clinically based but geared towards patients and families that can be given out during clinic visits. Topics include: exercise, medications, motor symptoms, non motor symptoms, agent orange and fall prevention. The materials are now available on the National PADRECC & VA Consortium website for reproduction, http://www.parkinsons.va.gov/patients.asp
 
·        Standardize Clinical Care: Continues to discuss a variety of clinical issues, provide clinical support to the Consortium network, and work on measures to standardize clinical care across the PADRECC network.  Recent agenda issues discussed:          
o   Use and benefits of Rasagaline
o   Tetrabenazineuse in HD, Tourette's, management of tics
o   DAT scan usage
o   Increased use of GPi site for DBS
o   Use of CVT (clinical video teleheath)/telemed for movement disorders
 
·        PD Handbook:  A handbook for VHA that addresses such things as definition of PD, purpose, authority and scope, system of care, population served, etc. is in the final stage of completion. An appendix is being added that includes publications by PADRECC staff.
 
·        PADRECC Transmitter: PADRECC clinicians provide reviews of recent movement disorder publications that are included in the PADRECC Transmitter
 
Education Committee
¬∑¬†¬†¬†¬†¬†¬†¬†¬†PADRECC/EES Movement Disorder Series:¬†¬†The FY 2012 series is underway.¬†The 5th audio conference for this series was¬†held on July 12th:¬†"Rehabilitation's Role in Parkinson's Disease.'Ä̬†¬†¬†The audio conferences will be archived on the National website www.parkinsons.va.gov under the Movement Disorder Series tab.¬†All evaluations for CMEs are now being done electronically via EES.¬†Please take a look at the Dates To Remember section for¬†a listing of upcoming audio conferences.¬†
 
·        Patient Education Video Project: 8 videos were taped in FY 2011. The videos are completed and all Consortium Centers will be receiving a copy of the DVD. Posting on the National PADRECC & VA Consortium Website and You Tube are pending. Request was accepted by EES for taping of 8 more videos in FY2012 which are currently underway. 
·        Enduring Materials Project: In collaboration with EES, the committee is developing an on-line TMS self study program that will offer CME credit for a 3 year period. The purpose of this training is to provided VHA healthcare professionals with a broadened medical awareness of Mood Disorders in PD.
 
·        PADRECC Transmitter:The committee continues to assemble and distribute this e-newsletter every other month.
 
Houston PADRECC Service Area Updates
Research Funding Awards:
The MEDVAMC Research Seed Award Program strives to advance the health care of Veterans and promote new research collaborations and the development of early-career investigators. The following Houston PADRECC researchers were awarded seed grants, effective October 1, 2012:
¬ß¬†¬†Aliya I. Sarwar, M.D., Interim Director 'Äď 'ÄúCircadian Dysrhythmia and Common Sleep Complaints in Parkinson'Äôs Disease'ÄĚ
 
¬ß¬†¬†Paolo Moretti, M.D., Houston PADRECC Staff Neurologist 'Äď 'ÄúRole of Wnt Signaling in Parkinson'Äôs Disease'ÄĚ
 
Peer Reviewed Journal Publications:
 
Hou

JG, Wu LJ, Moore S, Ward C,

Atassi

F, Fincher L, Nelson N, York M, Sarwar A. Lai EC.

 

Assessment of appropriate medication administration for hospitalized patients with Parkinson'Äôs disease'ÄĚ. Parkinsonism & Related Disorders 2012; 18(4):377-81.

Epub

2012 Jan 9.
 
Byrant

MS,

Rintala

DH,

Hou

, JG, Rivas SP, Fernandez AL, Lai EC,

Protas

EJ. The Relation of Falls to Fatigue, Depression and Daytime Sleepiness in

Parkinson's Disease

. 

Eur

 

Neurol

2012

;67:326

-330.
 
Houston PADRECC Patient and Family Forum:
 
·        Sleep disturbances in Parkinson's disease, presented by Max Hirshkowitz, PhD, Director of Sleep Disorders and Research Center of Michael E DeBakey VAMC. Question and answer session by Aliya Sarwar, MD. 06/29/2012.
 
Dates to Remember
 
September 13-14, 2010 (tentative)
National VA PD Consortium
2012 West Coast Regional Meeting
Location to be determined
 
September 13, 2012
EES/PADRECC Movement Disorder Series
Telehealth and Movement Disorders
History & Mission /  Consortium Center Refferal List /  Membership & Consortium Center Designation / Resource Request Form / Education & Clinical Resources / Consortium Newsletters / Consortium Brochures
return to top