Attention A T users. To access the menus on this page please perform the following steps. 1. Please switch auto forms mode to off. 2. Hit enter to expand a main menu option (Health, Benefits, etc). 3. To enter and activate the submenu links, hit the down arrow. You will now be able to tab or arrow up or down through the submenu options to access/activate the submenu links.

Parkinson's Disease Research, Education and Clinical Centers
The Monthly Transmitter (July 2013)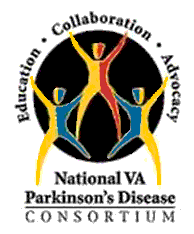 The Transmitter
Article Review
Prepared by:  Dr. George Jackson & Pamela Willson, PhD, RN, FNP-BC, CNE, FAANP, Houston PADRECC
Evolution of mild cognitive impairment in Parkinson disease. This Dutch group applied Movement Disorder Society consensus criteria for Parkinson Disease Minimal Cognitive Impairment (PD-MCI) to look at progression to Parkinson Disease Dementia (PDD) in a cohort of newly diagnosed patients over five years using statistical criteria to define decline.  Largely in agreement with other reports, 35% of patients had PD-MCI at baseline. After five years, more than half of newly diagnosed patients met criteria for PD-MCI; this proportion is higher than previous reports. The consensus criteria had good intra and interrater reliability. This report highlights the validity and utility of the consensus criteria for PD-MCI. Neurology 2013 Jun 21 epub ahead of print http://www.ncbi.nlm.nih.gov/pubmed/23794682
Distinct alpha-synuclein strains differentially promote tau inclusions in neurons. In Parkinson Disease Dementia (PDD) brains, alpha-synuclein is often found aggregated with tau, a protein more traditionally linked to neurofibrillary tangles in Alzheimer disease. According to this report from Virginia Lee's lab at Penn, this is not a coincidental association between tau and alpha-synuclein in PDD, but caused by certain strains of alpha-synuclein "seeding" the aggregation of tau. In contrast to traditional views of these proteins as causing damage exclusively inside cells, current research has revealed that both tau and alpha-synucelin pathology can be transferred from cell to cell, not unlike the prion proteins linked to Creutzfeldt-Jakob disease. The work from Penn adds to the similarities between alpha-synuclein and prions by showing that two different "strains" of alpha-synclein exist in cultured neurons and in mouse brain: one seeds further alpha-synclein aggregation, whereas another seeds tau aggregation. More work is needed before these findings are definitively confirmed to be relevant to PD, but they lend fuel to the prion-like hypothesis of PD and emphasize the importance of crosstalk between alpha-synuclein and tau in PDD. Cell 2013 July 3 http://www.ncbi.nlm.nih.gov/pubmed/?term=Distinct+%CE%B1-synuclein+strains+differentially+promote+tau+inclusion+in+neurons
Three simple clinical tests to accurately predict falls in people with Parkinson's disease. These Australian researchers used a large prospective cohort study to test a large variety of variables that might potentially contribute to falls in PD patients in order to identify those factors that proved most predictive of fall risk. The results suggest that simply asking two simple questions regarding number of falls in the last year and incidents of freezing in the last month—along with a simple test of gait velocity—proved highly predictive of fall risk. The study provides a simple, rapid tool that can be used to reliably predict those patients most at risk of falling. Movement Disorders 2013 http://www.ncbi.nlm.nih.gov/pubmed/?term=Three+simple+clinical+tests+to+accurately+predict+falls+in+people+with+Parkinson's+disease
Committee Activities
·       Rotation of Committee Chair: Leadership for the clinical care committee rotates amongst the PADRECCs.  The Houston PADRECC leads the committee for July/August.  Committee meets via conference call the first Tuesday of the month at 12pm (EST) 
·       Standardize and Optimize Clinical Care: Continues to discuss a variety of clinical issues to enhance patient care, the committee continues to provide clinical support to the Consortium network, and work on measures to standardize clinical care across the PADRECC network.  Recent agenda items have included ongoing discussion on:    
·        Use of Clinical Video Telehealth for movement disorders and  home monitoring devices
Review of applications in clinical arena for subset of patients, and ways to expand access to CBOCs  and remote areas where subspecialty expertise is not available.  Research ideas pertaining to the use of home monitoring devices in movement disorders patients.
·        Use of various Botulinum toxins
    Development of PMB guideline for clinical use of various toxins
·        The use of DAT scans in clinical practice 
Applications and pitfalls of use
·        PADRECC Transmitter: PADRECC clinicians provide reviews of recent movement disorder publications that are included in the PADRECC Transmitter
Education Committee
·        PADRECC/EES Movement Disorder Series:  The FY 2013 series is underway.  The 5th audioconference for this series was held on July 11, 2013:  "Social Media and Parkinson's Disease." The audio conferences are archived on the National website www.parkinsons.va.gov under the Movement Disorder Series tab.  All evaluations for CMEs are now being done electronically via TMS.  The final audioconference for FY13 will be held on September 12, 2013:  "Medical Domain Management Model."   Request for FY14 MDS has been submitted into the EES portal for consideration.  
·        Patient Education Video Project:  The FY11 and FY12 video series are now available for viewing on the National PADRECC & VA Consortium Website:  http://www.parkinsons.va.gov/patients.asp and on You Tube.   Request for a 3rd video series for FY13 was approved for 4 videos, filming is scheduled to take place this summer.
·        Enduring Materials Project: In collaboration with EES, the committee is developing an on-line TMS self study program that will offer CME credit for a 3 year period.  The purpose of this training is to provide VHA healthcare professionals with a broadened medical awareness of Mood Disorders in PD.
·        PADRECC Hospitalization Kit:  In collaboration with the PADRECC Nurses Group, the committee has developed a hospitalization kit unique to Veterans with PD.   The kit is composed of a PADRECC branded tote bag as well as the following PADRECC branded documents:  Fact Sheet, Reminder Card and Kit Checklist.  Please have Veterans contact their local PADRECC if they are interested in receiving a hospitalization kit.
·        National Newsletter:  The newsletter is complete and awaiting reproduction and distribution.
·        PADRECC/Parkinson's Disease Foundation (PDF) Program:  The committee is exploring the possibility of doing a collaborative patient education program with PDF that will be available via video conferencing.  The topic being considered is Clinical Research, Education and Awareness. Additional details about this program will be shared as they are known.
·        PADRECC Transmitter: The committee continues to assemble and distribute this e-newsletter every other month.
Dates to Remember
September 12, 2013
EES/PADRECC Movement Disorder Series
Medical Domain Management Model
October 1-4, 2013
3rd World Parkinson Congress
Montreal, Canada
http://www.worldpdcongress.org/?page=AboutWPC
April 26-May 3, 2014
American Academy of Neurology-Annual Meeting
Philadelphia, PA
http://www.aan.com/conferences/2014-annual-meeting/
June 8-12, 2014
18th International Congress of Parkinson's Disease and Movement Disorders
Movement Disorder Society
Stockholm, Sweden
http://www.mdscongress2014.org/
History & Mission /  Consortium Center Refferal List /  Membership & Consortium Center Designation / Resource Request Form / Education & Clinical Resources / Consortium Newsletters / Consortium Brochures
return to top