Attention A T users. To access the menus on this page please perform the following steps. 1. Please switch auto forms mode to off. 2. Hit enter to expand a main menu option (Health, Benefits, etc). 3. To enter and activate the submenu links, hit the down arrow. You will now be able to tab or arrow up or down through the submenu options to access/activate the submenu links.

Parkinson's Disease Research, Education and Clinical Centers
The Monthly Transmitter (July 2011)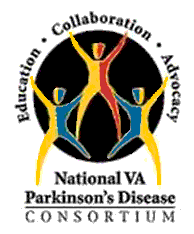 Article Review
Prepared by Dr. Aliya Sarwar, Houston PADRECC
Deep brain stimulation of the subthalamic nucleus transiently enhances loss-chasing behavior in patients with Parkinson's Disease.
Deep brain stimulation of the subthalamic nucleus has been reported to improve impulse control disorders in some patients with Parkinson's disease (PD); however its specific effects on gambling behavior remain unclear. In this study, researchers investigated the effects of deep brain stimulation of the subthalamic nucleus on one of the central features of pathological gambling: the tendency to chase losses. Twenty two subjects with advanced PD on STN-DBS (subthalamic nucleus- deep brain stimulation) completed a laboratory model of loss-chasing behavior twice: once with and once without stimulation. Per the authors, STN-DBS increased the value of losses chased by patients with Parkinson's disease when shifting from off- to on-stimulation. These effects were not attributable to changes in state affect or to the motor impairments produced by the withdrawal of deep brain stimulation of the subthalamic nucleus, were more pronounced in female than in male patients and were reduced in patients taking dopamine receptor agonists. The authors concluded that "deep brain stimulation of the subthalamic nucleus can transiently alter the evaluation of accumulated losses during gambling episodes in subjects with Parkinson's disease".
Exp Neurol. 2011 Jun 25. [Epub ahead of print]
http://www.ncbi.nlm.nih.gov/pubmed/21726554
Direct generation of functional dopaminergic neurons from mouse and human fibroblasts.
Transplantation of embryonic-stem-cell-derived dopaminergic neurons has shown promise in dopamine deficiency states. However, in addition to ethical and legal issues the use of these pluripotent-derived cells carries the potential to cause tumors. Researchers in Milan (Italy) have identified three transcription factors-Mash1 (also known as Ascl1), Nurr1 (also known as Nr4a2) and Lmx1a-that are able to directly generate functional dopaminergic neurons from mouse and human fibroblasts without reverting to a progenitor cell stage. The conversion was achieved in prenatal and adult fibroblasts, both from healthy donors and Parkinson's disease patients. Per the authors, induced dopaminergic (iDA) cells release dopamine and show spontaneous electrical activity organized in regular spikes consistent with the pacemaker activity of the brain dopaminergic neurons.
Hence, as stated by the authors, direct generation of iDA cells from somatic cells might have significant implications for understanding critical processes for neuronal development, in vitro disease modelling and cell replacement therapies.
Nature. 2011 Jul 3. doi: 10.1038/nature10284. [Epub ahead of print]
http://www.ncbi.nlm.nih.gov/pubmed/21725324
Influence of age, gender and severity of tremor on outcome after thalamic and subthalamic DBS for essential tremor.
Deep brain stimulation (DBS) is a well established treatment for essential tremor (ET). The nucleus ventralis intermedius thalami (Vim) is the target of choice, but DBS in the posterior subthalamic area (PSA) has also shown to be beneficial. This study evaluated the possible influence of gender, age and severity of disease on the outcome of these procedures. Sixty eight (34 Vim, 34 PSA) subjects with ET were evaluated using the Essential Tremor Rating Scale (ETRS). The scale was administered before, and one year after surgery concerning PSA DBS, and at a mean of 28 ± 24 months after concerning Vim DBS. Scale items pertaining to hand tremor and hand function (5/6 and 11-14) were selected for analysis of tremor outcome. The study concluded that the efficacy of DBS regarding essential tremor was unrelated to age, gender or the severity of tremor when the percentual reduction of tremor on stimulation was taken into account. However, per the authors, subjects with a more severe tremor at baseline had a higher degree of residual tremor on stimulation. Tremor in the treated hand and hand function were improved by 70% in the Vim group and 89% in the PSA group.
Parkinsonism Relat Disord. 2011 Jun 13. [Epub ahead of print]
http://www.ncbi.nlm.nih.gov/pubmed/21676643
Spotlight on Houston Consortium Centers
On December 10, 2011, The Houston Parkinson's Disease Research, Education and Clinical Center (PADRECC) and the Houston Area Parkinson Society will present "A Conference for Caregivers: Practical Aspects of Parkinson's Care," at the Red Cross building from 8:30 am to 2:00 pm. Participants can choose from seven break-out sessions, most of which will be offered twice. Topics include transfers, falls, moving in bed, adaptations for everyday living, community resources, speech and swallowing, cognitive issues, and stress reduction. Caregivers will have the opportunity to learn practical aspects of helping their loved ones deal with everyday living from health care professionals specialized in treatment of Parkinson's disease. Conference is free of charge and continental breakfast and lunch will be provided.
Committee Activities
Clinical Care Committee
·         Rotation of Committee Chair: Leadership for the clinical care committee rotates amongst the PADRECCs. Houston leads the committee for July and August. Committee meets the first Tuesday of the month at 12pm ET.
·         Standardize Clinical Care: Continues to discuss a variety of clinical issues, provide clinical support to the Consortium network, and work on measures to standardize clinical care across the PADRECC network.
o   Azilect is now on the national formulary
o   LA new patient note template is being piloted.  It will capture the AAN guidelines for nonmotor symptoms
o   Discussion are taking place about standardizing pharmacy recommendations/allowances so that all PADRECCs have the same drugs available.
·         PD Handbook:  A smaller subcommittee will spearhead a project in 2011 to draft a handbook for the VHA (similar to a MS Handbook developed by MSCoE)  that addresses such things as definition of PD, purpose, authority and scope, system of care, population served, etc.
·         PADRECC Transmitter: PADRECC clinicians provide reviews of recent movement disorder publications that are included in the PADRECC Transmitter
Education Committee
·         PADRECC/EES Movement Disorder Series:  The FY 2011 series is currently underway. The last audio conference for this series is on September 8th titled: Neuroprotection and Parkinson's Disease. The audio conference series will be archived on the www.parkinsons.va.gov website under the Movement Disorder Series tab.
·         Patient Education Video Project:  8 videos were taped for FY 2011. Once editing is completed they will be available on DVD, the PADRECC website and You Tube. Request was placed with EES for taping of 8 more videos in FY2012.  
·         PADRECC Transmitter: The committee continues to assemble and distribute this e-newsletter every other month.
·         National Website: The committee is assisting in updating the National VA PADRECC/Consortium Website.
Dates to Remeber
September 8, 2011
Neuroprotection and Parkinson's Disease
EES/PADRECC Audioconference
History & Mission /  Consortium Center Refferal List /  Membership & Consortium Center Designation / Resource Request Form / Education & Clinical Resources / Consortium Newsletters / Consortium Brochures
return to top