Attention A T users. To access the menus on this page please perform the following steps. 1. Please switch auto forms mode to off. 2. Hit enter to expand a main menu option (Health, Benefits, etc). 3. To enter and activate the submenu links, hit the down arrow. You will now be able to tab or arrow up or down through the submenu options to access/activate the submenu links.

Parkinson's Disease Research, Education and Clinical Centers
The Monthly Transmitter (January 2013)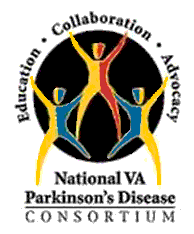 The Transmitter
 
 
January 2013
 
 
Article Review
Prepared by:  Dr. Kathryn Chung, Dr. Elise Anderson  and Susan O'Connor, Northwest PADRECC
Randomized Clinical Trial of 3 Types of Physical Exercise for Patients With Parkinson Disease.
Investigators from the University of Maryland and the Baltimore VA Medical Center compared 3 types of exercise in 67 PD patients with gait impairment.  Specifically, subjects were randomized in this single-blinded 3-arm study to either 1)  higher-intensity treadmill (30 minutes at 70-80% of heart rate reserve), 2) lower-intensity treadmill (50 minutes at 40-50% of heart rate reserve) or 3) stretching and resistance exercises (2 sets of 10 repetitions with each leg on 3 resistance machines).   Each arm exercised 3 times a week for 3 months.   Benefits were observed in all groups.  Distance on a 6 minute walk increased in all three categories with no between-group differences.   Both kinds of treadmill exercises increased cardiovascular fitness compared to the stretching/resistance group.  The latter group improved in muscle strength as measured on a 1-repetition maximum strength test by about 16%.   It follows that a combination of both treadmill training and resistance/stretching in a fitness program might improve both strength and gait speed.  
Arch Neurol. 2012 Nov 5:  1-8 e-published ahead of print. http://www.ncbi.nlm.nih.gov/pubmed/23128427

Traumatic brain injury, paraquat exposure, and their relationship to Parkinson disease
A correlation between traumatic brain injury (TBI) and Parkinson disease (PD) has been observed in many but not all epidemiologic studies.  A risk associated with exposure to paraquat and other pesticides has also been identified.  In this study, the authors evaluated whether a history of both TBI and paraquat exposure increases the risk of developing PD.  They reviewed history of TBI with loss of consciousness and pesticide exposure for 357 individuals with PD in a population based case control study. They found that history of TBI doubles the risk of developing PD, while paraquat exposure  is associated with a 1.36 relative risk of PD.  People with both TBI and paraquat exposure had a 3-fold increased risk of PD, suggesting that these two risk factors may work together to increase the risk of PD in more than an additive manner.
Neurology. 2012 Nov 13;79(20):2061-6. 
 
Comparison of Dysphagia Before and After Deep Brian Stimulation in Parkinson's Disease
 
Dysphagia occurs is a large proportion of Parkinson's disease (PD) patients.  Recent studies have suggested that deep brain stimulation of the subthalamic nucleus can improve strength and accuracy of tongue and lip movements.  This study compares videofluorographic swallowing studies (VFGSS) for fourteen PD patients, comparing patients one month prior to surgery (on and off meds), and at 3 and 12 months post-op (stim off/meds off, stim off/meds on, stim on/meds off, stim on/meds on).  VFGSS was used to evaluate degree of impairment in various phases of swallowing function, using scores ranging from 0 to 3 for each parameter depending on the degree of dysfunction.  A trend was seen with improved oral preparation of thin liquids in stim on/med off setting at 3 and 12 months compared to all other stim/med settings.  A trend was also seen with improved swallowing of solids in stim on/meds off setting at 12 months, and with oral manipulation of pureed foods with stim off/med off at 3 months.  However, there was a general trend towards worsening of swallow function in most domains over time.  Patients were also evaluated with Dysphagia Handicap Index (DHI) at baseline and at 3 and 12 months post-op.  Statistically significant improvement in DHI scores were noted in emotional and functional subscales at both 3 and 12 months, and for total DHI scale at 12 months.  The researchers concluded that there was a trend towards improvement in the voluntary movements of mouth in preparation of thin liquid boluses following DBS surgery, but that progression of PD led to general worsening of function over time.  Improvement in DHI scores was thought to be due to improvement in general motor function following DBS surgery, and possible contribution of placebo.
 
Movement Disorders, Vol. 27, No. 14, 2012
 
Committee Activities
Clinical Care Committee
·         Rotation of Committee Chair: Leadership for the clinical care committee rotates amongst the PADRECCs.  The Richmond PADRECC leads the committee for January/February, San Francisco for March/April.  Committee meets via conference call the first Tuesday of the month at 12pm ET.
 
·         Standardize Clinical Care: Continues to discuss a variety of clinical issues, provide clinical support to the Consortium network, and work on measures to standardize clinical care across the PADRECC network.  Recent agenda issues discussed:          
o   Use of CVT (clinical video teleheath)/telemed for movement disorders and eConsults
o   Integrated Neurology Telehealth Pilot project
o   Pharmacist role in the clinic medication related issues (medication reconciliation, pill box organization, medication compliance, support group education)
·         PADRECC Transmitter: PADRECC clinicians provide reviews of recent movement disorder publications that are included in the PADRECC Transmitter
 
Education Committee
·         PADRECC/EES Movement Disorder Series:  The FY 2013 series is underway.  The 2nd audioconference for this series was  held on January 10,  2013:  "The Role of Palliative Care in Parkinson's Disease." The audio conferences will be archived on the National website www.parkinsons.va.gov under the Movement Disorder Series tab.  All evaluations for CMEs are now being done electronically via TMS.  Please take a look at the Dates To Remember section for  a listing of upcoming audio conferences.   
·         Patient Education Video Project:  8 videos were taped in FY 2011.  The videos are completed and all Consortium Centers should have received a copy of the DVD.  Videos can be viewed on the National PADRECC & VA Consortium Website:  http://www.parkinsons.va.gov/patients.asp.  Posting on You Tube is still pending approval.  The 2nd video series for FY2012 is in the editing stage.  Request has been submitted to EES for a 3rd video series for FY2013.
·         Enduring Materials Project: In collaboration with EES, the committee is developing an on-line TMS self study program that will offer CME credit for a 3 year period.  The purpose of this training is to provide VHA healthcare professionals with a broadened medical awareness of Mood Disorders in PD.
 
·         PADRECC Hospitalization and PD Project:  In collaboration with the PADRECC Nurses group, the committee is developing a hospitalization kit unique to Veterans with PD.   The kit will include useful tools and information to assist Veterans in being prepared for their doctor visits and any hospitalizations, as well as information about services available via VA and the PADRECC. 
 
 
·         PADRECC Transmitter: The committee continues to assemble and distribute this e-newsletter every other month.
 
Southeast PADRECC Service Area Updates
Black Hills VA, South Dakota
Dr. Laurie Weisensee, neurologist is our newest consortium member. She is at the Black Hills VA in South Dakota. She completed a mini-residency at the NWPADRECC in Portland from May 14th-18th, 2012.
 
Fort Harrison VA, Montana
Dr Mark Dietz at the Fort Harrison VA in Montana worked with the NWPADRECC to finalize V-Tel capabilities for pre-screening of patients for Deep Brain Stimulation
 
Dates to Remember
 
March 14, 2012
EES/PADRECC Movement Disorder Series
Medications to Treat Parkinson's Disease
 
March 16-23, 2013
American Academy of Neurology Annual Meeting
San Diego, CA
 
May 9, 2013
EES/PADRECC Movement Disorder Series
DatScans:  When should we order them and how are they interpreted?
 
June 6-20, 2013
17th International Congress of Parkinson's Disease and Movement Disorders
Sydney, Australia
http://www.mdscongress2013.org/
 
July 11, 2013
EES/PADRECC Movement Disorder Series
Social Media and Parkinson's Disease
 
September 12, 2013
EES/PADRECC Movement Disorder Series
Dysphagia and PD or Medical Domain Management Model
 
October 1-4, 2013
3rd World Parkinson Congress
Montreal, Canada
http://www.worldpdcongress.org/?page=AboutWPC
 
History & Mission /  Consortium Center Refferal List /  Membership & Consortium Center Designation / Resource Request Form / Education & Clinical Resources / Consortium Newsletters / Consortium Brochures
return to top