Attention A T users. To access the menus on this page please perform the following steps. 1. Please switch auto forms mode to off. 2. Hit enter to expand a main menu option (Health, Benefits, etc). 3. To enter and activate the submenu links, hit the down arrow. You will now be able to tab or arrow up or down through the submenu options to access/activate the submenu links.

Parkinson's Disease Research, Education and Clinical Centers
The Monthly Transmitter (January 2011)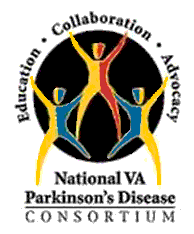 Briefing

 

 

 

Happy New Year!  We would like to thank everyone for their continued commitment as we enter the eighth year of the Consortium program.  The efforts of the PADRECC and Consortium Network remain at the forefront of the VA Neurology campaign and were recently presented to Secretary Shinseki and other members of VACO by Dr. Ruff.  The Education and Clinical Care Committees are working on numerous initiatives, including the 3rd series of EES/PADRECC Movement Disorders Teleconferences, renovations to the PADRECC/Consortium website, and a PD clinical handbook.  We look forward to another successful year and encourage all members to share thoughts and suggestions with the Consortium Coordinating Center (rebecca.martine@va.gov or dawn.mchale@va.gov).

 

 

 

 

Prepared by: Dr. Lissa S. Brod, Dr. Elise Anderson, & Dr. Seth Krareus 

Northwest PADRECC

 

Motor complications in Parkinson's disease: ten year follow-up study. Movement disorders clinicians are familiar with motor complications of levodopa therapy. However, clinicians still debate how the initial therapy impacts long-term motor complications. This study seeks to answer that question, with a prospective observational long-term follow-up of "de novo" Parkinson's disease (PD) patients in clinical practice.

 

The study included 64 PD patients, who were evaluated before they began any symptomatic therapy. Treatment was not dictated by the study protocol and was at the discretion of the treating clinician. They were subsequently seen every 6 months and a full UPDRS performed. 64 patients were followed for 5 years, and 38 were followed for 10 years.

 

43 of the 64 patients were initially treated with levodopa, predictably the more severely affected patients (mean baseline UPDRS 20.3 for the levodopa group and 15.9 for the non-levodopa group). By 5 years, all the patients were on levodopa, many with a dopamine agonist in addition. The authors found that patients initially treated with levodopa had a higher incidence of motor fluctuations and dyskinesias at years 3 and 5. They had more gait freezing at 5 years as well (30.12 % vs. 4.8%). By 10 years, the majority of patients in both groups had motor fluctuations, but the incidence of dyskinesia was higher in the group initially treated with levodopa (not statistically significant, 46.2% vs 84%). Only 1 of the 38 patients had no motor complications at 10 years. The prevalence of loss of postural reflexes and cognitive impairment were similar among the two groups at ten years.

 

The authors conclude that initial medication choices affect 5-year, but not 10-year outcomes. Non-levodopa-responsive features appear to dominate at 10 years.

 

Movement Disorders 2010; 25: 2735-2739.

http://onlinelibrary.wiley.com/doi/10.1002/mds.23219/full

 

Exploring the electrocardiogram as a potential tool to screen for premotor Parkinson's disease. In this study the authors' aim was to determine if EKG can be used to identify heart rate variability (HRV) changes in a population of patients with possible premotor Parkinson's disease (PD). HRV is caused by cardiac autonomic dysfunction (CAD) and is seen in most patients with PD when motor signs are present, and may occur years prior to motor symptoms. Lewy bodies have been identified in autonomic ganglia innervating the heart in patients who later go on to develop PD. Up to 50% of REM sleep behavior disorder (RBD) patients will go on to develop parkinsonism in the form of PD, dementia with Lewy bodies, or multiple system atrophy; hence they represent a population of subjects with possible premotor parkinsonism. The authors compared five minute long presleep polysomnogram EKG's from a group of 11 subjects with RBD to those of 11 controls with idiopathic insomnia. They calculated time-domain measures and frequency domain measures that correctly discriminated between cases and controls. The authors conclude that patients with RBD have significant abnormalities in autonomic innervation that can be identified on EKG, and suggest that HRV could be used in the future as a screening test for premotor PD. However, this was a small study and independent replication in a larger study is needed. Also, it is unknown which of the RBD subjects in the study will in fact go on to develop PD or another synucleinopathy; long term follow up is planned.

 

Movement Disorders 2010 Oct 30;25(14):2296-303

http://www.ncbi.nlm.nih.gov/pubmed/20976736

 

 

Effects of subthalamic stimulation on speech of consecutive patients with Parkinson disease. Speech difficulty is known to occur in patients with subtahalamic deep brain stimulation (STN-DBS). This study looked specifically at the effect of STN-DBS on speech in patients with advanced Parkinson disease (PD). They evaluated speech in thirty-two consecutive patients who underwent STN-DBS. Speech was assed before surgery, then 1 month, 6 months, and 1 year after STN-DBS. A computerized speech lab and blinded raters were used to evaluate the speech in the study patients, with percent of intelligible speech as a primary outcome. Each patient was tested in 4 conditions; on- and off-medication with on- and off- stimulation. Most previous studies addressed speech using question 18 of the motor portion of the UPDRS-III scale. Their scores were compared to their pre-surgery scores as well as a control group of 12 patients with PD. They found that in the surgical group's speech, intelligibility did significantly deteriorate both on and off medication, compared to the nonsurgical group. However, seven out of the thirty-two patients in the surgical group showed speech improvement after STN-DBS. Patients with less severe preoperative motor scores had less difficulty with speech after surgery. Poor speech prior to surgery was not a good predictor of speech decline. Surgical placement was also a factor as electrodes located more medially were associated with more speech impairment. Also higher voltage in the left electrode was associated with poor speech outcomes. Overall they report that 78% of the patients studied had speech difficulty after STN-DBS at one year. This is higher than reported in other studies, likely secondary to more sophisticated speech testing.

 

Neurology. 2011 Jan 4;76(1):80-6. Epub 2010 Nov 10. http://www.ncbi.nlm.nih.gov/pubmed/21068426

 

 

 

 

Dates to Remember

 

Committee Recap

 

 January 13, 2011

Agent Orange, Pesticides and PD

EES/PADRECC Audioconference

 

March 10, 2011

Advances in Gene Therapies

 

April 9-16, 2011

American Academy of Neurology

2011 Annual Meeting

Hawaii

www.aan.com/go/education/
conferences/fall

 

May 12, 2011

Impulse Control Disorders

EES/PADRECC Audioconference

 

June 5-9, 2011

Movement Disorders Society

15th International Congress of Parkinson's Disease and Movement Disorders

Toronto, Canada

 July 14, 2011

PD Care Case Management

 

EES/PADRECC Audioconference

 

September 8, 2011

 

Neuroprotection and PD

 

EES/PADRECC Audioconference

 

 

 

 

 

 

 

 

 

 

 

 

 

Clinical Care Committee

 Rotation of Committee Chair: Leadership for the clinical care committee rotates amongst the PADRECCs. Richmond leads for January and February. Next meeting is Feb 1, 2011.  Committee meets first Tuesday of the month at 12pm ET.

 

 Standardize Clinical Care: Continues to discuss a variety of clinical issues, provide clinical support to the Consortium network, and work on measures to standardize clinical care across the PADRECC network.

 

PD Handbook:  

A

smaller subcommittee will spearhead a project in 2011 to draft a handbook for the VHA (similar to a MS Handbook developed by

MSCoE

)  that addresses such things as definition of PD, purpose, authority and scope, system of care, population served, etc.

 

 

PADRECC Transmitter:

 PADRECC clinicians provide reviews of recent movement disorder publications that are included in the PADRECC Transmitter

 

Education Committee

PADRECC/EES Movement Disorder Series: The FY 2011 series is currently underway.

 

On January 13th Dr. Jeff Bronstein

 

presented

 

"Agent Orange, Pesticides and PD."

 

Future dates in 2011 are: Mar 10, May 12, Jul 14, and Sep 8. These audio conference series will be archived on the www.parkinsons.va.gov website under the Movement Disorder Series tab.

 

 

 Patient Education Video Project: Susan Heath (SF PADRECC) is working with EES and the education committee to develop a series of videos for patient education in FY2011.

 

 PADRECC Transmitter: The committee continues to assemble and distribute this e-newsletter every other month.

 

 National Website:

 

The committee is assisting in updating the National VA PADRECC/Consortium

Website .

 

 
History & Mission /  Consortium Center Refferal List /  Membership & Consortium Center Designation / Resource Request Form / Education & Clinical Resources / Consortium Newsletters / Consortium Brochures
return to top