Attention A T users. To access the menus on this page please perform the following steps. 1. Please switch auto forms mode to off. 2. Hit enter to expand a main menu option (Health, Benefits, etc). 3. To enter and activate the submenu links, hit the down arrow. You will now be able to tab or arrow up or down through the submenu options to access/activate the submenu links.

Parkinson's Disease Research, Education and Clinical Centers
The Monthly Transmitter (November 09)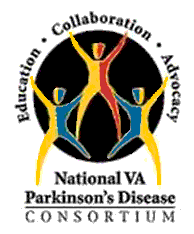 Briefing
Hot Off The Press
Plans for the 2010 Consortium Conference are underway and tentatively scheduled for September 16-17 in San Francisco. This program will directly follow the American Neurological Association meeting, which will take place September 12-15. We encourage all Consortium Center Directors and interested staff to formally request travel approval and support through your local medical centers. Detailed information will be shared as it becomes available.

We continue to remind all Consortium members of the opportunity for collaboration and mentorship through the Outreach Program. Please contact your assigned PADRECC to arrange on-site training and consultation as well as discuss other approved uses of these educational funds.

On behalf of the PADRECC and Consortium Coordinating staff, we wish everyone a very happy and safe holiday season!


Prepared by: William Carne, PhD. and Lynn Klanchar, RN, MS



(+) Do Parkinsonian patients have trouble telling lies? The neurobiological basis of deceptive behavior (click here)


Historically, industriousness, seriousness, inflexibility and honesty (an inability to lie) have been thought to be characteristic of persons with Parkinson's. The authors of this Japanese study suggest that neuropathological changes from the disease's course rather than actual pre-morbid personality may be responsible for this observed inability to tell lies. The authors further propose that the patient with PD may not actively choose honesty but may have difficulty lying due to cognitive deficits as a consequence of changes to the pre-frontal cortex (an area already implicated by neuroimaging in lying). Thirty two subjects with idiopathic PD and 20 matched controls without PD were involved in a novel test of deception involving relaying photographic content to a questioner in either a truthful or deceptive fashion. Subjects were also given a battery of standard neuropsychological tests and underwent F-fleurodeooxyglucose PET scans. Subjects with PD had more difficulty making deceptive responses when compared to controls. PET scans showed this deception difficulty was significantly correlated with prefrontal hypometabolism, supporting the authors' hypothesis that lying has a neurobiological basis. The authors postulate that impaired executive functioning caused by PD may decrease the ability to construct and tell lies.


Brain 2009 Oct 20.
http://www.medscape.com/viewarticle/709906_print






---




(+) Driving under low-contrast visibility conditions in Parkinson disease (click here)


Reduced contrast sensitivity is a common PD feature associated with poor performance on driving tests. This study examined the impact of low visibility factors on lateral positioning and lane violations, as well as reaction in low visibility to sudden hazards as measured by a driving simulator. Hypothesizing that drivers with PD have poorer vehicular control in low contrast conditions as well as when going from high to low light conditions than drivers without PD, the researchers attempted to predict driving performance with cognitive, visual and motor functioning tests. Sixty seven current drivers with PD were compared to a control group of 51 matched current drivers without neurological impairment. Exclusion criteria included acute illness, psychiatric disorders, Parkinson-plus syndromes, and use of concomitant centrally acting dopaminergic blockers within 180 days. Drivers with mild-moderate PD were tested during the "on" medication phase. A simulated 37 mile stretch of two lane rural road (speed limit= 55 MPH) with high (clear sky) and low light (fog) conditions and interactive traffic was utilized. The simulator scenario ended with a collision avoidance task under low light conditions. Compared to controls, drivers with PD drove faster and had less vehicular control in low light conditions. Going from high to low light was more bothersome to drivers with PD than controls. In the collision scenario, the PD group entered the scene faster, had longer reaction times, and had more crashes than controls (76.1% to 37.3%). Visual perception, visual cognition, and general cognition tests were among the tests most predictive of poor driving performance.

Neurology. 2009; 73:1103-1110 http://www.neurology.org




---




(+) Family history of melanoma and Parkinson disease risk (click here)


Melanoma has been reported at an increased rate among PD patients and the causality is unclear. Previous suggestions that levodopa use increased melanoma risk have been discounted. This study hypothesizes that if the co-occurrence is due to common genes, a positive family history of melanoma would be associated with an excessive risk of PD, independent of environmental risk for PD. Researchers prospectively assessed (via questionnaire) the family history of melanoma in parents or siblings as reported by 157,036 men and women. The people did not have PD at baseline (1990 for men and 1982 or women) and were taking part in ongoing cohort studies: the Health Professional Follow-up Study and the Nurses' Health Study. In 14- 20 years of follow-up, 616 new cases of PD were reported. A family history of melanoma in a first-degree relative was associated with a higher risk of PD (multivariate relative risk = 1.85; 95% confidence interval: 1.2, 2.8; p = 0.004), after adjusting for smoking, ethnicity, caffeine intake, and other variables. This was an approximate twofold increase in risk of PD compared to those without such a family history. There was no significant association between a family history of 4 other common cancers (colorectal, lung, prostate, or breast) and PD risk. The authors' findings support the notion that melanoma and Parkinson disease (PD) share common genetic components, but they cannot completely rule out other unknown environmental factors. They suggest that genes involved in pigment metabolism may explain in part, the observed association between melanoma and PD risk.

Neurology 2009; 73:1286-1291 http://www.neurology.org

Dates To Remember
Committee Recap
December 13-16, 2009
World Federation of Neurology
18th World Congress on
Parkinson's Disease and
Related Disorders 
Miami, FL
http://www2.kenes.com/
parkinson/pages/home.aspx

January 14, 2010
Lewy Body Disease
EES/PADRECC
Audio Conference
http://www.parkinsons.va.gov

February 17, 2010
Parkinson's Action Network
2010 PAN Forum
http://www.parkinsonsaction.org

April 10-17, 2010
American Academy of Neurology
2010 Annual Meeting
Toronto, Ontario
http://www.aan.com/go/am10

June 13-17 2010
Movement Disorders Society
14th International
Congress of Parkinson's
disease and Movement
Disorders
Buenos Aires, Argentia
http://www.movementdisorders.org/

September 16th-17th, 2010
(tentative dates)
National VA PD Consortium
2010 Consortium Conference
San Francisco, CA
More information to follow

September 28th - October 1, 2010
World Parkinson Congress
The 2nd WPC 2010
Glasgow, Scotland
www.worldpdcongress.org


Clinical Care Committee


Tetrabenazine: The Committee worked with Pharmacy Benefits Management to establish criteria for use of Tetrabenazine for tardive dyskinesias and dystonia.


Pocket Card: The Committee is continuing to work on revising the PADRECC pocket card, which outlines initial management of PD to be used by general practitioners.


PADRECC Transmitter: The Committee continues to provide reviews of recent movement disorder publications that are included in the PADRECC Transmitter.



Research: Exploring a Requip XL study for possible VA PADRECC study.


Education Committee


EES/PADRECC Educational Series: The 2nd EES/PADRECC Audio Conference series for FY10 is now underway. On November 12th, 2009, Dr. Marian Evatt of the SE/Richmond PADRECC presented on Vitamin D, Nutrients and Supplements in PD. The next conference is scheduled for January 14, 2010 on Lewy Body Disease by Dr. John Duda, Philly PADRECC. Please look to the Dates to Remember section for additional information.


PADRECC Transmitter: The Committee continues to put together the PADRECC Transmitter every other month and distribute to the PADRECC Consortium Centers.


Patient Education Materials: The Committee is exploring the possibility of developing a newly diagnosed patient education handout that will provide key information on Parkinson's disease.


 
Spotlight on Southeast Consortium Centers:
 

Dr. Tony Nicholas (Director, Consortium Center, VAMC Birmingham, AL) reports that they are now offering Deep Brain Stimulation surgery for Parkinson's disease, generalized dystonia and essential tremor. Consults and referrals from other VAMCs are welcome.

Dr. John Slevin (Director, Consortium Center VAMC Lexington, KY), lead author and advocate for the consortium center funding proposal is working closely with the Consortium coordinating center.

Dr. Marian Evatt (Director, Consortium Center VAMC Atlanta, GA) presented "Nutritional Supplements and Issues in PD" on PADRECC/EES audio conference Movement Disorders lecture series on Nov 12th.

Dr. Juan Sanchez-Ramos, PhD, MD (VAMC Consortium Center Tampa, FL) spoke on Nov 4th Southeast Consortium conference call about his VA Merit research on the potential of hematopoietic growth factors to alleviate neurologic deficits in the MPTP mouse model of PD and also about the Parkinson Research Foundation (PRF) in Sarasota, FL.

Chris Sapienza, SLP (VAMC Consortium Center Gainesville, FL) is a VA Merit Review researcher and will present research on expiratory training and impact on speech and swallowing in PD on Nov 24th Southeast Consortium conference call
History & Mission / Consortium Center Refferal List / Membership & Consortium Center Designation / Resource Request Form / Grant Opportunities / Education & Clinical Resources / The Monthly Transmitter / 2008 Conference Presentations / Consortium Newsletters / Consortium Brochures
return to top