Attention A T users. To access the menus on this page please perform the following steps. 1. Please switch auto forms mode to off. 2. Hit enter to expand a main menu option (Health, Benefits, etc). 3. To enter and activate the submenu links, hit the down arrow. You will now be able to tab or arrow up or down through the submenu options to access/activate the submenu links.

Parkinson's Disease Research, Education and Clinical Centers
The Monthly Transmitter (January 09)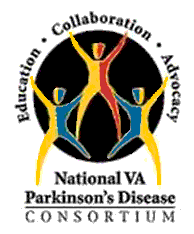 Briefing
Hot Off The Press
Happy New Year! 

While we continue to await word on the status of the Consortium Center proposal, we are certain that 2009 will be a productive year for our Network. We look forward to seeing everyone at this year's Conference and hope to announce the official date and location by late winter. In anticipation for this event, we encourage you to begin exploring travel support through your local Medical Center. This type of assistance will guarantee greater attendance and help ensure future meetings.

Please remember to mark you calendars for the bi-monthly PADRECC teleconference series, which have been well attended and received. The next presentation will take place on March 12 at 12p ET and 3p ET and is titled "PD Medications". 
Prepared by Jeff Kraakevik, MD, Jay Nutt, MD and Amie Peterson, MD of the Portland/Seattle PADRECC



(+) Predictors and course of health-related quality of life in Parkinson's disease. (click here)


Health-related quality of life (HRQL) allows measurement of progression of a multisymptomatic disorder such as Parkinson's disease (PD). This study is a unique, prospective examination of HRQL with the Notingham Health Profile of a community-based sample of PD subjects studied at baseline and four and eight years later. Not surprisingly, progression of PD worsened HRQL. The total NHP score and all the subscores increased (worsened) over time except the sleep score. The greatest deteriorations were in physical mobility and, a probable consequence of impaired mobility, social isolation. At baseline, Hoehn and Yahr staging and Schwab and England scores, but not the UPDRS scores, predicted the deterioration in physical mobility and social isolation. Baseline depression scores predicted deterioration in the subscores for energy, emotion and sleep. Baseline insomnia predicted social isolation. Insomnia, depression scores and Hoehn and Yahr staging predicted the total Notingham HRQL score. This study emphasizes that there are factors such as sleep and depression which have a large impact on HRQL and are amenable to therapeutic interventions.

Mov Disord. 2008; 23:1420-1427.




---




(+) The long-term effect of tetrabenazine in the management of Huntington disease. (click here)


Fasano et. Al did a retrospective analysis via chart review of 68 patients with Huntington's disease treated with tetrabenazine(TBZ). They analyzed the data at the first follow up and the most recent follow up using Unified Huntington's Disease Rating Scale (UHDRS). Mean dose at first follow up was 35.3+14.7mg and 57.5 +14.7mg at most recent follow up. The mean time at first follow up was 9.7 +7.8 months when a 21% significant improvement was seen in chorea section of the UHDRS, a nonsignificant 25% decrease in dystonia section, and no change in overall UHDRS. At the latest follow up 34.4 + 25.2 months the UHDRS had worsened by 32%, with a 37% increase in dystonia section, and only a 9% increase in chorea section compared to baseline. Only 2 patients discontinued TBZ because of sides effects, rapid worsening of psychiatric disturbance and disabling asthenia. 50% of patients reported at least one side effects with the most common being drowsiness(n=17), depression (n=11), and disturbance of gut function(n=8). They also analyzed predictors of improvement in chorea with TBZ including dose, sex, age at moment of treatment, and duration of therapy. Only older age at onset of HD was predictive of a good response. Although this study has limitations it does suggest that TBZ is well tolerated and effective in treating chorea even with longer time of dose duration.

Clin Neuropharmacol 2008 Nov-Dec; 31(6):313-8.




---




(+) Myoclonus or tremor in orthostatism: an under-recognized cause of unsteadiness in Parkinson's Disease. (click here)


Imbalance and unsteadiness impact quality of life of patients with Parkinson's Disease (PD) and account for a large portion of morbidity from the disease. Sometimes this manifests as a feeling of unsteadiness when the person is standing in a resting position. This study identified that PD subjects with a feeling of unsteadiness even in their best "on" state when examined using surface EMG had evidence of orthostatic tremor and orthostatic myoclonus. Orthostatic tremor is a well-described syndrome where there is a tremor which comes out with standing. Patients with this entity in the absence of PD will often complain of unsteadiness while doing activities that require prolonged standing as in waiting in a line. Orthostatic myoclonus was previously unrecognized in the PD population, and can also lead to a feeling of unsteadiness. The authors found in 8 of the 11 subjects, they could detect the tremor with careful physical examination of the limbs with the other 3 requiring surface EMG to identify the tremor. The authors argue this is an important finding in that both orthostatic tremor and orthostatic myoclonus may not respond to standard dopaminergic medication, but will respond to low-dose clonazepam. They suggest careful physical examination and consideration of surface EMG recording to correctly treat persons with otherwise unexplained unsteadiness in PD. Although this was admittedly a small study, it does supply some valuable information on a potentially under-recognized phenomenon.

Movement Disorders. 2008. 22(14):2063-69

Dates To Remember
Committee Recap
March 12, 2009
PD Medications
3rd EES/PADRECC
Audio Conference
http://www.parkinsons.va.gov/

March 15, 2009
2009 PAN Research and
Public Policy Forum
http://www.parkinsonsaction.org

April 4, 2009
Quality of Life & PD,
Live Webcast,
PDF and Houston Area
Parkinson's Society
www.pdf.org/webcast

April 25 to May 2, 2009
American Academy of Neurology
2009 Annual Meeting Seattle
http://www.aan.com/go/am

May 14, 2009
Atypical Parkinsonian Disorders
4th EES/PADRECC
Audio Conference
http://www.parkinsons.va.gov/

June 7-11, 2009
Movement Disorders Society
13th International Congress
Paris, France
http://www.movementdisorders.org/

July 9, 2009
Caregiving and Psychosocial
Issues in PD
5th EES/PADRECC
Audio Conference
http://www.parkinsons.va.gov/

September 10, 2009
Diagnosis and Treatment of PD
6th EES/PADRECC
Audio Conference
http://www.parkinsons.va.gov/

October 11-14, 2009
American Neurological Association
2009 Annual Meeting
Baltimore, MD
http://www.aneuroa.org/


Clinical Care Committee


Standardization of Care: The Clinical Care Committee has developed and distributed a DBS education letter along with educational material provided by Medtronic to Chiefs of Neurology, Primary Care and Geriatrics in all VA Medical Centers.


Pocket Card: The Committee is now working on revising the PADRECC pocket card, which outlines initial management of PD to be used by general practitioners.

PADRECC Transmitter: The Clinical Care Committee continues to provide reviews of recent movement disorder publications that are included in the PADRECC Transmitter.


Research: Exploring a Requip XL study for possible VA PADRECC study.


Education Committee


EES/PADRECC Educational Series: The audio conferences are underway. The next audio conference will be held on March 12, 2009 at 12pm EST and repeated at 3pm EST. The Topic will be PD Medications. The education committee will be monitoring these conferences and with the help of EES will be tracking participation on the calls. A listing of upcoming teleconferences can be seen to your left under Dates to Remember.

History & Mission / Consortium Center Refferal List / Membership & Consortium Center Designation / Movement Disorder Series / Resource Request Form / Grant Opportunities / Education & Clinical Resources / The Monthly Transmitter /  2008 Conference Presentations / Consortium Newsletters / Consortium Brochures
return to top