Attention A T users. To access the menus on this page please perform the following steps. 1. Please switch auto forms mode to off. 2. Hit enter to expand a main menu option (Health, Benefits, etc). 3. To enter and activate the submenu links, hit the down arrow. You will now be able to tab or arrow up or down through the submenu options to access/activate the submenu links.

Parkinson's Disease Research, Education and Clinical Centers
The Monthly Transmitter (August 2010)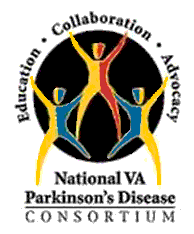 Briefing
Hot Off The Press
The 2010 Consortium Conference will be held September 8-10, 2010 at the Hilton Financial District in San Francisco, California. RSVP deadline was July 26 to Dawn McHale, Consortium Coordinator. Please contact her ASAP if you have not yet RSVP'd. Participants to the conference are encouraged to contribute their expertise via posters, case studies, or suggestions for the clinical discussion. Please indicate your intent to present a poster or case study when you RSVP. Case study videos and write ups are requested ASAP. Please contact Dr. Mark Baron msbaron@vcu.edu who is organizing the case series. Dr. Alec Glass graham.glass@ucsf.edu asks for input on topics that hinder current clinical practice ASAP.
Prepared by: Aliya Sarwar, MD, Houston PADRECC



(+) Pallidal versus subthalamic deep-brain stimulation for Parkinson's disease. Â  (click here)


Deep-brain stimulation involving either the Subthalamic nucleus (STN) or the Globus Pallidus Interna (GPi) are the primary surgical procedures available to the patients with advanced Parkinson's disease. In this study, researchers from seven Veterans Affairs (including six PADRECCs) and six university hospitals compared 24-month outcomes for 299 Parkinson's disease patients who by random assignment underwent bilateral deep brain stimulation of either the GPi (152) or the STN (147). The primary outcome was the change in motor function, as blindly assessed on the Unified Parkinson's Disease Rating Scale, part III (UPDRS-III), while patients were receiving stimulation but not receiving antiparkinsonian medication. Secondary outcomes included self-reported function, quality of life, neurocognitive function, and adverse events. The study found no significant difference in the primary outcome (motor function), self-reported function or serious adverse events between the GPi and the STN groups. However, the patients undergoing subthalamic stimulation required a significantly lower dose of dopaminergic agents than did those undergoing pallidal stimulation. On the other hand, the GPi group did better with respect to one element of cognitive functioning (visuomotor processing speed) which declined significantly more after subthalamic stimulation than after pallidal stimulation, and depression, which worsened after subthalamic stimulation and improved after pallidal stimulation. The authors concluded that the PD patients had similar improvement in motor function after either pallidal or subthalamic stimulation, and suggested that non-motor factors may reasonably be included in the selection of surgical target for deep-brain stimulation. N Engl J Med. 2010 Jun 3; 362(22):2077-91. http://www.ncbi.nlm.nih.gov/pubmed/20519680




---




(+) Regulation of parkinsonian motor behaviours by optogenetic control of basal ganglia circuitry. (click here)


This is an exciting study, where the researchers demonstrated the effects of direct activation of basal ganglia circuitry in mice using the cutting edge optogenetic control. In this method, light activated channels (e.g. channelrhodopsin-2) are genetically expressed in the area of interest, and the neural circuitry /function of the area is then studied using light control. In this experiment optogenetic control was achieved through Cre-dependent viral expression of channelrhodopsin-2 in the striatum of bacterial artificial chromosome transgenic mice expressing Cre recombinase under control of regulatory elements for the dopamine D1 or D2 receptor. Per the authors, bilateral excitation of indirect-pathway MSNs produced a parkinsonian like state, characterized by increased freezing, bradykinesia and decreased locomotor initiations, while activation of direct-pathway MSNs reduced freezing and increased locomotion. In a mouse model of Parkinson's disease, direct-pathway activation completely reversed deficits in freezing, bradykinesia and locomotor initiation. The existence of these two parallel pathways in basal ganglia, with opposing effects has long been described, but has never been empirically tested before. Per the authors, their findings establish a critical role for basal ganglia circuitry in the bidirectional regulation of motor behavior and indicate that modulation of direct-pathway circuitry may represent an effective therapeutic strategy for ameliorating parkinsonian motor deficits. Nature. 2010 Jul 7. [Epub ahead of print]
http://www.ncbi.nlm.nih.gov/pubmed/20613723





---




(+) Evaluation of the efficacy and safety of adjuvant treatment to levodopa therapy in Parkinson s disease patients with motor complications. (click here)


In this study, researchers analyzed data from 48 previously published randomized control trials involving more than 8,000 patients, with an aim to assess the benefits and risks of the three classes of drugs (dopamine agonists, catechol-O-methyl transferase inhibitors (COMTIs) or monoamine oxidase type B inhibitors (MAOBIs ) as add-on therapy to levodopa in PD patients suffering from motor complication. The three drug groups were compared with the aim of determine the best amongst the three with respect to symptomatic control. Comparisons were made regarding the off-time, levodopa dose, motor complications, side-effects, treatment concordance, clinician-rated disability, mortality, and quality of life. Analysis revealed that compared to placebo, add on therapy with these agents significantly reduced off-time, the required levodopa dose, and improved UPDRS scores. However adverse effects including dyskinesia, constipation, dizziness , dry mouth , hallucinations ,hypotension ,insomnia, nausea , somnolence and vomiting were all significantly increased in this group compared to placebo .Among the three groups, dopamine agonists were found to be significantly more efficacious in reducing off-time (dopamine agonist: -1.54 hours/day; COMTI: -0.83 hours/day; MAOBI: -0.93 hours/day); levodopa dose (dopamine agonist: -116 mg/day; COMTI: -52 mg/day; MAOBI: -29 mg/day) and improving UPDRS scores (UPDRS total scores - dopamine agonist: -10.01 points versus COMTI: -1.46 points versus MAOBI: -2.20 points) however more dyskinesia were seen with dopamine agonists and COMTI than with MAOBI. There was a greater but clinically insignificant increase in the overall incidence of side-effects with dopamine agonists and COMTI than with MAOBI. The authors concluded that compared to placebo, adjuvant therapy reduces off-time, levodopa dose, and improves UPDRS scores in PD patients who develop motor complications on levodopa therapy. However, this is at the expense of increased dyskinesia and numerous other side-effects. Indirect comparisons suggest that dopamine agonist therapy may be more effective than COMTI and MAOBI therapy, which have comparable efficacy. However, the authors advised to exercise due caution regarding these indirect comparisons, and stressed the need for direct head-to-head randomized trials designed to assess the impact of these different drug classes on overall patient-rated quality of life.
Cochrane Database Syst Rev. 2010 Jul 7http://www.ncbi.nlm.nih.gov/pubmed/20614454


Dates To Remember
Committee Recap
MARK YOUR
CALENDARS...

September 2, 2010
Parkinson's Disease in Older Patients
EES/PADRECC
Audioconference
http://www.parkinsons.va.gov/

September 8th-10th, 2010
National VA PD
Consortium
2010 Consortium
Conference
San Francisco, CA

September 28th - October 1, 2010
World Parkinson Congress
The 2nd WPC 2010
Glasgow, Scotland
www.worldpdcongress.org

June 5-9, 2011
15th International
Congress of Parkinson's
Disease and Movement
Disorders
Toronto, Canada
www.movementdisorders.org


Clinical Care Committee


Template for Documentation: Â Indu Subrananian, MD (WLA) will share the new note template they working on with the committee.


Telehealth in the PADRECC: Â Philadelphia just got a grant to begin using telehealth, as part of research protocol looking at PADRECC as the PCMH (Patient- Centered Medical Home).



"Clinical Roadblocks in the VA": Â Clinical Care Committee member, Alec Glass, MD will be present/moderate this session at the Consortium conference



Rotation of Committee Chair: Â leadership for the clinical care committee will begin rotating amongst the PADRECCs.



Standardize Clinical Care: continues to work on measures to standardize clinical care across the PADRECC network and provide clinical support to the Consortium network.


Education Committee


EES/PADRECC Educational Series: Currently planning schedule for FY 2011. The one hour audio conference series is archived on the Movement Disorders Series website under the Archives tab.


Education Session: Education Committee Member Naomi Nelson will present/moderate a session at the Consortium Conference


Parkinson's Disease Across the Lifespan: a Roadmap for Nurses: PADRECC nurses were presenters at this symposium hosted by APDA, NPF, and PDF on May 21, 2010. This program will be available free and on-line for one year and provides 7.5 credits of continuing nursing education. Go to http://support.pdf.org/nursing.


Suggested Education Essentials for Newly Diagnosed Veterans with Parkinson's Disease: was developed by the Education Committee. Download the resource sheet at Suggested Education Essentials for Newly Diagnosed Veterans with Parkinson's Disease under the Education and Clinical Resources tab.


PADRECC Transmitter: assembly and distribution of this e-newsletter every other month


Spotlight on Consortium Centers: none this edition
See you at the conference in SF!
History & Mission / Consortium Center Refferal List / Membership & Consortium Center Designation / Resource Request Form / Grant Opportunities / Education & Clinical Resources / 2008 Conference Presentations / Consortium Newsletters / Consortium Brochures
return to top