Attention A T users. To access the menus on this page please perform the following steps. 1. Please switch auto forms mode to off. 2. Hit enter to expand a main menu option (Health, Benefits, etc). 3. To enter and activate the submenu links, hit the down arrow. You will now be able to tab or arrow up or down through the submenu options to access/activate the submenu links.

Parkinson's Disease Research, Education and Clinical Centers
National VA PD Consortium Network Referral List
The National VA Parkinson's Disease Consortium was established in 2003 as a means to broaden the impact of the Parkinson's Disease Research, Education and Clinical Centers (PADRECCs) and encourage modern Parkinson's disease care across the collective VA Healthcare System. Together, the PADRECCs and the Consortium Centers create a hub and spoke model of care, allowing effective and convenient services to all veterans, regardless of locality. Veterans who cannot access direct services at a PADRECC facility can receive specialized care at the closest Consortium Center in their region.
To Make an Appointment at a Consortium Center:
Locate the Consortium Center of greatest convenience to the veteran using the map and corresponding referral list below (You may click on the stars below for more information on the Consortium Center's VA Medical Center).

Complete an interfacility consult (specifying location of the Consortium Center and physician's name) and forward to your local patient transfer office. If the Consortium Center is outside of your VA Network, contact your patient transfer office for further directions.

Ask the patient to contact the Consortium Center within 72 hours to obtain an appointment.

Assistance is available by contacting Jackie Lumford, Consortium Program Support Administrator, at 1-800-949-1001 x2749.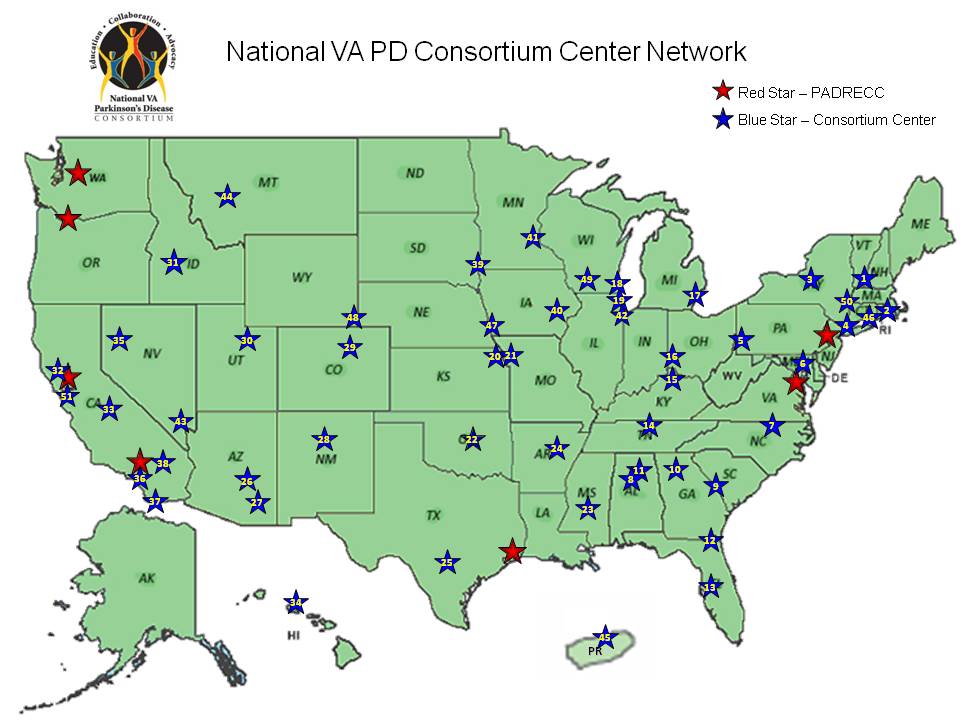 National VA Parkinson's Disease Consortium Center Referral List
Map #

City, State

ConsortiumCenterDirector(s)

VISN

Referral Phone Number

1

White River Junction VA Medical Center

White River Junction, VT

Timothy Cox, NP

1

802-295-9363 x5780

2

VA Boston Healthcare System, Jamaica Plain Campus

Jamaica Plain, MA

Dr. Raymond Durso

1

617-232-9500 x44750

3

Syracuse VA Medical Center

Syracuse, NY

Dr. Dragos Mihaila

2

315-425-3474

4

James J. Peters VA Medical Center

Bronx, NY

Dr. Ruth Walker

3

718-584-9000 x5915

5

VA Pittsburgh Healthcare System, University Drive Division

Pittsburgh, PA

Dr. Edward Burton

4

412-360-6185

6

Baltimore VA Medical Center

Baltimore, MD

Dr. Paul Fishman

5

410-605-7000 x7060

7

Durham VA Medical Center

Durham, NC

Dr. Burton Scott

6

919-286-0411 x15611 or x15612

8

Tuscaloosa VA Medical Center

Tuscaloosa, AL

*Inactive

7

205-554-2000 Press "1", then dial ext "4136"

9

Augusta VA Medical Center

Augusta, GA

Dr. John Morgan

7

706-733-0188 x12415

10

Atlanta VA Medical Center

Decatur, GA

Dr. Marian Evatt

7

404-321-6111 Press "1", then dial ext "7121"

11

Birmingham VA Medical Center

Birmingham, AL

Dr. Anthony Nicholas

7

205-933-8101 Press "1", then dial ext "4734"

12

Malcom Randall VA Medical Center, NF/SGVHS

Gainesville, FL

Dr. Christopher Hess

8

352-374-6058

13

James A. Haley Veteran's Hospital

Tampa, FL

Dr. Theresa Zesiewicz

8

813-972-7633

14

Tennessee Valley Healthcare System - Nashville Campus

Nashville, TN

Dr. John Fang

9

615-327-4751 x5244

15

Lexington VA Medical Center

Lexington, KY

Dr. John Slevin

9

859-281-4920

16

Cincinnati VA Medical Center

Cincinnati, OH

TBD

10

513-475-6318

17

Ann Arbor VA Medical Center

Ann Arbor, MI

Dr. Nicolaas Bohnen

11

734-769-7100 x4445

18

Clement J. Zablocki Veterans Affair Medical Center

Milwaukee, WI

Dr. Bradley Hiner

12

414-805-9719

19

North Chicago VA Medical Center

North Chicago, IL

Dr. Semyon Shulman

12

224-610-3753

20

VA Eastern Kansas HCS - Colmery-O'Neil VA Medical Center

Topeka, KS

Dr. Prasunamba Amaraneni

15

785-350-3111 x54452

21

Kansas City VA Medical Center

Kansas City, MO

Dr. Louis Giron

15

816-922-2525

22

Oklahoma City VA Medical Center

Okla. City, OK

Dr. Meheroz Rabadi

16

405-270-0501 Dial ext. "5140" then select "1"

23

G.V. (Sonny) Montgomery VA Medical Center

Jackson, MS

Dr. Abelardo Wee

16

601-364-1285

24

Central Arkansas Veterans Healthcare System John L. McClellan Memorial Veterans Hospital

Little Rock, AR

Dr. John Schwankhaus


16

501-257-6053

25

Audie L. Murphey VA Medical Center

San Antonio, TX

Dr. Qinghua Liang

17

210-617-5161

26

Carl T. Hayden VA Medical Center

Phoenix, AZ

TBA

18

602-277-5551 x5339

27

Southern Arizona VA Healthcare System

Tucson, AZ

Dr. Scott Sherman

18

520-626-2319

28

New Mexico VA Healthcare System

Albuquerque, NM

Dr. Sarah Richardson

18

505-256-2752

29

VA Eastern Colorado Health System

Denver, CO

Dr. Olga Klepitskaya

19

303-393-2874

30

VA Salt Lake City Healthcare System

Salt Lake, UT

Dr. David Renner

19

801-584-2569

31

Boise VA Medical Center

Boise, ID

Dr. Barry Cusack


20

208-422-1325

32

Martinez Outpatient Clinic and Center for Rehabilitation & Extended Care

Martinez, CA

Dr. Ingrid Kwee

21

925-370-4734

33

VA Central California Healthcare System - Fresno

Fresno, CA

Dr. Jeffrey Mogelof

21

559-228-5328

34

VA Pacific Islands Healthcare System

Honolulu, HI

Dr. Webster Ross

21

808-433-7785

35

VA Sierra Nevada Healthcare System

Reno, NV

Dr. John Peacock

21

775-328-1297 Press "1", then dial ext "1378"

36

VA Long Beach Healthcare System

Long Beach, CA

TBA

22

562-826-8000 x2292

37

VA San Diego Healthcare System

San Diego, CA

Dr. Stephanie Lessig

Dr. David Song

22

858-552-8585 Press "4", then dial ext "3685"

38

VA Loma Linda Healthcare System

Loma Linda, CA

Dr. Dorthee Cole

22

909-825-7084 x6049

39

Sioux Falls VA Medical Center

Sioux Falls, SD

Dr. Xuesheng Feng

23

605-336-3230 Press "9", then dial ext "6402"

40

Iowa City VA Medical Center

Iowa City, IA

Dr. Ergun Uc

23

319-338-0581 Press "9", then dial ext "5166"

41

Minneapolis VA Medical Center

Minneapolis, MN

Dr. James Ashe

23

612-467-2214

42

Jesse Brown VA Medical Center

Chicago, IL

Dr. Brandon Barton

12

312-569-8387 Press "5", then dial ext "6168"

43

VA Southern Nevada Healthcare System (VASNHS)

Las Vegas, NV

Dr. Selina Parveen

22

702-636-3000

44

VA Montana Health Care System

Fort Harrison, MT

Dr. Mark Dietz

19

406-447-7708

45

VA Caribbean Healthcare System

San Juan, PR

8

787-641-7582 x31684

46

VA Connecticut Healthcare SystemWest Haven Campus

West Haven, CT

Dr. Diana Richardson

1

203-932-5711

47

Omaha Division - VA Nebraska Western Iowa Health Care System

Omaha, NE

Dr. John Bertoni

23

402-977-5602

48

Cheyenne VA Medical Center

Cheyenne, WY

Dr. Roy Kanter

19

307-778-7550 ext. 7181 or 7322

49

William S. Middleton Memorial Veterans Hospital

Madison, WI

Dr. Catherine L. Gallagher

12

608-256-1901 x17728

50

Albany VA Medical Center

Albany, NY

Dr. Donald S. Higgins

2

518-626-6373

51

VA Palo Alto Health Care System

Palo Alto, CA

Dr. Shanon Kilgore

21

650-858-3976

52
VA Black Hills Health Care System
Fort Mead, SD
Dr. Laura Weisensee
23
605-718-1095
53
VA Montana Healthcare
Billings, MT
Dr. Daniel Rodriguez
19
406-373-3610
54
Castle Point Campus (Hudson Valley Heatlthcare System
Wappingers Falls,NY
Dr. Ruth Walker
3

845-831-2000 5663

55
Orlando VA Medical Center
Orlando, FL
Dr. Ramon Rogriguez Cruz
8
407-629-1599 x11155
56
Robert J. Dole VAMC
Wichita, KS
Dr. Lynn Choufeh
15
316-685-2221 x54527
History & Mission / Membership & Consortium Center Designation / Movement Disorder Series / Resource Request Form / Grant Opportunities / Education & Clinical Resources / The Monthly Transmitter / 2008 Conference Presentations / Consortium Newsletters / Consortium Brochures
return to top