The Monthly Transmitter (January 2010)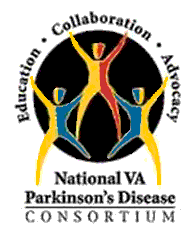 Briefing
Hot Off The Press
MARK YOUR CALENDARS…

The 2010 Consortium Conference will take place on September 9th and 10th in San Francisco, with arrival on the 8th. This program will precede the American Neurological Association meeting, which commences on September 12th. We encourage all interested parties to begin working with your medical facilities to secure authorized absence and travel support. The agenda will focus on current trends, theories, and controversies in the field of movement disorders. Formal invitations, a finalized agenda, and venue details will be distributed by early spring. Please contact Rebecca Martine, Consortium Chair, with comments or suggestions at 215-823-5934 or rebecca.martine@va.gov.

Happy New Year!


Prepared by: Susan O'Connor, RN, Kathryn Chung, MD, Steven Johnson, MD and Teresa Mangin, MD of the Northwest PADRECC



(+) Autoimmune disease and risk for Parkinson disease (click here)


Many investigators have reported that the substantia nigra in Parkinson's disease (PD) shows signs of chronic inflammation. However, the potential role of inflammation in causing death of dopamine neurons remains controversial. The authors of the present study hypothesized that inflammatory mediators that are increased in subjects with autoimmune disease would predispose them to develop PD. They performed a population-based study of 13,695 patients in the Danish National Hospital Register who had a primary diagnosis of PD. Subjects were compared to 68,445 control subjects in the registry who did not have a diagnosis of PD. They then measured which subjects also had a hospital diagnosis of one of 32 selected autoimmune diseases as recorded 5 or more years prior to their index date in the Danish Register files. Data analysis showed no overall association of autoimmune disease with increased risk of PD. However, further analysis showed a 30% decrease in risk of PD in a subgroup that was composed mostly of patients with a diagnosis of rheumatoid arthritis. The authors suggest that chronic treatment with non-steroidal anti-inflammatory drugs (NSAIDs), which is a mainstay of rheumatoid arthritis therapy, might be responsible for reducing the risk of PD. Further studies will be needed to establish whether or not NSAIDs reduce the risk of PD.


Neurology 2009; 73-1462-1468
http://www.neurology.org






---




(+) Road safety in drivers with Parkinson disease. (click here)


Diminished driving safety among Parkinson's disease patients is a significant concern for patients, families and clinicians. Uc et al compared road safety and its predictors in a group of actively driving PD patients with an age-matched control group. Cognitive, visual, and motor tests comprised the off-road testing battery, conducted with PD patients in the "on" state. All subjects performed a 45-minute experimental drive on a standardized route in an instrumented vehicle. Familiarity with the driving environment was assessed with a yes/no question. Safety errors were judged by a driving expert based on video data review. PD drivers committed more total safety errors than controls (41.6 ± 14.6 vs 32.9 ± 12.3, p < 0.0001). 77.4% of PD drivers had more errors than the median error count among controls. After adjustment for demographic factors and familiarity with the environment, group differences persisted for errors in lane observance and stop signs, but differences in other categories become insignificant. Predictors of driving errors among PD subjects included older age and worse performances on measures of visual acuity, contrast sensitivity, attention, visuospatial abilities, visual memory and general cognition. In a multivariate model, visual processing speed and attention and far visual acuity were jointly predictive of error counts. This study demonstrates that while there is variability in driving performance among PD patients, those with impairments in visual perception and cognition are likely to have poor road safety, particularly in unfamiliar environments. Maximizing visual acuity by correcting refractive errors and avoiding driving in unfamiliar surroundings are two simple measures that can improve driving performance in PD patients.

Neurology 2009; 73:2112-2119 http://www.neurology.org




---




(+) Falling in Parkinson Disease may be Associated with Reduced Cholinergic Activity (click here)


Given that postural instability in Parkinson Disease (PD) is poorly responsive to dopaminergic augmentation, Bohnen et al evaluated the relationship between frequent falling and acetylcholinesterase activity in 44 PD subjects and 15 non-PD controls using clinical measurements as well as PET outcomes. Imaging for both cholinergic ([11C]methyl-4-piperidinylpropionate acetylcholinesterase) and dopaminergic activity ([11C]dihydrotetrabenazine vesicular monoamine transporter type 2) was performed in this nondemented cross section of subjects with varying degrees of postural instability (H&Y Stages I-III). PD subjects were divided into those with a history of falling (17) or not falling (27). Compared to non-PD controls, acetylcholinesterase in the cortex was reduced in those who fall by an average of 12.3% versus 6.6% in those without falls. In the thalamus, which receives cholinergic input from the pedunculopontine nucleus (PPN), acetylcholinesterase activity was lower by 11.8% only in the falling subjects. On the other hand, no differences in nigrostriatal dopaminergic activity was detected between the 2 PD groups. These investigators concluded that reduced acetylcholine and not dopamine activity is associated with falling in Parkinson Disease. They also suggest that thalamic acetylcholine turnover may be reduced because of dysfunction of the PPN, a site implicated in other work as etiologic in problems of gait and postural control in PD. "Our findings and prior work raise the question as to whether cholinergic therapy may have a place in the management of mobility problems in PD."

Neurology 2009; 73(20):1670-6 http://www.ncbi.nlm.nih.gov/pubmed/19917989?log$=activity

Dates To Remember
Committee Recap
February 17, 2010
Parkinson's Action Network
2010 PAN Forum
http://www.parkinsonsaction.org

March 10, 2010
Essential Tremor
EES/PADRECC
Audioconference
http://www.parkinsons.va.gov/

April 10-17, 2010
American Academy of Neurology
2010 Annual Meeting
Toronto, Ontario
http://www.aan.com/go/am10

May 13, 2010
Pallative Care and PD
EES/PADRECC
Audioconference
http://www.parkinsons.va.gov/

June 13-17 2010
Movement Disorders Society
14th International
Congress of Parkinson's
disease and Movement
Disorders
Buenos Aires, Argentia
http://www.movementdisorders.org/

July 8, 2010
Medications for PD
EES/PADRECC
Audioconference
http://www.parkinsons.va.gov/

September 8th-10th, 2010
National VA PD
Consortium
2010 Consortium
Conference
San Francisco, CA

September 28th - October 1, 2010
World Parkinson Congress
The 2nd WPC 2010
Glasgow, Scotland
www.worldpdcongress.org


Clinical Care Committee


Tetrabenazine: The Committee worked with Pharmacy Benefits Management to establish criteria for use of Tetrabenazine for tardive dyskinesias and dystonia.



Pocket Card: The Committee has completed updating the pocket card and it is now being submitted for printing.


PADRECC Transmitter: The Committee continues to provide reviews of recent movement disorder publications that are included in the PADRECC Transmitter.



Research: Exploring a Requip XL study for possible VA PADRECC study



iMed BOTOX consults: The Committee is working to institute iMED Botox consults across the PADRECC Network.


Education Committee


EES/PADRECC Educational Series: The 2nd EES/PADRECC Audio Conference series for FY10 is now underway. Recent topics have included Vitamin D, Nutrients and Supplements in PD, presented by Dr. Marian Evatt on 11/12/09, and Lewy Body Disease, presented by Dr. John Duda on 1/14/10. The audio conference can now be heard both via VANTS and Live Meeting. Please look to the Dates to Remember section for additional information.


PADRECC Transmitter: The Committee continues to put together the PADRECC Transmitter every other month and distribute to the PADRECC Consortium Centers.


Patient Education Materials: The Committee is exploring the possibility of developing a newly diagnosed patient education handout that will provide key information on Parkinson's disease.


Spotlight on Northwest Consortium Centers:

Iowa City, Iowa 
Iowa City, VAMC (Phone: 319-388-0581 x 5173)
Director: Ergun Uc, MD
The Movement Disorders Clinic, operational since 2002, provides subspecialty services including consults, DBS case selection and programming, and botulinum toxin injections. Dr. UC is an active member of the Parkinson Study Group and Huntington Study Group, and is the co-chair of the Cognition/Behavior Working Group of the PSG. His main focus of research is cognition and non-motor aspects of PD. He is also the PI on studies on prediction of driver safety in PD (NINDS, R01), driving rehabilitation in PD (Merit Review-Rehab R&D, and effects of aerobic exercise on cognition and function in PD (Merit Review-Rehab R&D).

Helena, Montana
Fort Harrison VAMC (406-442-6410 x 7708)
Director: Mark Dietz, MD
Fort Harrison VAMC has two neurologists who see movement disorder patients, Dr. Mark Dietz (since 2001) and Wynde Cheek (since 2008). Dr. Dietz, the Director, has been treating movement disorders patients for 23 years. Subspecialty consults are done for Parkinson's disease, pre-screening for deep brain stimulation, post surgery monitoring and programming for deep brain stimulation, evaluation of other movement disorders such as tremor and providing botulinum toxin injection.


History & Mission / Consortium Center Refferal List / Membership & Consortium Center Designation / Resource Request Form / Grant Opportunities / Education & Clinical Resources / 2008 Conference Presentations / Consortium Newsletters / Consortium Brochures