The Monthly Transmitter (November 2013)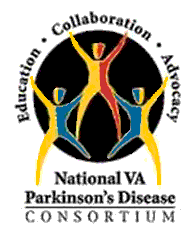 The Transmitter
November 2013
Notice: When you click on the links provided below, you may be leaving the Department of Veterans Affairs Website. The VA does not endorse and is not responsible for the content of any of the links listed below. Please refer to the VA's official disclaimer at: http://www.va.gov/disclaim.htm
Article Review
Prepared by:  Jessica B. Lehosit, D.O., PADRECC Southeast/Richmond
Thalamic cholinergic innervation and postural sensory integration function in Parkinson's disease.
Müller ML, Albin RL, Kotagal V, Koeppe RA, Scott PJ, Frey KA, Bohnen NI.
Department of Radiology, University of Michigan, Ann Arbor, MI, USA.
The pathophysiology of postural instability in Parkinson's disease remains poorly understood. Normal postural function depends in part on the ability of the postural control system to integrate visual, proprioceptive, and vestibular sensory information. Degeneration of cholinergic neurons in the brainstem pedunculopontine nucleus complex and their thalamic efferent terminals has been implicated in postural control deficits in Parkinson's disease. The authors' aim was to investigate the relationship of cholinergic terminal loss in thalamus and cortex, and nigrostriatal dopaminergic denervation, on postural sensory integration function in Parkinson's disease. 124 subjects with Parkinson's disease (32 female/92 male; 65.5 ± 7.4 years old; 6.0 ± 4.2 years motor disease duration; modified Hoehn and Yahr mean stage 2.4 ± 0.5) and 25 control subjects (10 female/15 male, 66.8 ± 10.1 years old) were studied. All subjects underwent (11)C-dihydrotetrabenazine vesicular monoaminergic transporter type 2 and (11)C-methylpiperidin-4-yl propionate acetylcholinesterase positron emission tomography and the sensory organization test balance platform protocol. Measures of dopaminergic and cholinergic terminal integrity were obtained, i.e. striatal vesicular monoaminergic transporter type 2 binding (distribution volume ratio) and thalamic and cortical acetylcholinesterase hydrolysis rate per minute (k3), respectively. Total centre of pressure excursion (speed), a measure of total sway, and sway variability were determined for individual sensory organization test conditions. Based on normative data, principal component analysis was performed to reduce postural sensory organization functions to robust factors for regression analysis with the dopaminergic and cholinergic terminal data. Factor analysis demonstrated two factors with eigenvalues >2 that explained 52.2% of the variance, mainly reflecting postural sway during sensory organization test Conditions 1-3 and 5, respectively. Regression analysis of the Conditions 1-3 postural sway-related factor [R(2)adj = 0.123, F(5,109) = 4.2, P = 0.002] showed that decreased thalamic cholinergic innervation was associated with increased centre of pressure sway speed (β = -0.389, t = -3.4, P = 0.001) while controlling for covariate effects of cognitive capacity and parkinsonian motor impairments. There was no significant effect of cortical cholinergic terminal deficits or striatal dopaminergic terminal deficits. This effect could only be found for the subjects with Parkinson's disease. The authors concluded that postural sensory integration function of subjects with Parkinson's disease is modulated by pedunculopontine nucleus-thalamic, but not cortical cholinergic innervation. Impaired integrity of pedunculopontine nucleus cholinergic neurons and their thalamic efferents seem to play a role in postural control in patients with Parkinson's disease, possibly by participating in integration of multimodal sensory input information.
Brain. 2013 Nov;136(Pt 11):3282-9. doi: 10.1093/brain/awt247. Epub 2013 Sep 20.
http://www.ncbi.nlm.nih.gov/pubmed/24056537
PMID: 24056537 [PubMed - as supplied by publisher]
Unexplained lower limb pain in Parkinson's disease: A phenotypic variant of "painful Parkinson's disease"
National Parkinson Foundation International Centre of Excellence, King's College Hospital, Kings College and Kings Health Partners, London SE5 9RS, UK. Electronic address: vcjwallace@gmail.com.
Unexplained pain is a key non-motor symptom (NMS) of Parkinson's disease (PD) that is prevalent throughout the condition and often unrecognized and under treated. The authors of this article identified a cluster of patients with unexplained refractory and intrusive lower limb pain. Patients with 'unexplained' pain were identified from a survey using a non-motor symptom questionnaire and scale (NMSQuest, NMSS). Patients reporting unexplained severe proximal lower limb pain were then assessed using a newly devised PD pain scale. Co-morbid conditions were excluded and all had lower spine imaging. From a cohort of 225 patients 22 individuals were identified with unexplained lower limb pain described as persistent leg pain ranging from unilateral to bilateral and sometimes associated with whole body pain. None had significant spinal pathology or evidence of large fiber neuropathy. 14 were on regular analgesics with poor effect and 9 took morphine-based remedies. Severe unremitting pain led to accidental overdose and death in one patient. All took a combination of levodopa and dopamine agonist treatment including 3 on intrajejunal levodopa infusion. All had high NMSQuest (mean = 17/30) and NMSS (mean = 95 (normal range 30-60)) scores. The authors postulated that unexplained lower limb pain is a specific non-motor phenotype in Parkinson's disease that is problematic and often undisclosed and may be a variant of central pain that merits recognition.
Parkinsonism Relat Disord. 2013 Sep 20. pii: S1353-8020(13)00346-5. doi: 10.1016/j.parkreldis.2013.09.016. [Epub ahead of print]
http://www.ncbi.nlm.nih.gov/pubmed/24139891 
PMID: 24139891 [PubMed - as supplied by publisher]
Cognitive deficits in mild Parkinson's disease are associated with distinct areas of grey matter atrophy.
Mak E, Zhou J, Tan LC, Au WL, Sitoh YY, Kandiah N. Department of Neurology, National Neuroscience Institute, Singapore.
The neuroanatomical substrates underlying cognitive impairment in Parkinson's disease (PD) remain poorly understood. To address this gap, the authors of this article compared the grey matter atrophy patterns in PD patients with mild cognitive impairment (PD-MCI) with PD patients having no cognitive impairment (PD-NCI), and examined relationships between atrophic regions and cognitive performance in specific domains. 90 non-demented PD patients (64.95±7.54 years, Hoehn and Yahr=1.88±0.39) were classified using formal diagnostic criteria as PD-MCI (n=23) or PD-NCI (n=67). Grey matter volume differences were examined using voxel-based morphometry on structural MRI, and multivariate linear regressions were employed to assess the relationships between cognitive performance in specific domains and atrophic regions. Patients with PD-MCI had lower global cognition scores compared with PD-NCI (Mini Mental State Examination: 26.9 vs28.4, p=0.011; Montreal Cognitive Assessment: 24.5 vs 27.0, p<0.001). The PD-MCI group demonstrated significantly poorer performance on executive function, attention, memory and language abilities. Patients with PD-MCI had reductions in grey matter volumes in the left insular, left superior frontal and left middle temporal areas compared to PD-NCI. Multiple regressions controlling for age, education and cardiovascular risk factors revealed significant positive correlations between left insular atrophy and executive–attention dysfunction. The authors reported finding that domain-specific cognitive impairment in mild PD is associated with distinct areas of grey matter atrophy. These regions of atrophy are demonstrable early in the disease course and may serve as a biomarker for dementia in PD.
J Neurol Neurosurg Psychiatry. 2013 Oct 16. doi: 10.1136/jnnp-2013-305805. [Epub ahead of print]
http://www.ncbi.nlm.nih.gov/pubmed/24133286 
Committee Activities
·       Rotation of Committee Chair: Leadership for the clinical care committee rotates amongst the PADRECCs.  The Northwest PADRECC leads the committee for November/December.  Committee meets via conference call the first Tuesday of the month at 12pm (EST) 
·       Standardize and Optimize Clinical Care: Continues to discuss a variety of clinical issues to enhance patient care, the committee continues to provide clinical support to the Consortium network, and work on measures to standardize clinical care across the PADRECC network.  Recent agenda items have included ongoing discussion on:    
·        Use of Clinical Video Telehealth for movement disorders and  home monitoring devices
Review of applications in clinical arena for subset of patients, and ways to expand access to CBOCs  and remote areas where subspecialty expertise is not available.  Research ideas pertaining to the use of home monitoring devices in movement disorders patients.
·        Use of various Botulinum toxins
    Development of PMB guideline for clinical use of various toxins
·        The use of DAT scans in clinical practice 
Applications and pitfalls of use
·        PADRECC Transmitter: PADRECC clinicians provide reviews of recent movement disorder publications that are included in the PADRECC Transmitter
Education Committee
·        PADRECC/EES Movement Disorder Series:  The FY14  series is underway. The 1st audio conference for this series will be held on December 12, 2013:  "Dysphagia in Parkinson's Disease."   The audio conferences are archived on the National website www.parkinsons.va.gov under the Movement Disorder Series tab.  All evaluations for CMEs are being done electronically via TMS and preregistration is required.  Audio conferences are now held via Microsoft Lync, participants can use audio access through their computer or by calling a conference line (similar to VANTS).   
·        Patient Education Video Project:  The My Parkinson's Story video series from FY 11 and FY 12 are now available for viewing on the National PADRECC & VA Consortium Website:  http://www.parkinsons.va.gov/patients.asp and on You Tube.   Filming is currently underway for the 4 videos approved for FY13.   Request has been approved for another 4 videos for FY14.
·        Enduring Materials Project: In collaboration with EES, the committee is developing an on-line TMS self study program that will offer CME credit for a 3 year period.  The purpose of this training is to provide VHA healthcare professionals with a broadened medical awareness of Mood Disorders in PD.
·        PADRECC Transmitter: The committee continues to assemble and distribute this e-newsletter every other month.
Southeast Service Area Updates
Nashville, TN
Tennessee Valley VA Healthcare System – Nashville Campus
Director: John Fang, MD
Phone: 615-873-7510 (please note: new phone number)
Operational since 2002, the Movement Disorders clinic at the Nashville Campus of the VA Tennessee Valley Healthcare System treats patients with Parkinson's Disease and other movement disorders. The focus is on optimizing medications and working with primary care providers and other specialists. Botulinum toxin therapy and deep brain stimulation programming are supported. Sheryl Hobden, neurology department secretary provides administrative support for the clinic.  In 2011, Clinical Video Telehealth (CVT) was added linking select Community-Based Outpatient Clinics (CBOCs).
Birmingham, AL
Birmingham VAMC
Director: Anthony P. Nicholas, MD, PhD
Phone: 205-933-8101 x 4734 (referral number to VAMC clinic)
The Movement Disorders Clinic at the Birmingham VAMC, operational since 2004, provides subspecialty consults for the diagnosis, treatment and referral of all movement disorder cases. Patient selection for Deep Brain Stimulation (DBS) surgery, as well as maintenance of stimulator devices, are now being performed in our DBS clinic headed by Dr. Victor Sung. In concert with that effort, DBS surgeries for Parkinson disease, dystonia, tremor and other "off-label" indications are presently being performed at the Birmingham VAMC in collaboration with University of Alabama at Birmingham (UAB) and BVAMC neurosurgeon Dr. Barton Guthrie. In addition, Dr. Amy Willis Amara is also available for consultation of movement disorders patients with concomitant sleep disorders, including evaluations for REM sleep behavior disorder. Starting in January 2014, a new cervical dystonia clinic will be available, run by Dr. Nicholas, with botulinum toxin injection services. As part of their clinical research commitment, Drs. Nicholas and Sung have recently published a review article entitled " Non-motor symptoms in Parkinson's disease: Expanding the view of Parkinson's disease beyond a pure motor, pure dopaminergic problem." (Neurologic Clinics, 2013, Volume 31: pages 1-16.)
Gainesville, FL 
North Florida/South Georgia VAMC
Director: Christopher Hess, MD
Phone: 352-374-6058
The North Florida/South Georgia (NF/SG) Consortium Center has been reactivated thanks to the arrival of Dr. Christopher Hess, Movement Disorder Specialist in July 2013.  The center provides care to veterans with Parkinson's disease as well as a variety of other movement disorders, including atypical parkinsonisms, essential tremor, genetic ataxias, and dystonia. They also will be providing EMG-guided botulinum toxin injections for movement disorders, as well as patient selection, programming, and follow-up care for patients requiring deep brain stimulation.
Consortium member and speech pathologist Nan Musson, MA CCC-SLP, BC-ANCDS, has been overseeing the speech and swallowing evaluations for our patients. She serves on the planning committee for the PADRECC/EES Movement Disorder Series of audio conferences. She is the representative for ASHA (American Speech and Hearing Association) and provides guidance for continuing education for speech and language pathologists. Paula Sullivan, MS, CCC-SLP,BRS-S will be presenting "Parkinson's Disease, Swallowing and Best Practices" on Dec 12, 2013 for the PADRECC/EES Movement Disorder Series.
From the research perspective, there are a number of outstanding research groups at the Malcom Randall VA Medical Center and plans to collaborate with. Dr. Kenneth Heilman, M.D., a world-renowned behavioral neurologist who has published on a broad range of topics in Parkinson's disease, including perception, attention and action intention, motor skills, emotion, and cognition. Susan Leon, Ph.D., CCC-SLP, is currently working with Dr. Heilman in the study of emotional prosodic disorders in individuals with Parkinson's disease. The VA Brain Rehabilitation Research Center (BRRC), directed by Janis Daly, Ph.D., is a VA Center of Excellence in the study of neurorehabilitation, and has a shared interest in the treatment of gait disorders. The center will also be expanding their research collaborations with the University of Florida Center for Movement Disorders and Neurorestoration, directed by Dr. Michael Okun, where Dr. Hess also has an appointment.
2013 publications on Parkinson's disease in which MRVAMC researchers are authors:
1. Foster PS, Drago V, Mendez K, Witt JC, Crucian GP, Heilman KM. Mood disturbances and cognitive functioning in Parkinson's disease: the effects of disease duration and side of onset of motor symptoms.
J Clin Exp Neuropsychol. 2013;35(1):71-82. PMID: 23320400
2. Foster PS, Yung RC, Drago V, Crucian GP, Heilman KM. Working memory in Parkinson's disease: the effects of depression and side of onset of motor symptoms.
Neuropsychology. 2013 May;27(3):303-13. PMID: 23688212
3. Gullett JM, Price CC, Nguyen P, Okun MS, Bauer RM, Bowers D. Reliability of three Benton Judgment of Line Orientation short forms in idiopathic Parkinson's disease.Clin Neuropsychol. 2013;27(7):1167-78. PMID: 23957375
4. Hess CW, Ofori E, Akbar U, Okun MS, Vaillancourt DE. The evolving role of diffusion magnetic resonance imaging in movement disorders.Curr Neurol Neurosci Rep. 2013 Nov;13(11):400. PMID: 2404618
5. Hess CW. Modulation of cortical-subcortical networks in Parkinson's disease by applied field effects.Front Hum Neurosci. 2013 Sep 13;7:565. PMID: 24062667
6. Hess CW, Vaillancourt DE, Okun MS. The temporal pattern of stimulation may be important to the mechanism of deep brain stimulation.Exp Neurol. 2013 Sep;247:296-302. PMID: 23399890
7. Kabasakalian A, Kesayan T, Williamson JB, Skidmore FM, Falchook AD, Harciarek M, Heilman KM. Hypometric allocentric and egocentric distance estimates in Parkinson disease.Cogn Behav Neurol. 2013 Sep;26(3):133-9. PMID: 24077572
8. Skidmore FM, Yang M, Baxter L, von Deneen KM, Collingwood J, He G, White K, Korenkevych D, Savenkov A, Heilman KM, Gold M, Liu Y. Reliability analysis of the resting state can sensitively and specifically identify the presence of Parkinson disease.
Neuroimage. 2013 Jul 15;75:249-61. PMID: 21924367
9. Skidmore FM, Yang M, Baxter L, von Deneen K, Collingwood J, He G, Tandon R, Korenkevych D, Savenkov A, Heilman KM, Gold M, Liu Y. Apathy, depression, and motor symptoms have distinct and separable resting activity patterns in idiopathic Parkinson disease. Neuroimage. 2013 Nov 1;81:484-95. PMID: 21782030
10. Troche MS, Brandimore AE, Foote KD, Okun MS. Swallowing and deep brain stimulation in Parkinson's disease: a systematic review.Parkinsonism Relat Disord. 2013 Sep;19(9):783-8. PMID: 23726461
Dates to Remember
December 12, 2013
EES/PADRECC Movement Disorder Series
Topic:  Dysphagia in Parkinson's Disease
January 9, 2014
EES/PADRECC Movement Disorders Series
Topic:  Blepharospams
March 13, 2014
EES/PADRECC Movement Disorder Series
Topic:  Etiology & Treatment of Ataxia 
April 26-May 3, 2014
American Academy of Neurology-Annual Meeting
Philadelphia, PA
http://www.aan.com/conferences/2014-annual-meeting/
May 8, 2014
EES/PADRECC Movement Disorder Series
Topic:  Drug Induced Parkinsonism
June 8-12, 2014
18th International Congress of Parkinson's Disease and Movement Disorders
Movement Disorder Society
Stockholm, Sweden
http://www.mdscongress2014.org/
July 10, 2014
EES/PADRECC Movement Disorder Series
Topic:  TBA
September 11, 2014
EES/PADRECC Movement Disorder Series
Topic:  TBA
History & Mission /  Consortium Center Refferal List /  Membership & Consortium Center Designation / Resource Request Form / Education & Clinical Resources / Consortium Newsletters / Consortium Brochures